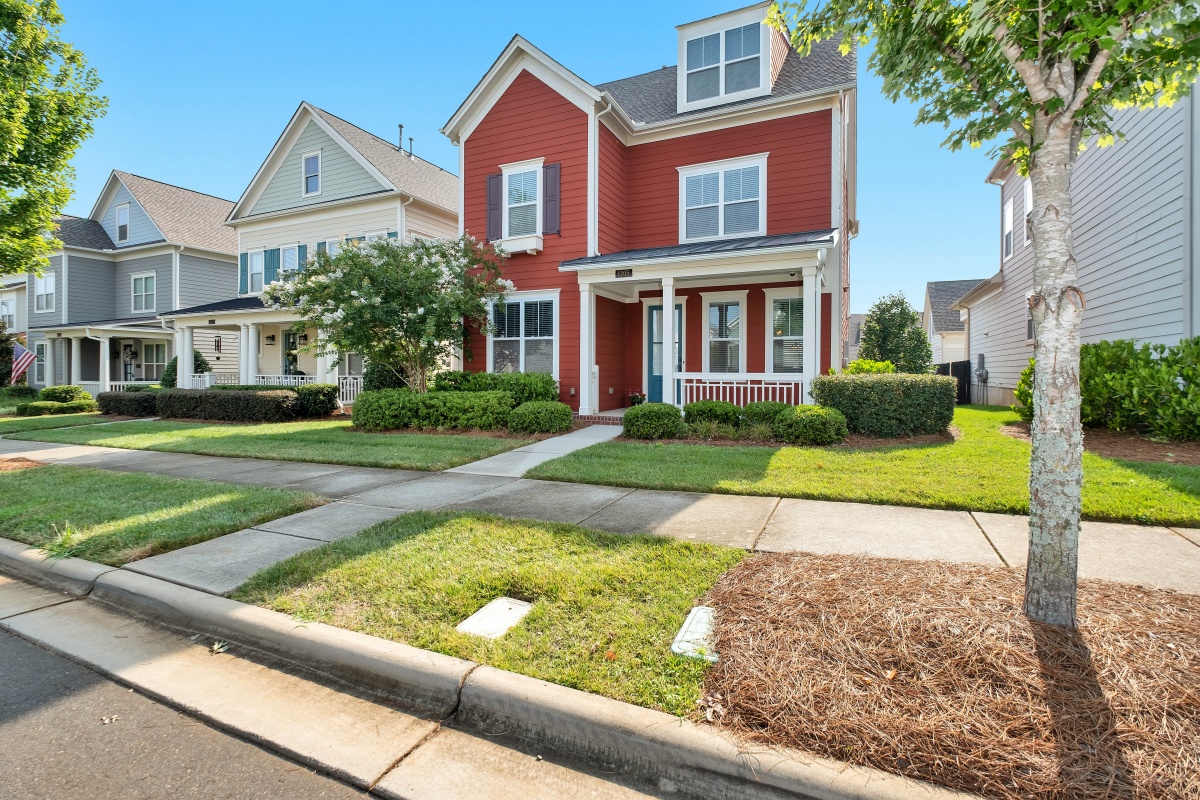 With so many real estate marketing ideas out there, how do you choose the ones that work best for your neighborhood farming efforts? Being the real estate agent for your area can lead to more new clients, referrals, and connections, all of which can benefit your business for years the come. To reap these benefits, you need to get creative and strategic.
Whether you prefer in-person events, email marketing, or social media, we have an option for you. Use the following real estate marketing ideas to share about yourself, provide value, connect with the community, and keep your business front and center.
Need help with your online marketing? Join the Marketing Club for just $1 and let us do everything for you!
1. Use the Seasons to Stay Relevant 
Sending the same postcard mailer or sharing a similar social media post over and over is a repetitive, boring, and sure-fire way to turn off potential clients. Instead, you need to shift your messaging to stay fresh. One way to do that, while staying relevant, is to use the seasons as your inspiration. 
For example, in the spring, you might post photos of a new listing on social media with the caption: "Summer is so much sweeter with a beautiful outdoor dining area like this!" This allows you to point out a highlight of the listing while also focusing on something your potential clients are already thinking about: summer and spending time outside.
Another idea could be to send a seasonal postcard focused solely on providing value. For example, a homeowner can use the checklist postcard below to prep their home for spring. Instead of throwing away the postcard, they're more likely to keep it close by so they can refer back to it as spring approaches.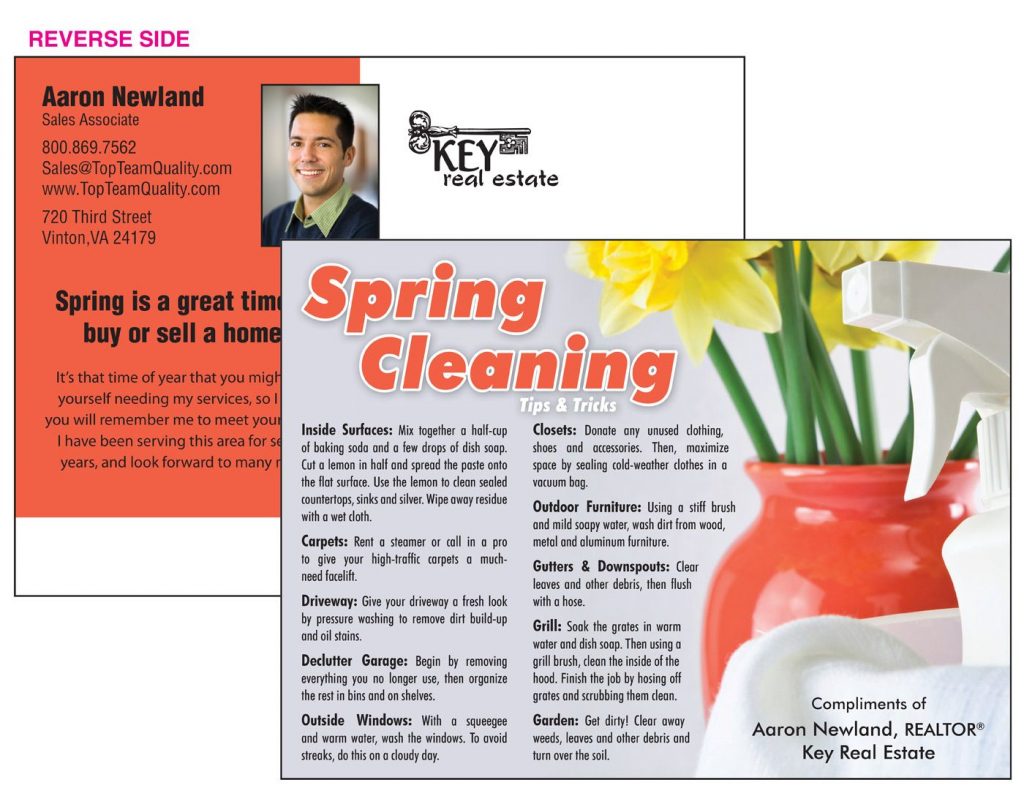 To get more ideas for how you can use the seasons for your neighborhood farming, check out our guide, Real Estate Holidays and Content Calendar for 2022. For each month we've shared three marketing ideas that you can implement.
2. Segment and Send Emails by Location
Hubspot's 2021 State of Marketing report found that 77 percent of marketers saw higher email engagement in 2020. Two big reasons for this high engagement are segmentation and personalization. While sending a single email to your entire list of subscribers, past clients, and leads is easier, it may not be as effective. 
Instead, segment your list so you can personalize the content to each neighborhood. If you don't have the data to do this yet, now is the time to update the contacts in your CRM or email software. Once updated, you can send emails to each segment based on data like their location. If you're focusing on more than one neighborhood, segmentation ensures that each email speaks directly to the person getting it. 
With segmenting, personalization also becomes easier. You can mention specific details about that neighborhood to help you connect deeper with the people on your email list. For example, you can mention visiting a local park or frequenting a popular restaurant that you love. This shows that you're not just an agent—you're a member of their community.
Don't forget to use this same tactic for your client referral emails too. Check out our blog post, 5 Client Referral Email Strategies to Boost Listings, for more ideas.
3. Attend (Or Host) Local Events
Sometimes the best real estate marketing ideas aren't digital. One of the most effective ways to truly connect with potential clients in the neighborhood is to be physically present. Local events allow you to share both your personality and your expertise, depending on the conversation you're having and the event you're attending. 
This type of marketing sets you up to create high-quality, long-term contacts that can lead to clients down the line or even refer you to people in their network. While you can simply attend local events as a resident, cement your role as a real estate agent in the area with these ideas:
Sponsor the event so your business and brand will be shared on marketing materials and throughout the event itself. 

Buy a booth if available and put your agent hat on. Prepare take-away materials that speak to the local housing marketing. Don't forget to have plenty of fresh business cards, brochures, and current listings on hand.

Host your own event, either by yourself or in a partnership with another local business. You can invite past and current clients, which can help boost referrals while also connecting with new clients. For example, you might host an educational workshop or put together a community barbecue. 
4. Partner with Community Businesses
Partnering with businesses in the community can be a powerful way to generate trust among potential clients quickly. If people already know and value the business you've partnered with, you create an instant rapport. Plus, this allows you to support other local businesses, which is important in every community. 
To make the most of this partnership, you need to consider a variety of factors that will lead to your success. 
Know which businesses your ideal clients love. Partner with a well-loved local business or one that's particularly interesting for your audience. For example, if your ideal clients have little kids, you might partner with a family-friendly business that they're likely to know and love. 

Create a mutually-beneficial partnership. Find a local business that can benefit from you as much as you can benefit from them. This will help you develop a long-term relationship because both of you are getting something out of it. 

Know your KPIs. Key Performance Indicators (KPIs) are key to knowing whether your partnership is successful or not. Before getting started, specify what success looks like and how you'll measure it. For example, how many clients do you expect to get in the coming month, quarter, or year? Knowing this will help you design a partnership that can deliver the results you want to see. 
5. Own Your Neighborhood on Social Media 
There are 270 million active social media users in the U.S. That means there's a very good chance most of the people in your target area are on social media. While social media allows you to reach a broad audience, you can also focus on building local connections by using the right hashtags, account tags, and location tags.
Here are some tips for reaching local clients on social media:
Use local/neighborhood hashtags on Facebook, Instagram, and Twitter. People using hashtags to search for agents in the area or neighborhood are more likely to find you. For example, #ATXrealestate or #BrooklynRealEstateAgent.

Include your neighborhood in your bio. For example, in San Diego, you might say: "Mission Bay Real Estate Agent." Using these location-based keywords will make your profile more visible when potential clients search for local agents.

Always tag the local businesses, parks, and locations that you visit. Be intentional about posting in your stories and feed when you frequent these places. When you tag their account, they can re-share the post to their story, which expands your reach. When you tag their location on Instagram, other people can see your posts when they look at that location as well.

Use storytelling in your captions. Share stories that are relevant to your neighborhood, referencing specific parks or streets or historic events that locals would know about.
If you use Instagram for marketing, make your bio stand out to local clients with our tips in The Anatomy of a Realtor Instagram Bio That Stands Out.
6. Write for a Local Paper
If you enjoy writing, use the local paper as a neighborhood farming technique. Regularly writing a real estate column for a small neighborhood paper can help cement you as the agent for that neighborhood. 
Use your connections to get a warm introduction to someone who works for the newspaper. If you don't have any relevant connections, cold outreach can be just as effective. Small papers are often looking for local writers to contribute. 
When reaching out, be ready to share your experience and point of view. This will give the newspaper editor an idea about what you're able to contribute. You can even share a few initial article ideas you have based on your knowledge of the local housing market to get the ball rolling. 
7. Create Interactive Postcard Mailers 
Postcards are valuable for neighborhood farming, but it's time to take yours up a notch. One way to do that is to make it digitally interactive. When the homeowner gets your postcard, they're not bored with basic text—there's something to engage with. 
The best way to do this is to add a QR code. The Drum and YouGov found that 45 percent of U.S. respondents report using a QR code related to a marketing, advertising, or promotional offer in the last three months. If you're not familiar, you can see a QR code on a real estate postcard mailer below.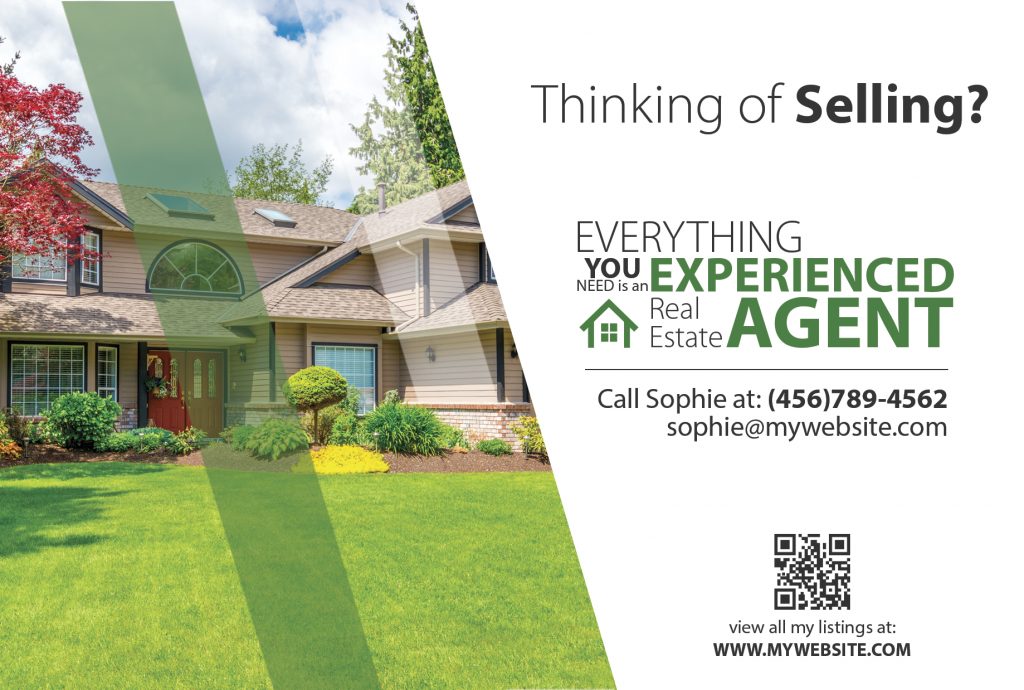 Once scanned, your QR code will take the homeowner to whatever link you've connected it to. For example, you might link it to your listings page, like the agent in the example above. You can also get more creative and link to other online resources. In 5 Postcard Design Ideas for Targeted Neighborhood Farming, we suggest linking to your:
Blog post or e-book

Recent YouTube video

Primary social media channel

E-newsletter or text message updates sign up page

Testimonials
How to Set Up Your QR Code
To set up a QR code, use a website like QR Code Generator to set the link and download your QR code as an image. You can then add the image to your postcard design. You can also add this QR code to any printed materials, including posters, brochures, or flyers.
8. Update Your Google My Business Page
Make sure your Google My Business (GMB) page stands out when residents are searching for a local real estate agent. Simply having a page is step one, but optimizing it so potential clients find you when searching for an agent in your area is even more important.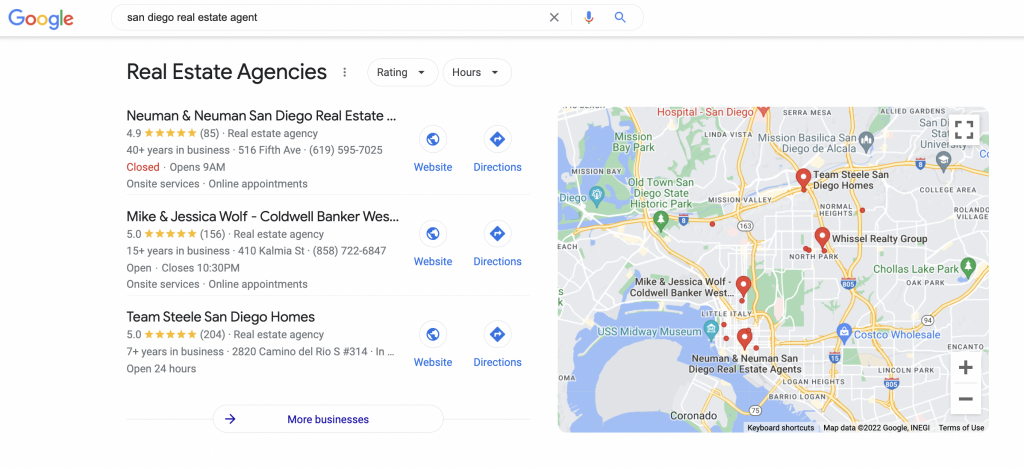 Here are some tips for optimizing your GMB page.
Make sure your NAP (name, address, and phone number) is the same on your GMB page and your website. If this has changed, update it in both areas. If these are different, Google is less likely to show your business page because they only want to connect users with credible businesses whose information they can confirm. 

Include photos of your past clients, your office, if you have one, yourself, and your team. You can also upload photos of past homes you've sold to give potential clients an idea of the kind of home they can find when they work with you. Images build trust and you want to develop that trust as soon as you can. 

Ask for reviews and make sure you respond to them. Reply to client reviews thanking the reviewer for sharing and being a client. This shows that you're paying attention and are actively engaged with all your clients. Having more reviews also means that potential clients might see reviews from friends, which is another way to build a quick rapport.
Real Estate Marketing Ideas to Connect
While traditional marketing techniques, like postcard mailers, are still valuable for neighborhood farming, there are many other tools now available to you. Use these creative real estate marketing ideas to become the agent for your neighborhood. Whether you attend local events or post photos at local spots, you can connect deeper with potential clients who want to work with someone who truly cares about their community.