Each marketing campaign includes:
A professional blog post written and posted on your website
Don't have to research and write high quality, valuable blog content? Don't worry! Each month our team delivers a relevant blog post packed full of valuable industry insights. These posts will position you as a market expert and make sure that when your clients have questions, you're the first person they think of. Not only that, we'll automatically publish it to your website!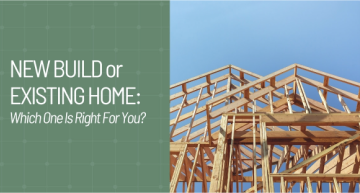 New Build or Existing Home: Which One Is Right for You?
Let's take a closer look at some of the factors you should take into account when choosing between a new build or an...
Read an example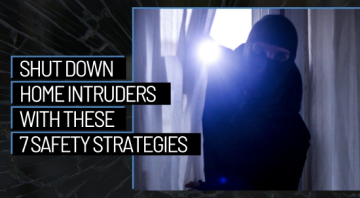 Shut Down Home Intruders With These 7 Safety Strategies
Most burglars are looking for easy access with minimal risk. A monitored security system can be an effective deterrent
Read an example
Email template and email app to distribute your blog content
Each month we'll send you an email template you can use to send your blog content to your sphere of influence. All the content is pre-written, all you need to do is click "send." Plus we give you access to an email app so you can manage your messages directly from the Marketing Club!
Selfie video script to help your content come to life
Sometimes the best way to get your clients and prospects to engage with your content is to record a short video. But it can be intimidating to get in front of the camera. We take the guesswork out of video creation by proving you with pre-written scripts based on your blog post that can be recorded on a cell phone. It only takes a few minutes and provides a ton of value to your audience.
6 social media posts you'll be proud to share
Social media is one of the most powerful tools at your disposal to connect with potential clients but it can be hard to figure out what to post, and keep up with the content creation. The Marketing Club makes it easy. Each month we send you 6 pre-made, pre-designed professional posts based on your blog post that you can share on Facebook, Instagram, Linkedin, and Pinterest.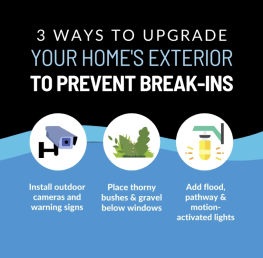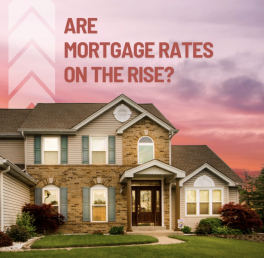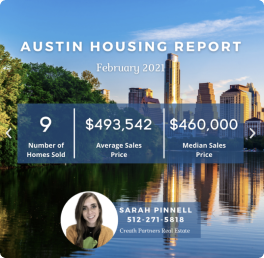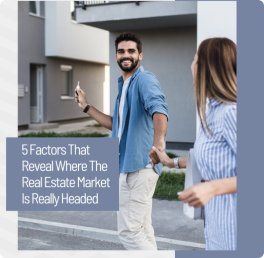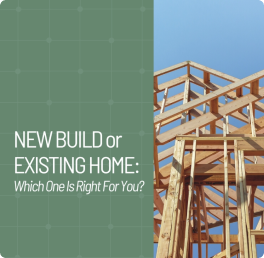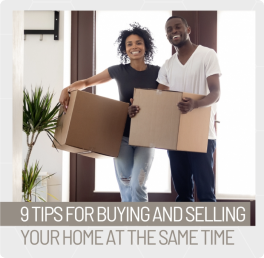 Text message follow ups to connect with people individually
Did you know that the average open rate for text messages is over 95%? This makes them one of the most effective ways to communicate with potential clients. Each month we'll send you pre-scripted text messages that you can use for individual outreach.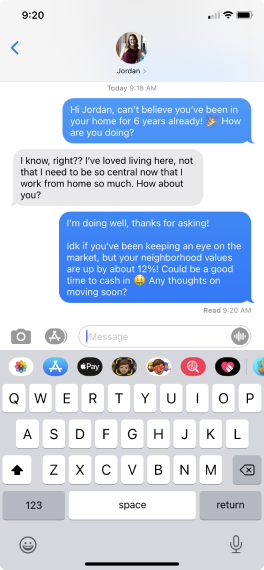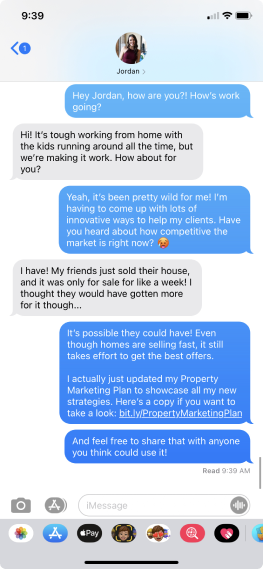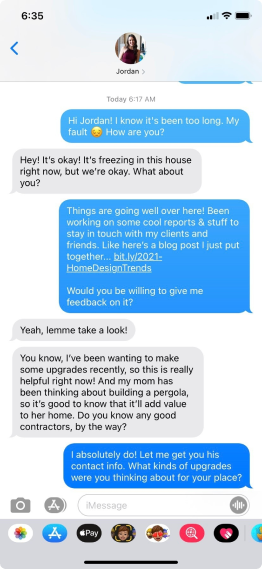 You also get:
Personalized marketing website preloaded with valuable content
A sleek professional website is the perfect way to build your digital presence online. We've streamlined the process so you can create a personalized website in just a couple of clicks (literally). No technical knowledge is required. We also publish blog content on your site automatically once a month and help you create landing pages to generate leads and promote your listings.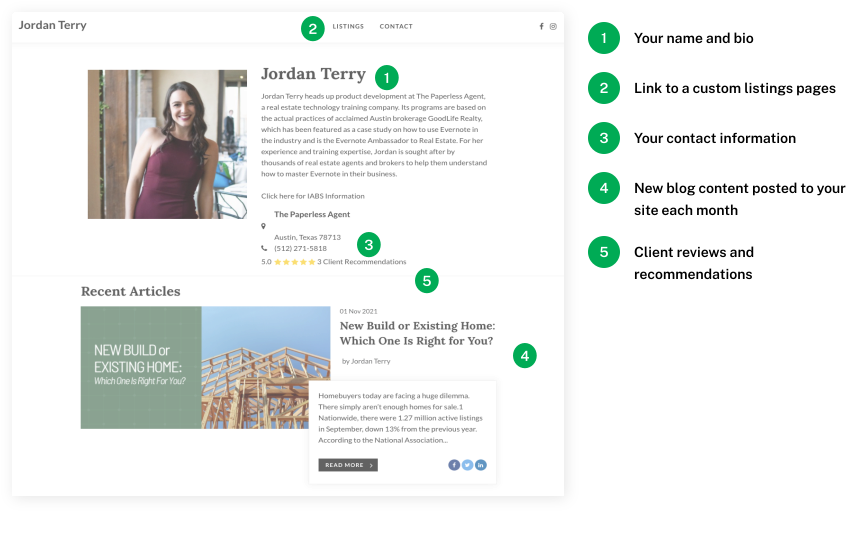 Access to a library with hundreds of pre-made social posts
Need content for your Facebook, Instagram, LinkedIn, or Pinterest profiles? Look no further than our Social Media Post Library. The library is filled with hundreds of premade graphics, videos, and captions for you to use right away, or you can go the extra mile and customize them to your liking before you hit "publish." Hook up your social media profiles to the library and post with a single click!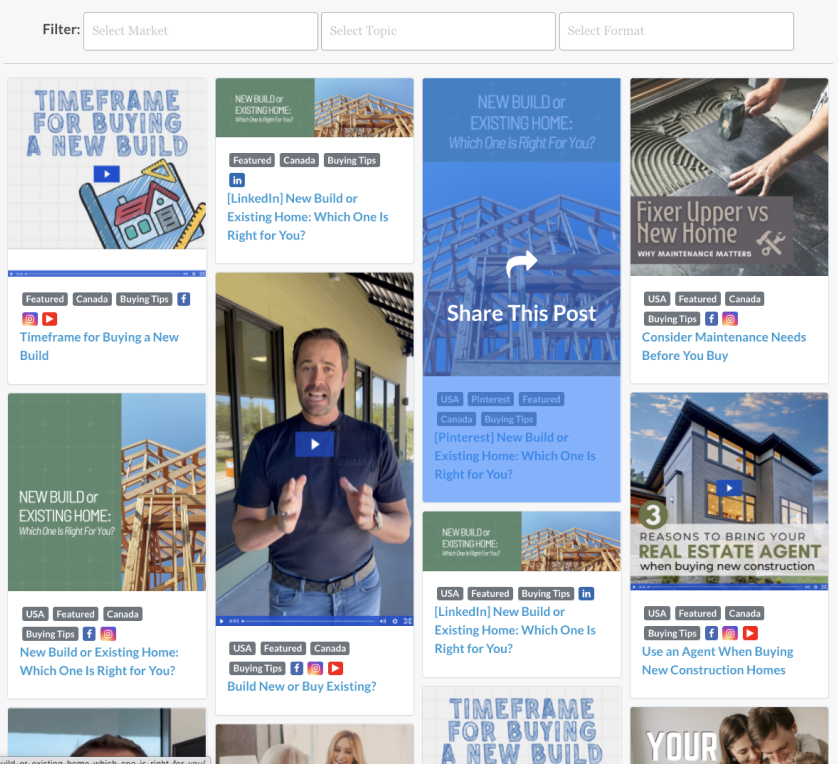 Live monthly training where you can ask questions
Access to exclusive member webinars where we cover the latest strategies, technologies, and ideas that are benefiting us in our firm. We're inventing and testing and retesting the wheel, so you don't have to! Attend the live sessions to get a first look at the newest training and resources and get your questions answered live.
Access to an extensive video resource library with past trainings
Review recordings of all our past Member Training Sessions on topics. We also provide you with email sequences, customizable marketing pieces, call scripts, and checklists, so you can easily implement the training. All of this is available to you 24/7 at your convenience.
Support from a Facebook group with over 6,000 members
With over 6,000 agents in the Marketing Club, you have access to an engaged, encouraging, and supportive community of like-minded individuals. Ask questions, share what's working, refer clients, and much, much more in our private Facebook Group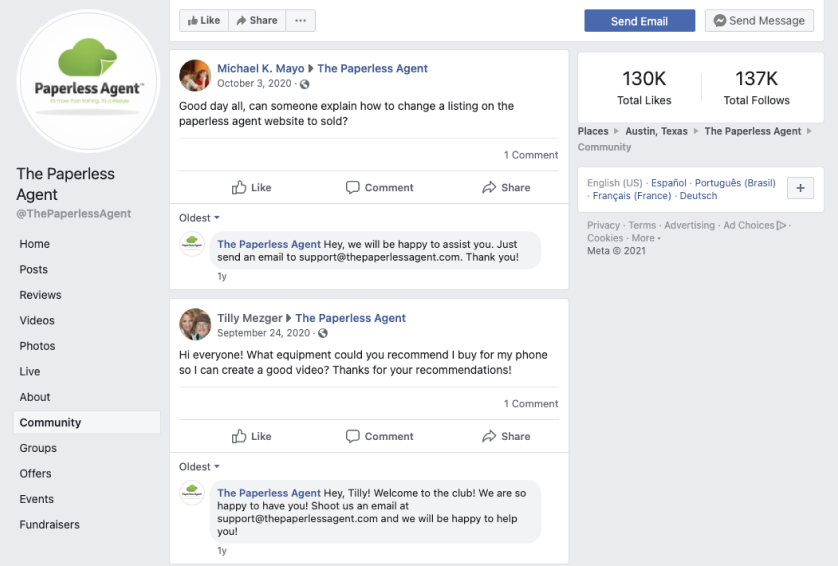 Join the Marketing Club today and get 2 weeks for only $1
After 14 Days it's just $77/month! No contract, cancel at any time. It's time for you to get more listings, more leads, and sell more homes in the next 12 months than you did in the last 12 months.