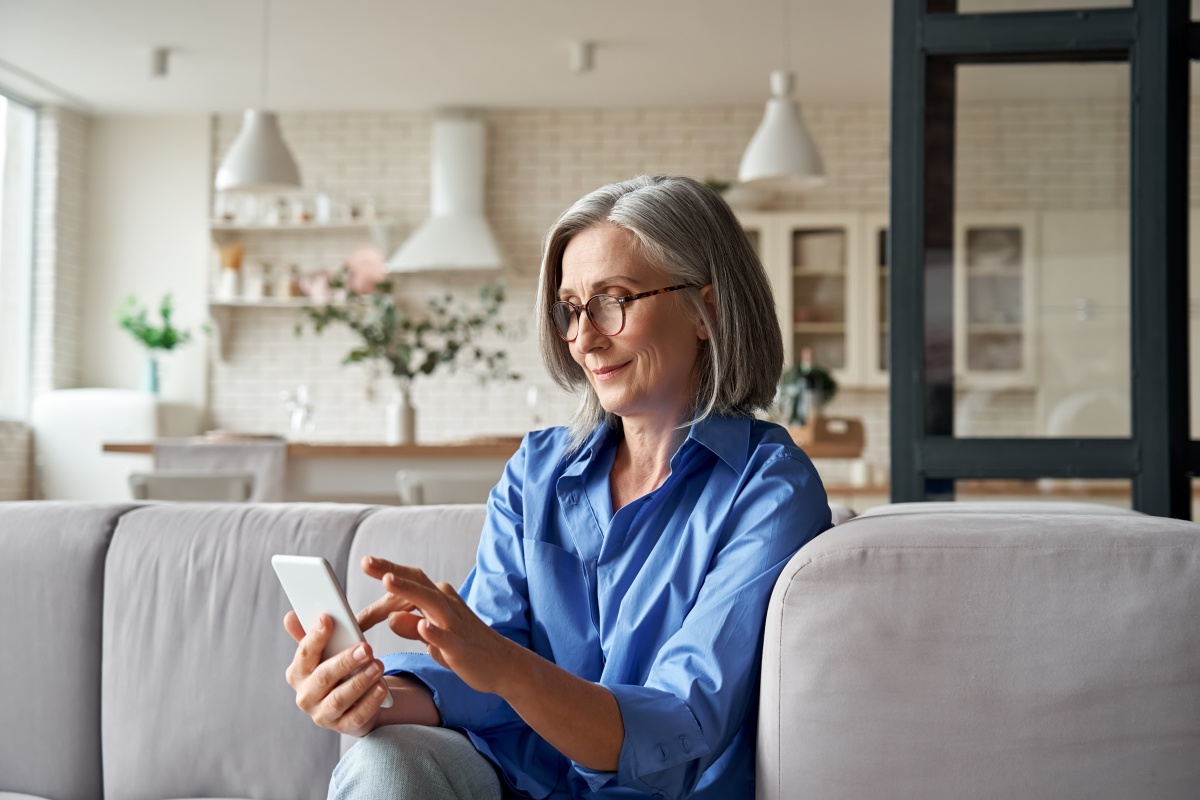 You might not think your Realtor Instagram bio matters all that much. It's just another profile to fill out, right? Not necessarily. Buying and selling a house is more than just a business transaction, it's an emotional one. 
Sellers are saying goodbye to their memories, while buyers are entering the next chapters of their lives. Clients want a partner to help them navigate this complex process and the emotions that come along with each step. 
This is why your Realtor Instagram bio matters a lot—it tells potential clients about who you are, not just what you do. However, you can only use 150 characters, so you need to be strategic. Create a captivating bio that makes people want to work with you and stand out as a top agent in your area with these tips and ideas. 
Free Download: Everything You Need to Know to Get More Listings From Instagram
Focus on What Makes You Unique
You aren't the only agent that prospective clients are considering. Your leads are likely looking at multiple profiles and considering several agents. Your job is to stand out. You want people to remember who you are.
Include a detail that makes you unique. This can be related to your real estate business or who you are as a person; even better if it connects you with your ideal client. A few examples include:
Your cultural backgrounds or any languages you speak

A personal detail

A cause that you care about and how you're involved 

A notable award that speaks to your success

Your community connection
It's easy to forget names, but our brains hold onto relational information to remember others. Your leads might not remember "John Anderson," but they will remember a fun fact or unique feature in your bio. Here's an example from Realtor Carter Kaufman, who includes a personal detail about being a father of three.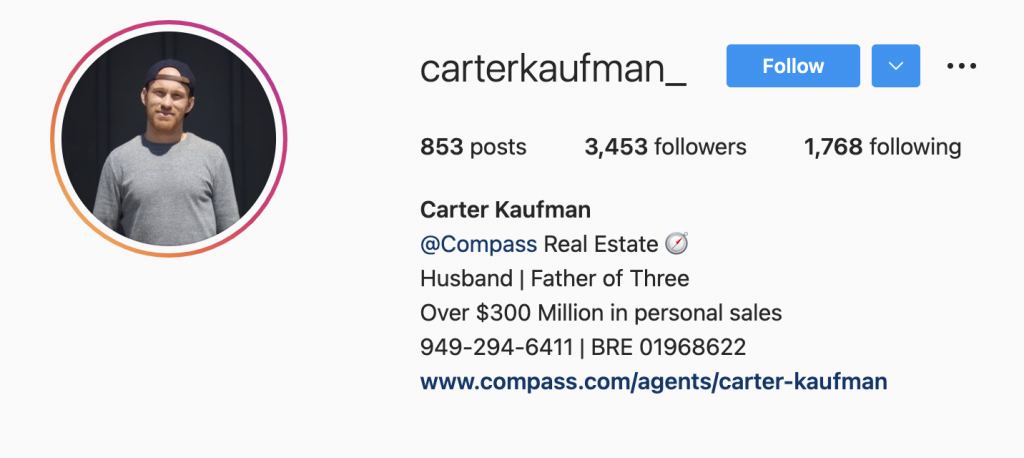 Describe Who You Help
The goal of your Realtor Instagram bi is to attract qualified leads, not just anyone who is looking to buy a house. Use this space to be specific about who you work with specifically. You want your top leads to recognize themselves in your bio. 
For example, here are some ways you could call out your specialty or focus:
I help first-time homebuyers make a smart investment. 

Working with buyers and sellers in the Bay Area.

We've been helping clients sell luxury condos since 1998!
Keep Reading: An Instagram Profile Template for Your Real Estate Business
Showcase Your Wins
While a unique fact can serve as a hook to pique the interest of leads, your accomplishments create a sense of trust. Focus on one or two key metrics that highlight the successes you've had thus far. For example, did you sell 100 houses in 2021? Did you win an award or break a record? 
Not only are these successes memorable, but they highlight your experience levels. When a potential client is comparing you with another agent, knowing this about you might be what tips the scales in your favor.
See this example from Realtor Bridget Ramey. See how she notes how much she sold in 2021, lists her area ranking, and includes other stand-out stats and facts that showcase her successes.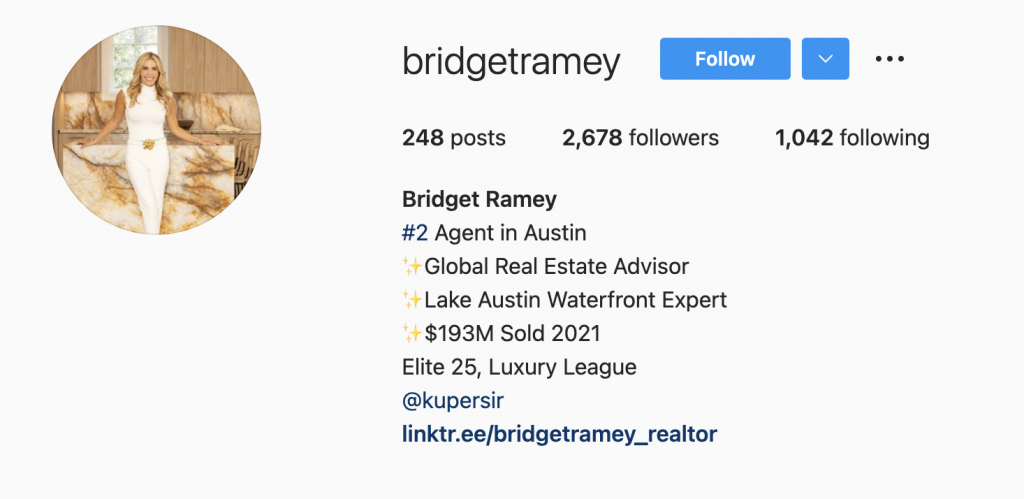 Include a Call to Action
A bio needs to do more than tell followers about who you are. You need to create a path for them to follow and ideally, reach out or get into your funnel. Don't expect someone who looks at your profile to reach out or download your freebie—tell them to do that with a call to action (CTA).
You don't have much space in your bio, so focus on a simple CTA that uses an action verb to tell people what to do. Examples include:
Click the link below to schedule a free consult. 

Call me today if you're ready to sell.

Click the link below to download my free first-time buyer guide!
Each of these CTAs provides clear instructions for what potential clients should do. See how Realtor Desireé Browden does this so well by pointing out what people get if they click her link.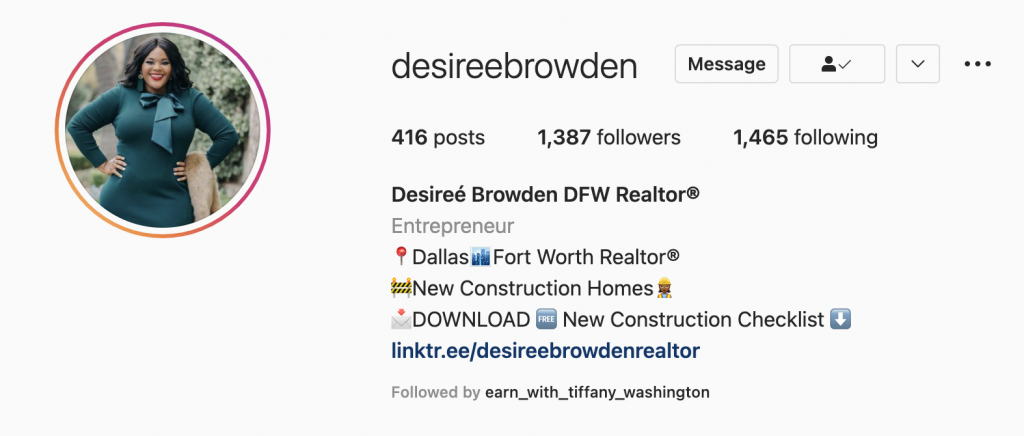 Add a Link That Provides Relevant Information
No Realtor Instagram bio is complete without a link that directs people in your community to your website and other digital spaces. You can keep this simple with a link to your website, or you use a tool like LinkTree to share multiple websites in one place. 
For example, your LinkTree can include a link to your website, a recent press mention, a free download you offer, and your new listings page.
One thing to keep in mind is that you don't want your LinkTree to get crowded. This is a good tool if you need multiple links, but don't confuse your leads with too much information and too many options. Include just a few important links at a time.
Keep Reading: 5 Pillars of Real Estate Branding that Drive More Leads
Create a Powerful Realtor Instagram Bio
Your Instagram bio is only a few lines, but the information you include can win people over and bring them into your lead pipeline. Take time to develop this valuable piece of marketing real estate that belongs solely to you. Try using emojis (or not). Switch up your unique facts and your calls to action. Find what works best to win over users and give you leads. 
Let us help you with your Instagram marketing! Join the Marketing Club for just $1 and get pre-made Instagram posts that you can quickly and easily share on your own profile.