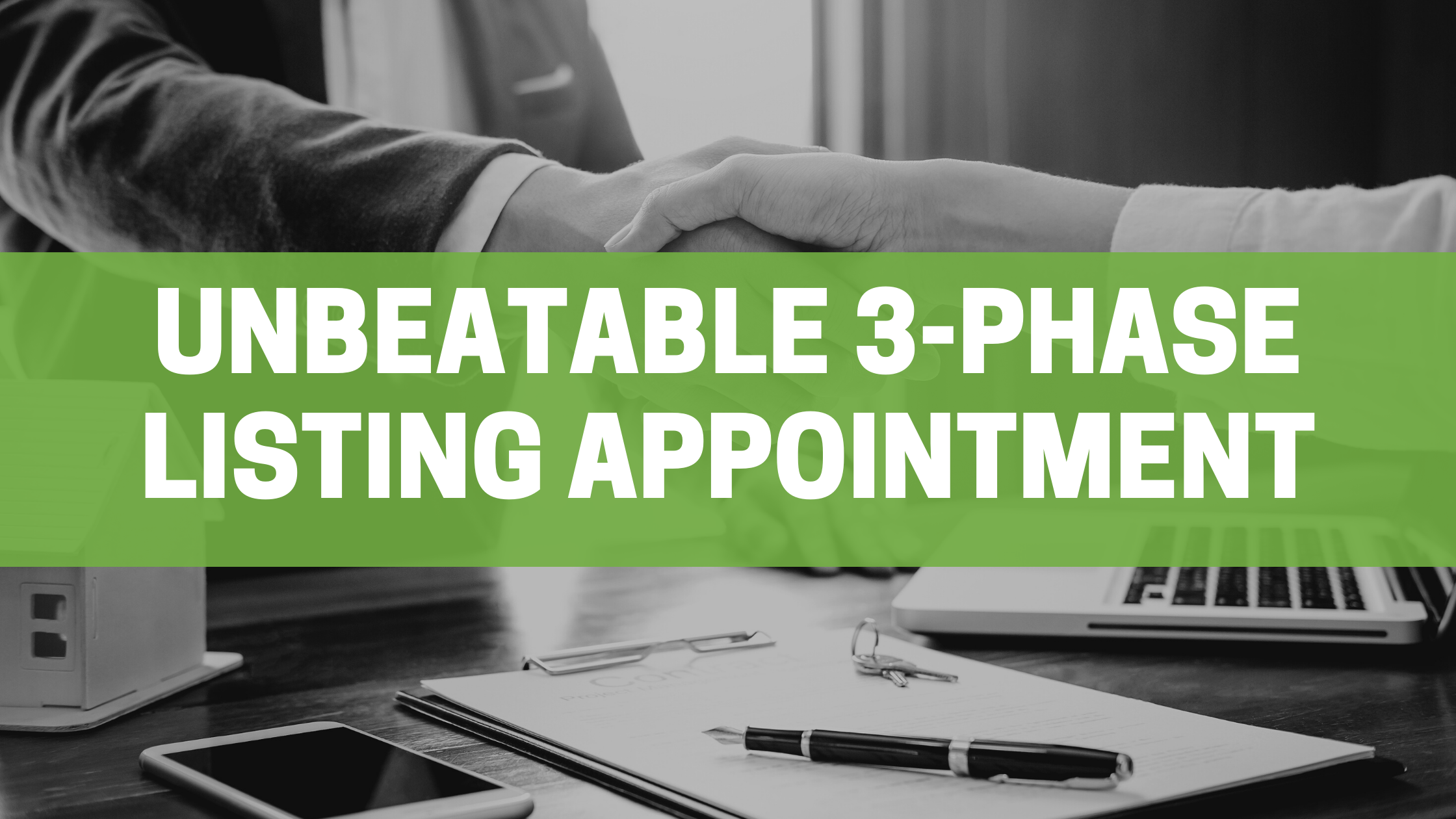 We're going to focus on the listing appointment. That's your Super Bowl. That's your big performance. That's what determines whether you are a top listing agent or not.
And once you're known as the listing agent for a particular niche or area, clients come to you. You gain market share. You're not calling expireds. Sellers are calling you. That's where we want to get to. We want to be recognized as THE listing expert agent in that market.
Josh Long, VP of Sales and Marketing, knows an agent in Fresno, Warren, who he helped get to this "expert" status. In 2015 it was just him, a couple assistants, and one buyer's agent. They were doing about 65 transactions a year. Now the guy has thousands of contacts. He knows everybody in the area. He's the recognized listing expert. He's averaged 150-155 transactions per year since.
Because he does the things that top listing agents do. What happens when you do these things? Here's a little story about Garry to show you. Then we'll dig into the details of how to win listings like a pro.
"I was contacted by some sellers and asked to come give them a valuation of their home and provide my marketing analysis. This was a coveted, million-dollar listing in downtown Austin. Andi really wanted it. One big catch: I was told I'd be competing with NINE other highly respected agents.
I followed the steps we're going to show you in this issue.
I knocked on the door, they opened, and I said, "Hi, I'm Garry Creath." And they said, "Oh, we know who you are! We feel like we know everything about you because we've seen all of your videos. Come on in."
I walked through the doorway and, over their shoulder I saw my marketing plan on their kitchen table. They had printed it out. I knew I was in. And it was because I had done what none of the other agents had done. I had prepared a full marketing proposal for their home. I sent it to them before I showed up at the listing. And I showed them how I outperform my competition.
I won that listing and sold the home very quickly. If you follow this process, you will win too.
Let's take a look at some of the crucial steps you must take to win listings. Because really, the listing appointment happens in 3 phases.
Phase 1: Initial Listing Consultation
The initial consultation is a 30-minute phone call, here's our template…
​
Here are some of the questions you must ask before the appointment…
· What are you trying to accomplish?
· What are your concerns?
· Have you sold real estate before?
· What were the bad things that happened?
Why do they REALLY want to sell? They may say, "Oh, I need to sell this home and move into another." But the REAL motivation might be, "Well, our child is in sixth grade, and we need to get them to the new neighborhood before middle school starts."
Garry once had a client who was being wonky. So, he asked her, "Why are you selling this home? It does not sound like you really want to sell." And she said, "Well, my husband just died. And I promised him before he died that I would do whatever it took to put our son through college."
Once Garry understood that, it was much easier to work with her because he understood her motivation. All the seemingly inconsistent things she was saying and doing fell into focus.
Remember: You don't sell houses, you solve problems.
So, the initial consultation is where you discover what problems you need to solve. So, while everyone else is doing discovery at the appointment, you're actually solving problems. That is a night and day difference.
Phase 2: Pre-Listing Appointment Packet
The pre-listing packet builds your authority, it builds trust and connection, and it communicates your unique value before you even show up for the appointment.
We use a three-part pre-listing email. We send this to the seller right after they become a "lead."
Here's an example:
SUBJECT: Actions required before our appointment on Friday.
Hey, Chris, as reminder our appointment is this Friday at 6pm. Before we meet, please complete these three simple activities to make the most of our time together.
1. Watch these videos. Please take 10 minutes to watch the short videos on getting ready to sell your home. This is important. Spending 10 minutes now saves us 45 minutes later.​
How to Market Your Home in the Austin Real Estate Market
How to Get Your Austin Home Ready for Sale
Home Pricing Strategies
2. Review my marketing plan. Marketing your home is one of my biggest jobs, and I take it seriously. We will discuss my marketing plan for your home when we meet.
Creath Partner's Marketing Plan
3 . Homework
Homework #1. Please reply to this email sharing your home's. best features improvements in selling points. I'm going to use this to create compelling marketing to attract buyers.
Homework #2. Please reach out to your lender to get current loan balance. We'll use this to calculate what you'll net from your home's sale after we assess your home's pricing strategy.
If you have any questions prior to appointment, let me know. Thanks,
~ Chris
PS: Check out the property marketing plan I use to attract buyers and sell homes for well above the competition's average performance. And feel free to share it with anyone you know personally thinking of moving?
---
Let's start with the subject line since nothing happens if they don't OPEN the email. The subject line is precisely worded. "Actions required or before appointment on Friday" This creates a sense of urgency. It gets them to open the email. They think, "Oh, I need to get something done before the appointment? I better read this!"
Then, you are trying to achieve three crucial goals with this email:
First you must build their confidence about hiring you. So, we include what we call confidence links. Links to videos of you proving you an expert at selling homes in their area. So, they think, "Wow, I can trust this agent."
Second, you must communicate that marketing their property is your number one priority. Why? Because, according to National Association of Realtors, that's the number one thing they want us to do. So, you must not only say you'll do that, but you must also SHOW them how you're going to do it much better than anyone else.
Your marketing plan is a list of everything that you do to market the home. The kitchen sink. Soup to nuts. If you send them this before the appointment, you'll competition won't stand a chance.
They should think "I've never seen anything like this. I didn't realize that you could do this much for me!"
You must show them that your unique value is directly related to the thing they want most.
And you must do it BEFORE the appointment.
Third, you must give them homework to do. Why are we giving them homework? For a couple of very important reasons. The first is the more time you can get them to spend "with you" before the appointment, the more comfortable and aligned" they will feel with you when you show up. The second is it puts them in the habit of following your instructions. You are the expert, the leader, the guide. So, when you get to the appointment, they'll follow your instructions there too…all the way to the close.
The PS: This email is a great weapon for ethically sabotaging your competition. This makes the pre-listing appointment email a great referral tool. Next time your client bumps into somebody thinking about selling their home they'll say, "Oh you have to see this marketing plan I got from [YOUR NAME]!" And they'll forward it.
(By the way, there is another way to use your marketing plan to generate leads. We send a version of this email to our list at least once a year saying something like, "Hey, we recently updated our marketing plan. And if you or anybody who's thinking of moving, feel free to share this with them.")
If you send this pre-listing appointment email, you will start 5 or 6 steps ahead of every other agent who walks into the appointment and wings it…and wastes time with small talk…and getting to know about their problems and concerns … and blah blah blah.
You start solving their problem as soon as you set foot in their home. You hit the ground running and your competition will never catch up.
Ethically sabotaged.
You can watch the entire
pre-listing email training here.
Phase 3: The Listing Appointment
Our friend and agent, John Diaz, got our listing appointment presentation from us on a Thursday and on Friday he used it to secure a $2 million dollar listing.
You see, the essence of a good listing presentation is not in the presentation itself, but rather in the sequence of conversations that must happen. Our listing appointment presentation is more about making sure you don't miss any key conversations that lead up to the big conversation: closing the deal.
It's not about memorizing a script. John didn't have to stay up until 4AM practicing our presentation. Because remember: 80% of all listing agents we've surveyed just wing their listing appointments. So, you don't have to be perfect.
You just have to do the things that top listing agents do.
You can see the full webinar where we go through this entire presentation here: URL. But here are some of the key elements.
TIP ONE: Don't tour the house first. Instead say, "I can't wait to inspect your home with you. But first, I'd love to sit down and ask you a few more questions." Then you sit down at the kitchen table and verify everything you talked about during your initial phone consultation.
TIP TWO: Have slides that overcome objections before they arise. The most powerful slide you can have is one that shows, in cold, hard numbers how much you outperform your competition.
Here's an example of ours:
And here's what we say to the buyer:
"Do you like statistics? I love them. And the reason I love these statistics in particular is because they reaffirm how well my firm and I are outperforming the marketplace. Let's take a look at this. Were you aware that in Austin right now an average realtor is selling a home in about 48 days now? That's not bad, right? However, when you hire us, well, we're selling homes in under 16 days. That's a lot faster, isn't it? Heck yeah. Well, right now an average realtor is selling a house and for about 98.25% of their asking price. Again, not bad. Right? However, when you hire us, well, we're selling homes for 101.7% of asking price. Now, that is 3.45% more than our competition. Now let's take a look at this. Let's assume that we sell your house for $375,000. On average, we're going to earn you $12,937 more than an average realtor. Now, I don't know about you, but that's a lot of money."
This puts a dollar value on what your firm will deliver. It makes your value concrete in their head. "This guy/gal is worth at $12,937 more than the last agent who was in here."
This slide can also help you overcome the inevitable "Will you discount your commission?" objection because you're showing them how much MORE money you will make them even after your commission is paid.
Tip Three. Blow them away with your marketing plan. The number one thing they want us to do is market their home, right? So, we say something like…
Did you know that over 95% of homebuyers use the internet as part of their home search? So, you can you see why it's critical to hire a firm using innovative marketing strategies.
And then the next set of slides show them all the innovative ways you market homes. Wow them. Blow them away. Just like you did in the pre-listing email packet we talked about above.
Tip Four. After you show them the plan, remind them of how well you outperform the marketplace. And you could say something like, "Remember we were talking about how well outperform the marketplace? And on average, how much more money we can earn you than an average realtor in Austin? This is how we do it. Nobody else does all this.,"
Tip Five. Tell them what will happen next. You don't want the close to be a surprise. You want it to be expected and as natural as possible. So, we tell them…
At the end of our conversation, after we've talked about the marketing proposal and your home valuation, assuming that you and I both agree that we're a great fit for one another, we will review my marketing agreement and sign off on that. So that will allow me to start working for you immediately.
Tip Six. Use a "listing price objection" slide.
Have you ever been looking at homes online and you find a house and that makes you say, "Oh my gosh, that is so overpriced! I'll never even go look at that!" Well, we want to make sure that you don't fall into that category. A lot of people think, "Well if I price my house really high, the buyers will just meet me in the middle and I'll get what I want." Wrong. If your house is "out of the marketplace" as we call overpriced homes, buyers won't even look at your home. And you actually end up settling for LESS than your home is worth. The best strategy is to make sure that we have your house appropriately priced and in pristine condition. When we do that, we create demand. People come to see your home. And you get more than market value for your home. We can create so much demand and people see the value. Now that's where we want to be, don't we?
Tip Seven. End with a Five Star response of how you take care of your clientele. Before your listing appointment email your clients links to positive online reviews to boost your credibility, then discuss those reviews when you reach this slide. If you don't have any online reviews, you can go back to your best clients and vendors and ask them for reviews.
Close the listing appointment out by handling any objections or concerns your clients may bring up, then get that signature on the dotted line!
Get the entire editable Digital Listing Presentation here.
Not a member? Try it out for $1 here!
Before you can crush the listing appointment however, you've got to follow our 5-Steps to Listing Leads.