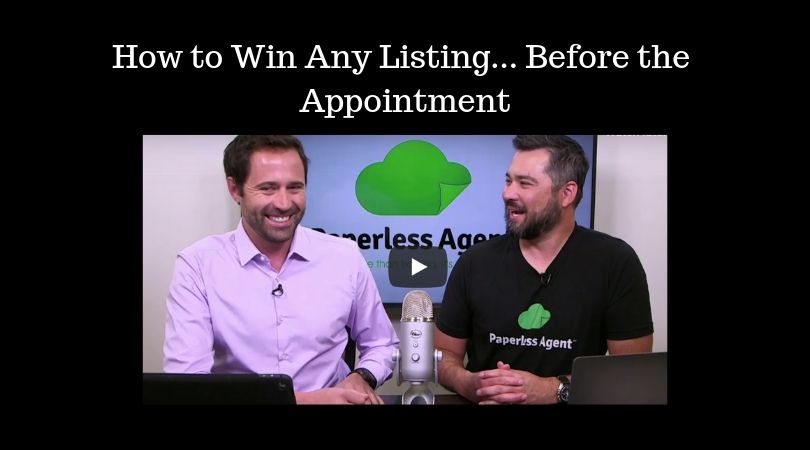 If you read our previous blog,
Proven Pre-Listing Strategies from a Listing Expert
, you know how important your Pre-Listing Strategy is.
The Pre-listing strategy serves to educate our clients, show them the advantages of working with us, and to thwart any potential competitors from putting doubts in their minds that we are the clear choice for them.
One of the biggest components of the Pre-Listing Strategy is the Property Marketing Plan.
The Property Marketing plan is simply a document that shows the prospective seller everything you're going to do to market and sell the home. This serves to inform our client, and set expectations that anyone they talk to should have a marketing plan to sell their home.
What is a Property Marketing Plan
A Property Marketing Plan (or just Marketing Plan) is a detailed list of all the steps involved to market and sell a home.
Everything from putting a sign in the yard to the social media campaigns to all the places (online and physical) where that listing will be displayed and promoted.
Pro Tip: It's very important that everything you're going to do to market the property is listed! Differentiate yourself from your competition and build trust right off the bat by telling and showing your clients what you're going to do for them.
Our "High-Performing Property Marketing Plan" lays out, every step of the way, how you'll market their home for maximum success – it's broken down week by week for 8 weeks to build trust and reassurance with your clients that you're going to do what you say and continue marketing their property for more than just a couple of weeks.
This will be irrefutable proof to them that you know what it takes, that you have a rock-solid plan, and that you can deliver on your promises...
Reasons to send out the Property Marketing Plan:
To setup your competition for failure when the sellers compare the value of your service.

To educate sellers about what to expect when listing with you.

To cut down the time spent in a listing appointment by eliminating objections preemptively.
Reasons to NOT send out the Property Marketing Plan
To overwhelm your seller prospect with too much information
What's Inside Our Property Marketing Plan
Campaign Setup and Pre-Launch Marketing
You only have one chance to make a first impression with the consumer. Many agents and brokerages stumble on this step and cost their sellers real money when buyers don't value the home enough to make solid offers.
So how can you avoid this misstep? Much of the property marketing campaign rests on the consumer's ability to find your property online… and to find it with the right information.
These pre-launch activities, therefore, are designed to seed the marketplace, optimize for SEO, and position the property for the best possible impression right out of the gate.
PRO-TIP: If your MLS doesn't allow for pre-MLS marketing, do it as soon as your listing launches as a "Just Listed" instead!
Campaign Launch
Launch activities build on the Pre-launch phase by "announcing" the property's availability through a combination of online and offline channels. By using online marketing to connect with consumers and offline marketing to connect with real estate agents, your property gets the necessary exposure to prospective buyers.
Campaign Analysis & Improvements
Throughout the campaign cycle, you'll be checking the data and evaluating whether the message and images are getting the impressions and Click Through Rates (CTR) within the desirable ranges. You should constantly test and make adjustments as necessary.
Check out the example below of how Week 6 looks in our Property Marketing Plan:
Campaign Optimization
During this phase of the campaign, you'll let the efforts from the previous weeks do their work to get traffic and views. If you decide to host an Open House, preparation and marketing for it will also take place.
Campaign Performance
There is a constant ebb and flow of marketing activities that start and end simultaneously. This is intentionally designed so a steady stream of online and offline interest is being generated, while ongoing promotion will make sure your property is getting in front of both consumers and to the agents representing those consumers.
You'll repeat the Campaign Analysis & Improvement, Campaign Optimization, and Campaign Performance & Campaign Relaunch as many times as necessary (we repeat it twice in our 8 week marketing plan).
Agent Network Re-Engagement
From the very start, you will communicate with your network of real estate professionals, both local and national, so they will communicate with their buyers. During this week you will reach out again to your agent network using a direct marketing message to get their attention and get market feedback on the property.
10-Step Method for Marketing Listings
Use this simple 10-step method in your Property Marketing Plan.
The goal is to focus on people who know you, your digital footprint, and the immediate surrounding geo-area for people who live near that listing. Facebook Ads accomplishes this. The plan uses Google Ads to market to people actively searching for homes for sale.
Post images on Facebook Business Page

Post video on Facebook Business Page

Share video or post on Facebook Personal Page

Post on Instagram

Post an Instagram Story

Run a multi image ad on Facebook

Run a video ad on Facebook

Post video on YouTube

Run a video ad on YouTube using Google Ads

Run a display ad on Google Ads
Sending Out the Property Marketing Plan
You'll deliver your Property Marketing Plan after the Initial Client Consultation but at least a day before the Listing Appointment. We email our Property Marketing Plan out, but if your sphere of clients would appreciate a print out version instead, don't be afraid to hand deliver it!
Initial Email Example:
Remember to keep an eye on your email in the days leading up to the Listing Appointment in case your potential sellers have any questions about your Property Marketing Plan - part of the Pre-Listing Strategy is to be aware and available to your clients!
Use these "stealth strategies" to ethically sabotage and eliminate the competition – and pre-empt and prepare for answering any objections on fees (everything you do for your clients will position your fees as a complete "no-brainer" for them and that you should actually charge more for all you do!)
Once you've sent out your Property Marketing Plan, the next step is to get ready to nail your Listing Appointment.
If you're interested in checking out our Property Marketing Plan, Pre-Listing Strategy, or any of our Listing Appointment trainings… check out the link below!