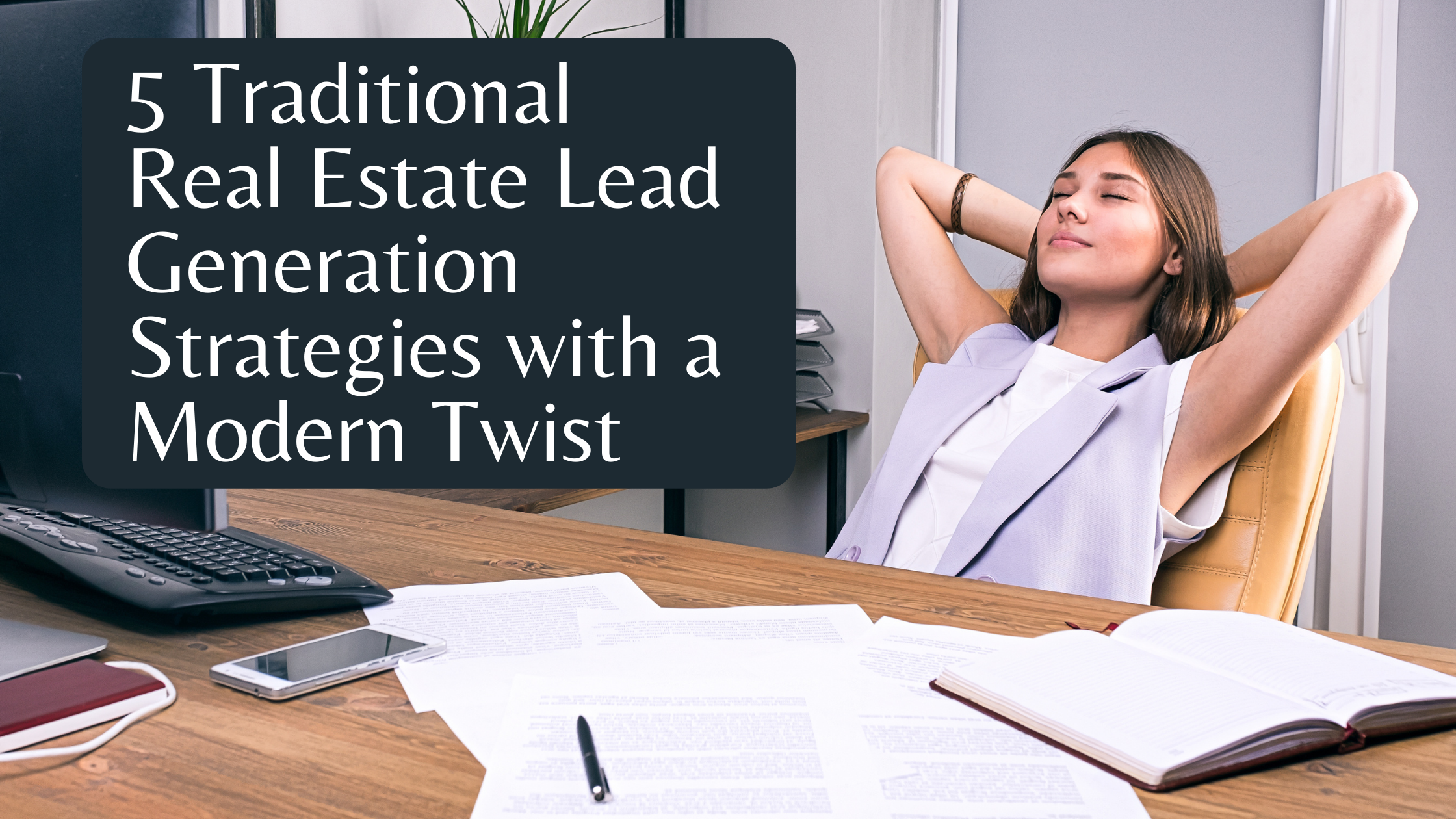 If you sell real estate, you already know lead generation is a top priority. But knowing what lead generation strategies actually work, and which ones are a waste of time can be frustrating.
Many real estate professionals try to use only digital methods for generating leads, such as social media or blogging. However they don't know these new methods aren't always effective.
These methods might generate interest and they might get people asking questions, but unless done right, they may not find real prospects and real customers.
Traditional Meets Digital
If you're looking for real estate prospects and clients who want to work with you quickly, then you'll want to use one of the traditional real estate lead generation strategies that are designed to find motivated buyers and sellers. Traditional real estate lead generation strategies are very effective… especially when they're updated using digital methods.
Instead of using a digital strategy alone, you can use a traditional real estate lead generation strategy… but updated using digital methods. These methods can make traditional real estate lead strategies far more effective. And the more effective your strategy, the more real estate leads you'll get.
Let's take a look at how to implement these five traditional real estate lead generation strategies with a modern twist... so you can start generating more leads and clients now.
Farming Marketing
Traditional farm marketing is when you send mailers or postcards to people in a particular geographic area, such as a neighborhood or zip code. A big mistake agents and brokers make when farming for lead generation is just trying to "brand" themselves in those markets.
If you want your farming to be effective in lead generation, it should include some form of offer of help. An example of an offer is a list of recent home sales for the neighborhood, or even to provide consultation on which remodeling projects are worth the ROI if the purpose is to sell.
A modern method for farm marketing is to create digital content, such as a blog or even a video, that highlights a particular neighborhood or market area. Then you can promote that content on social media and through your contacts through things like email, text, and messaging.
This will attract people who want to buy or sell in that area, regardless of where you actually promote it. How? With digital methods, the algorithms have gotten smart enough to place this type of content in front of those who are interested.
Prospecting Activities
Prospecting is often associated with cold calling, which is calling people you don't know to see if they are interested in selling their home. 30 years ago, it was normal for a new agent to be given a phone book and told to "dial for dollars". But times have changed. Cold calling is a difficult activity for most… who wants to do something that no one likes having done to them?!
A different approach to prospecting is to flip the script on cold calling. Instead of using a phone to call, try using your smartphone to text or message people. And instead of contacting people who are "cold", meaning you don't know who they are, try messaging people you do know. Try texting or connecting on social media with people in your sphere of influence, past customers and contacts.
Here's a simple text or social message script you can use for contacting people:
"Hi Chris, I was just thinking of you and wanted to check in. How are you doing?"
That's all you have to do. You will be surprised how many people are glad to hear from you. And when you initiate contact with your contacts and connections, a funny thing happens. You get into conversations with them. And you'll find people in your network who have been thinking of moving or know people who are thinking of moving. All you have to do is be human and build your relationship with them. If there's a real estate deal to be done, they'll bring it up.
Expired Listing Scripts
Expired Listings are when a home doesn't sell during the designated time frame in the listing agreement. When this happens, home sellers are no longer in an agreement with the listing agent. There are lots of traditional scripts for calling people whose homes didn't sell.
Most of the expired listing scripts sound something like this, "Hello, I noticed your home didn't sell. Are you still interested in selling? Do you know why your home didn't sell?" And the goal is to try and convince the seller that you're better than the agent they worked with. The only problem with this strategy is that the seller is likely flooded by other agents calling them to list their home with them instead.
A modern twist on this approach is to deliver informational value, such as in a report that outlines what sellers should do if their home doesn't sell. Consider printing this report and delivering it to the seller with an offer to consult with them to give them alternatives and strategies based on their interest. You'll be surprised at how many people reach out to you because you provided value first. Here's more information on doing expired listings.
Neighborhood Pop-Bys
Also called "door knocking" this strategy involves walking around in a neighborhood, knocking on doors, and introducing yourself as the neighborhood expert. You can think of it as canvassing like politicians going out to "shake hands" with the people. Another familiar approach is to knock on the doors of the neighbors for a listing you have on the market, letting them know they can expect to see you from time to time because their neighbor's home is on the market.
The Modern Twist to this activity is to offer something of value, such as your list of recommended Home Service professionals. This list includes those services you would refer, if asked. Examples include lawn care, cleaning, roofing, etc. Then ask them the best email address or mobile number to send a digital copy to.
Here's a sample script:
"Hi, my name is Garry, I'm a listing expert agent here in the neighborhood. I'm currently working with your neighbors Ron and Linda to market and sell their home.
During my research, I analyzed home values to create a pricing strategy. As a courtesy, I'd be happy to share that with you.
Would you like me to send you a copy of your home's valuation report? What's the best email I can send that too?"
Open House Marketing
Hosting an Open House is a great way to interact with buyers in the market looking for homes, as well as prospective sellers in the neighborhood trying to get a sense of what their own home is worth. And if you have good branded sign coverage in the area promoting the open house, then you're promoting yourself as a listing expert in the area.
Some tips for your Open House signage:
Be sure to include company name, logo and personal name if applicable.

Put signs 3 to 4 miles out from the property at all major points (if allowed in your jurisdiction). At every half mile, add a new directional sign setup.

Put signs out the day before, if possible, to maximize exposure.

Post a minimum of 10 signs per Open House.
A few ways to put a modern twist to the traditional open house include:
Offer reports and information to visitors in exchange for their email address or phone number.

Promote your Open House on social media (Facebook & Instagram are a must)

Use short videos of the listing when promoting on social media.