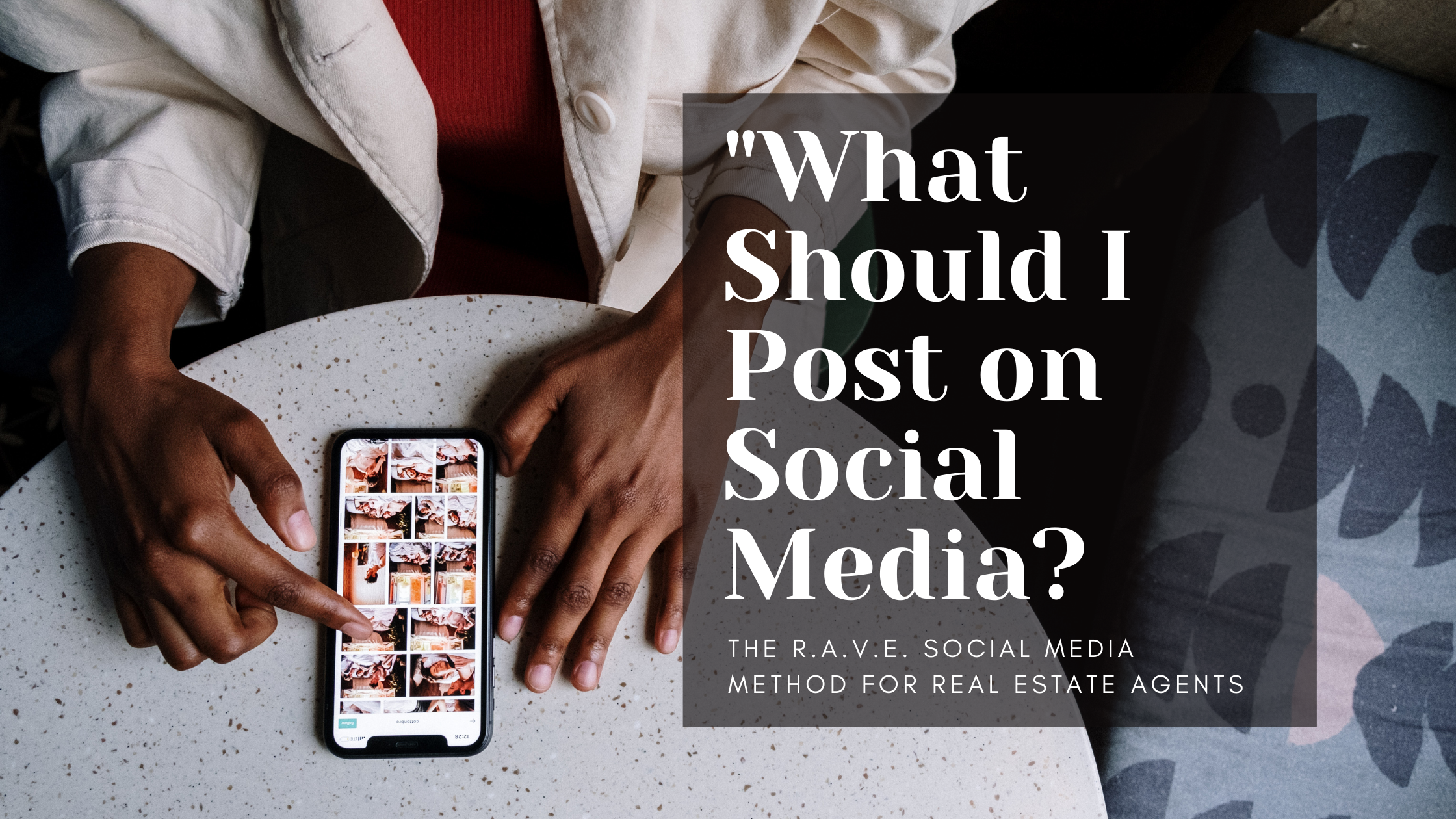 The R.A.V.E. Method for Answering the Question: "What Should I Post on Social Media?"
Posting on social media like Facebook and Instagram can be a great way to stay in touch with your family, friends, and contacts. It can also be a great way to get more listings.
The question a lot of agents ask us is "I can't think of what to post every day! What should I do?"
Never fear. We've got you covered. We've come up with a simple Acronym to help you post regularly, relevantly and rapidly. In other words, you'll stay top of mind with your contacts, your posts will be relevant to what you do, and you'll be able to post them easily.
The acronym we use is RAVE. You should post about...
Real Estate
Advice and Tips
Value
Experiences
Real estate. That's simple enough, right? Post photos of your listings. You sell real estate. People want you to help them sell real estate. So show them that you do by regularly posting photos and videos of your listings.
What if you don't have a million listings to post about? Well, in THIS BLOG we show you how to get millions of miles of value out of ONE LISTING. You'd be surprised how many posts you can squeeze out of every listing without boring your followers!
Don't have ANY listings? Post about recently-listed or recently-sold homes from your peers or agents in your brokerage.
Advice and Tips. One of our favorite examples of an advice post is a market update. Share real estate news and information and tell buyers and sellers what they should do with this information.
Value. What makes you unique? Why should they come to your page instead of just scrolling through pics on Zillow? What do you provide that they can't get anywhere else? What makes you...you?
Experiences. Post about your client success stories or fun, exciting things you do in your "real life." Did you take a trip? Did you win an award? Was there a birth in your family? You know, the usual social media stuff. That's what it's for, so let people know you're a real human being like they are!
There are great examples of all RAVE posts in our members area.
Not a member of the Marketing Club yet? Try it out now for just $1!
It's so important to vary your posts with the RAVE method. When we analyze real estate agent's postings, we notice that they make one of two mistakes. It's either all about real estate or all about experiences.
Yes, they have to know we sell real estate. And yes they have to know we are a well-rounded person. But they also need to know that we are COMPETENT and that we are UNIQUE.
That's why making Advice and Value posts is so crucial. You want them thinking...
This person is friendly and leads an interesting life
This person sells real estate
This person really knows a lot about real estate
This person brings something special to the table that I can't get anywhere else.
Try the RAVE method to get them thinking about you the way you want them thinking!