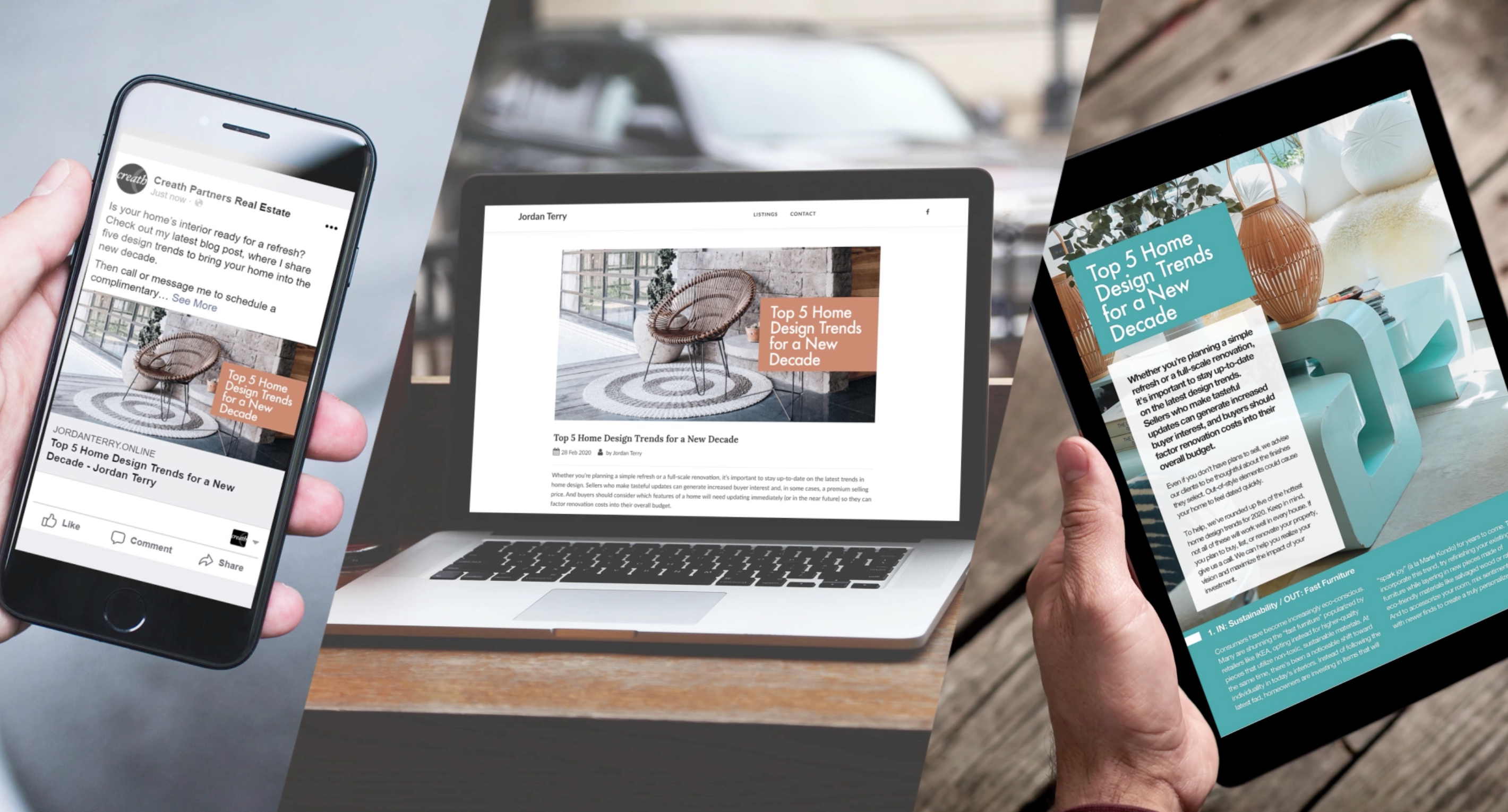 There's a rampant problem in the real estate industry right now...
According to the NAR 2017 Profile of Home Buyers and Sellers, 89% of home buyers and 85% of home sellers said they would at least "probably use their agent again" or "recommend them to others." And yet, few followed through: only 12% of home buyers and 23% of home sellers used an agent they had worked with in the past to buy or sell a home.
Moreover, the typical seller has recommended their agent twice since selling their home. A full one-third of them have even recommended their agent three or more times! But has your business doubled or tripled? If your clients are making all these referrals, why aren't people reaching out to you left and right?
Why are we losing all this sphere-of-influence business?
The simple answer is because we're not doing a good enough job of showing our value. Many agents think that providing a good service once is all they need to earn repeat and referral business, but the truth is, it's not even close to enough. Massive companies likeCoca-Cola still spend massive sums on advertising... even though its product is so well known that an entire region of the U.S. uses the moniker "Coke" to refer to soda in general!
Let's think about this in terms of real estate. The latest studies tell us it might take up to ten years before a client is ready to buy or sell their home again… can you really say that you're staying in contact with your past clients consistently over that time?
And for referrals: a Consumer Insights Survey by Google said that 2 in 3 real estate searchers researched prospective agents online prior to working with them… when your client referred you to their friend or family member, and that person looked you up online, was what they found good enough to convince them to reach out? Statistically speaking, probably not.
While we certainly don't need a marketing engine on par with the big brands like Coca-Cola, we do need to consistently and constantly demonstrate our character and competence. This is called "omnipresent marketing," and it's a fancy way of saying "staying top of mind."
This campaign is an easy, practically done-for-you way to stay top of mind with your database. Executed successfully, it will keep you in touch with your sphere and give them the tools they need to refer you.
5-Step Marketing Campaign: How to Use the "Monthly Value Program"
In simplest terms, theMonthly Value Program campaign works like this: You choose a topic that would be interesting and engaging for your network. You create pieces of value around that topic, and get it in front of your network through a variety of channels:
Publish useful real estate info using a blog or website

Send the info to people you know (and have an email address for)

Share a 1-minute video (post on FB and promote for $1 a Day)

Post info on social media (FB, Instagram, LinkedIn Pinterest, etc.)

Individual messaging follow-up using messaging apps (like FB Messenger)
The campaign process ends up looking something like this:
The key to successfully executing this campaign is to implement it consistently throughout the month.
Check out the example of our March Calendar below:
Example Theme for March
Each month, you should create campaigns around a theme that would pique the interest of anyone thinking about real estate.
We provide these monthly campaigns as part of our Marketing Club Membership, and our theme for March covered Home Design Trends.
More specifically, it talks about the home design trends in the new decade that will keep your home at the top of its market (even if you're not planning to sell anytime soon).
Sellers who make tasteful updates can generate increased buyer interest and, in some cases, a premium selling price. And buyers should consider which features of a home will need updating immediately (or in the near future) so they can factor renovation costs into their overall budget..
Example of one of the social media images included in the campaign collateral
Check out an excerpt of the March Blog Post below:
2. IN: Cozy / OUT: Cold
​
Designers are moving away from cool grays, industrial finishes, and stark modernism. In 2020, there's a big emphasis on creating warm and cozy spaces through color, texture, and shape.
​
Gray has dominated the color palette for the past decade. This year, expect to see a move toward warmer neutrals, earth tones, and nature-inspired shades of blue and green. Warm metals, like gold and brass, will also continue to trend. And hardwood floors are heating up, as cool gray and whitewashed finishes fade in popularity. Expect to see a rise in classic choices like walnut, mahogany, and oak in richer and darker tones.
​
Furniture will also get cozier—and curvier—in 2020. From rounded sofas and curved-back chairs to oval dining tables, softened-angles are dominating the furniture scene right now. And designers expect softly-textured fabrics—like velvet, shearling, and mohair—to be big this year, as homeowners strive to add a touch of "hygge" (the Danish concept of calming comfort).
​
Want to warm up your home decor? Try one of the top paint colors for 2020: Benjamin Moore's First Light (soft pink), Sherwin Williams's Naval (rich blue), or Behr's Back to Nature (light green).
Example Social Media Image/Post
Example Facebook image & post
Is your home's interior ready for a refresh? Check out my latest blog post, where I share five design trends to bring your home into the new decade.
Then call or message me to schedule a complimentary consultation. I can help you determine which updates and upgrades will add the most VALUE to your home—and share my recommendations for stores and service providers to help you get started.
And if you're ready for a REALLY fresh start, maybe a new home is what you need. I can help with that, too! ?
→ [insert link to blog post]
Advanced Tips
Be Flexible.
One of the most powerful aspects of these campaigns is their flexibility. Using the collateral we suggested earlier, you can do almost anything you can imagine to reach your customers where they are!
For Marketing Club members, we provide a list of variations you can take with the various campaign components, making it easier for you to find the best one that works with your own database.
Stay Consistent.
Set up your Calendar to remind you each month when a new campaign is available. Then set up reminders on each of the day's you're supposed to implement part of the campaign. This will prevent you from forgetting and falling behind, and it will also remind you to stay consistent!
The more consistent you are with following through on the implementation, the better and more positive results you'll get!
Use Video.
Don't be afraid to add some videos when implementing the campaign! Videos are great for Facebook and Instagram, and even short videos can be fun and informative to add to emails or text messages when reaching out to your database.
Try and record a quick 60-second recap of your blog post each month to add to Instagram or Facebook (with a link to your blog).
Where to Get the March Marketing Campaign (Plus new campaigns, every month!)
You can get the featured campaign and more by joining our Marketing Club!
Each month we release a new marketing campaign to members of our Marketing Club. We call it our "Monthly Value Program" or "MVP".
Each MVP contains all the marketing you need for the month done for you, including:
A Blog Post on a topic of relevance to anyone interested in real estate
A professionally-designed, customizable Report on the same topic

Powerpoint version
Keynote version
PDF version

A LinkedIn Post, which is a condensed version of the blog post

Also has instructions for publishing a post to LinkedIn

A Marketing Calendar of activities to ensure you implement the campaign fully
A Social Media Image for you to use on Facebook or in your blog post

2 Facebook post examples, a video prompt, and 2 different image options

An Instagram Image
A Pinterest Image
A LinkedIn Image
A Support File, which contains

The Cover Email Template
The Phone Script
The copy for the Social Media Posts
The Marketing Club is $67/month, but for a limited time we're offering a two week FREE trial!
Try the Club out for two weeks, and you'll get the entire March campaign that we went over in this blog, including:
Support file with all the information you'll need to help you implement the March campaign
Training library FULL of real estate technology training, resources, and templates
Website for your blog post
Access to Members-Only training every 1st and 3rd Wednesday
Priority support
So. much. more.
Sign up now and give it a try for 2 FREE weeks!