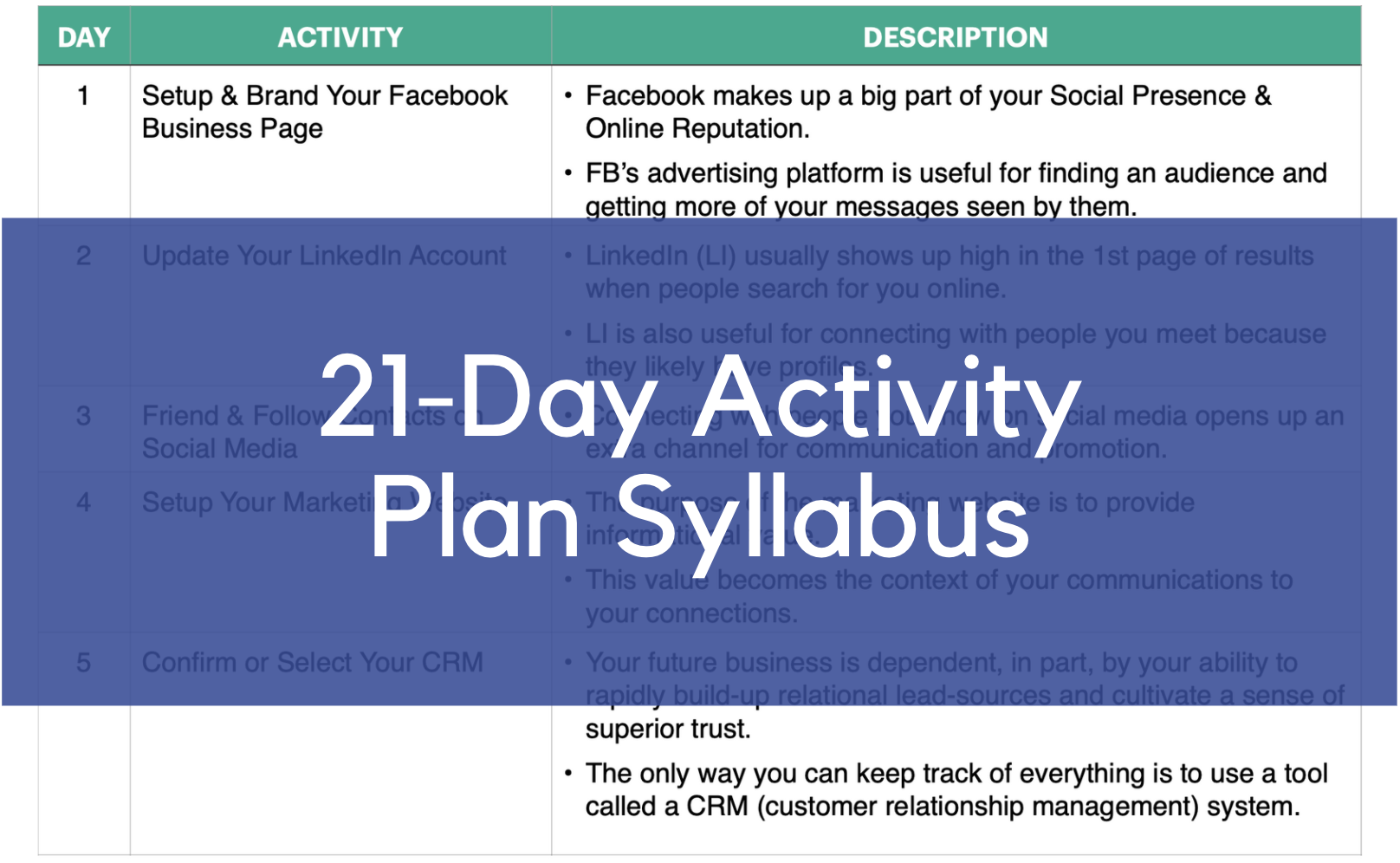 Last week we shared an inside look at our new 21-day activity plan for more summer sales…
The activities you should be doing now to ensure you have a strong summer no matter what happens in the market.
We've had an influx of requests for more information since last week's reveal, so we're hosting a special training THIS Thursday, July 2nd at 12pm ET.
Secure your place in our free webinar on the 21-Day Activity Plan for More Home Sales, this Thursday, July 2nd @ 12pm ET
BUT, to hold you over until Thursday, we're offering ANOTHER sneak peak…
This time, it's the entire course syllabus outlined - for free ?
As we all know, real estate requires a certain level of trust (after all, you are helping your clients with most likely the biggest investment of their life), your clients have to have trust in your reputation and your competence.
The quicker you can establish trust within prospective clients, the lower the cost will be to acquire them (and you're much more likely to have repeat and referral business!)
How can you quickly and effectively cultivate that sense of trust?
With the 21-Day Activity Plan for More Summer Sales.
During this plan, you are going to implement a business process to systematically grow your relational lead sources, build clients' and prospects' trust in your reputation and competence, and collect high-quality leads. And along the way, you're going to begin building up your pipeline of opportunities.
Check out the syllabus...
This plan gives you simple, daily activities designed to help you ramp up your home sales in just 21-days… (aka THIS SUMMER), and our members who have already started the program are seeing awesome results.
If you want MORE listings, MORE leads, and MORE sales this summer, this is for you.
In just 21-days you can…
Amplify your Social Presence & Online Reputation and get recognized as a Listing Expert Agent

Turn Your Database & Social Radius into a Customer-Creation "Engine"

The 5-Step Real Estate Marketing System and Marketing Calendar

Your Virtual Listing Presentation for Online Appointments

Virtual Showing Strategies & Online Open Houses
Want to start your 21-day journey to more home sales?
We're hosting a free, special training THIS Thursday, July 2nd at 12pm ET, sign up now to reserve your spot before it fills up!
Sign Up for the Webinar
Secure your place in our free webinar on the 21-Day Activity Plan for More Home Sales, this Thursday, July 2nd @ 12pm ET