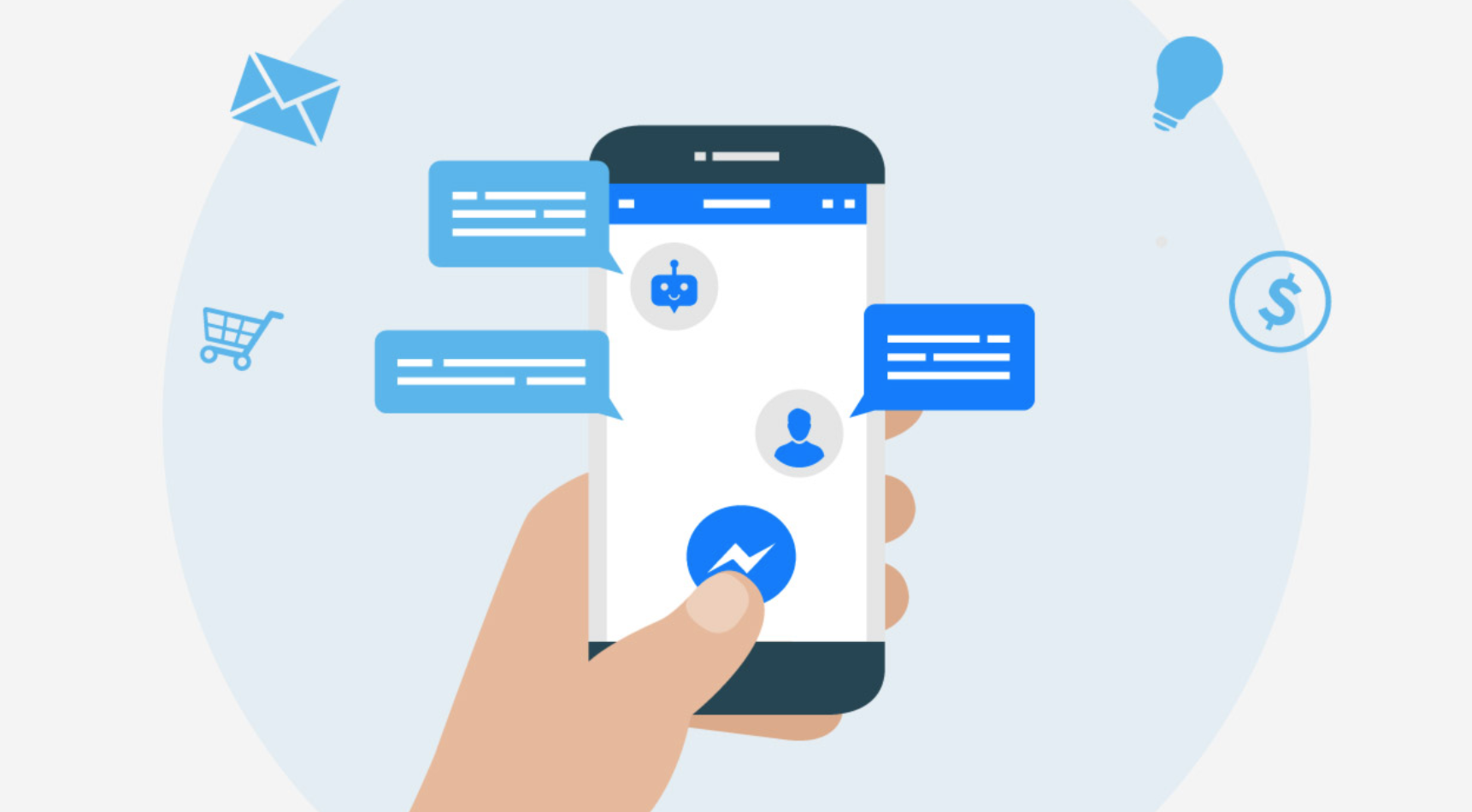 One of the most important lessons you can internalize about growing your business in the digital age is that you have to
"meet your customers where they are."
That used to be simple: postcards in their mail, emails in their inbox, calls to their phones. But if you've been solely relying on traditional communication methods like these, then you've likely noticed a decline in interactions. It's just harder to get in touch with people that way these days. So if you want to keep your business strong, then you need to find another channel.
And boy, do we have just the channel for you!
With well over a billion people using Facebook Messenger, it's safe to say it is a place where your customers are. More importantly, it's a place where your customers want to hear from you.
According to one experiment by marketing giant HubSpot, content delivered through email had an open rate of 33% and a click-through rate of 2.1%. That same content delivered through Facebook Messenger had a wildly more impressive open rate of 80% and click-through rate of 13%!
And the best part about Facebook Messenger? You can automate the conversations so that you don't have to do all the heavy lifting by yourself!
What Are Messenger Bots?
Messenger bots, or "chatbots" are a combination of automation and instant messages.
A Facebook Messenger Bot is a type of chatbot that uses the Facebook Messenger platform to deliver your automated messages to potential leads or people in your network.
ManyChat is the application that we recommend using to control the automation of these messages.
How a prospect would interact with a Facebook Messenger Bot is this: they will click on an advertisement you've setup in Facebook, which will open a Facebook Messenger box. The prospect will then engage with the chatbot to answer a series of questions that you determine beforehand. You can have them type in answers, select from a multiple choice list, confirm information pulled from their Facebook profile, and more.
Whatever data your chatbot collects will be recorded in ManyChat. You can view it in ManyChat, pull it into a simple spreadsheet, or -- most powerfully -- have it populate directly into your CRM. This setup is, of course, different for each CRM. For Realvolve, our preferred CRM technology, we had to create an integration with the app Zapier. Reach out to the customer support team of your CRM if you have any trouble!
Note that bots are not Artificial Intelligence... not yet, at least. You will need to write all the dialogue you want your chatbot to use and build out the decision trees for how it goes about conversations. They are also not a lead attraction method. That is to say, you cannot expect them to attract more clients by themselves. Without traffic driven to your chatbots intentionally, they are basically worthless.
How to Setup a Chatbot for Your Next Facebook Ad Campaign
First, you will need to choose your automation platform. As we mentioned earlier, we recommend ManyChat. The most popular messenger marketing platform out there today, it's also one of the most affordable. There is a free plan, but we highly encourage you to sign up for the Pro version, as this will allow you to use your bot in your Facebook ads.
Next, you should get familiar with the application. The two areas you'll need to focus on are "Flows" and "Growth Tools."
Flows are the conversations that you build for your chatbot to use when prospects engage with your ads. There are a lot of options to play around with in each flow, and it'll just take a bit of tinkering to figure out which ones work best for you.
A good tip is to consider how the conversation would go if you yourself were talking to a lead that was interested in your particular ad, then build your flow to match that conversation. You can always edit later!
Once you've setup your flow, you'll move to "Growth Tools" in ManyChat. There is a heading that says "Ads," but note that this is in beta, meaning that the developers at ManyChat are still testing it. Our expert, Travis, says that he's had much more success using the widget titled "Facebook Ads JSON."
Click on the Facebook Ads JSON widget. Under the heading "Opt-in Actions," you'll see an option to "Replace" your opt-in message with your new flow.
Select your flow that you just created. The first message of your flow will serve as your opt-in message (aka, the first message that your business page sends your lead, with which they will need to interact before the conversation can continue).
Click on Next to reveal your new JSON code. Find and click on "Copy Code to Clipboard" at the bottom of the page, then navigate to your Facebook Ads Manager.
Create a new campaign with the "Messages" objective. This will be under the "Consideration" category.
Setup your campaign like normal: edit the name of your campaign, select your audience and budget in the Ad Set. Where you'll use your new JSON code is in the Ad portion of your Facebook ad campaign, under "Messenger Setup."
Delete any code that appears in the resulting popup, then paste your new JSON code. Select "Save and Finish."
Publish your campaign, and voila! You've created your first ad using a Facebook Messenger Bot!
Tricks to More Effective Messenger Bots
Our resident messenger bot expert, Travis, shared a few tips with us on how to improve the quality of your messenger bots! Some are simple: don't use images that are too large, as this will create slow load times for your messages. Keep messages short -- one sentence at a time is best -- and don't use too many emojis, or you'll come across as spammy.
A more complex tip is to really focus on retargeting your leads. Make sure to take full advantage of the Automation section to stay top of mind with all your new prospects.
The most effective tip, though? Use a Public Figure Page that looks and feels like your personal Facebook profile. This will help your retargeting sequences feel more personal and therefore convert better.
A Public Figure Page is simply a type of Facebook Business Page. Learn more about how to set one up and use it to generate leads when you sign up for a Free 2-Week membership of The Paperless Agent!