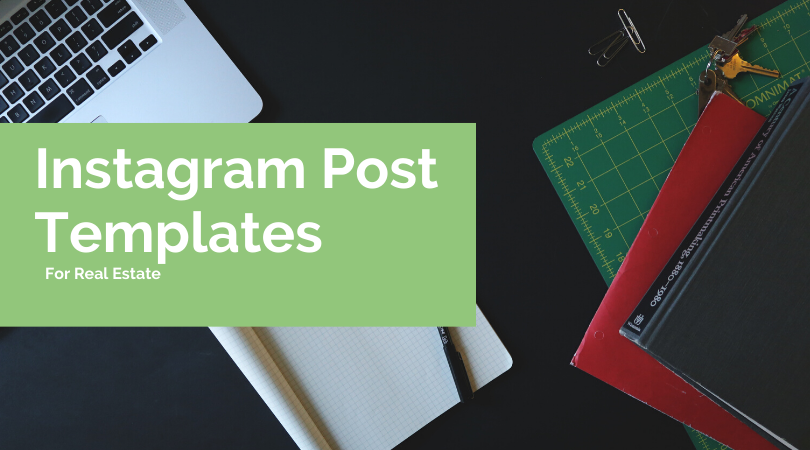 Using Instagram can be hard enough, but for real estate professionals, trying to find the right content to post can make it even harder than it already is…. especially when you take into account how many other realtors are using Instagram!
You need content that will help you stand out while still staying relevant to real estate and to your brand… but without posting the same thing over and over again.
Here at The Paperless Agent, we've built up our associated brokerage's Instagram page (@creathbrothers) around a few staple post types, and we've turned those posts into templates to share with you today.
The best part, you can take these templates and start using them for your own Instagram account ASAP.
Anatomy of a Post
Before you can start posting like a pro, you first need to understand the anatomy of a post.
There are a few different parts to an Instagram post, and knowing how to use them the right way can be crucial for your engagement and overall success on Instagram.
Location - This is where you'll tag your location. You can tag entire area's (like Austin, TX) or you can tag specific locations like a neighborhood you have a listing in, any popular landmarks that are famous in your area, etc. The location tag helps categorize and organize your post with anyone else who has used the same location tag.
Content (Image, video, carousel) - Easily one of the most important aspects of your post, this is what people will see before they look at your caption or hashtags or anything else. You want visually appealing content that will stop people from scrolling past your post and instead, catch their eye and make them want to engage with you.
Caption - This is the part where meaning is given to the photo or video. This is also where you'll trigger engagement, so make sure to include a call to action. Call to actions can include phrases like, "Check out the link in our bio", "DM us for more information", "Tag someone who'd like this home", etc.
Hashtags - Hashtags are keywords or phrases strung together with the pound sign in front (#). They are used to draw attention, organize, and promote social media posts.

Examples: #2020 #realestate #austin #austinrealestatemarket (For more information on hashtags, how to use them, and helpful hashtag generator tools… check out our blog post Using Hashtags on Instagram).
Tags - Tags are used to identify someone else in your post. Tags are especially important when working with lenders, clients, business partners, etc. because it allows your post to show up on their profile, and it also allows viewers to visit tagged profiles with one click.
Not all of these features will be used in every post you make, but it's good to start practicing using them if you haven't in the past.
You'll see in the examples below the different ways we use these features in our posts.
Post Types
When thinking of what to post on your Instagram, think about these five categories:
These five categories are an outline of the content you should be posting on your own Instagram.
We expand these five categories out to include an enumerated number of posts:
Real Estate
​Coming Soon (can only use this for a few more months according to new NAR rules)
​Just Listed
​Under Contract
​Recently Sold
Your Expertise
​Market Updates
​Real Estate Tip Videos
​Highlights of homes
​Answer client questions
Your Clients
​Client spotlights
​Clients closing on homes
​Clients holding "Sold" signs
Your Real Estate Life
​Behind the scenes of an Open House
​Behind the scenes of a Listing
​What a day in the life of a Realtor is like
Normal Life
Hobbies
Family
Pets
Vacations
Those are just a few examples of how you can expand the post type categories to help you know exactly what to post, so you're not constantly posting the same things and boring your audience.
The categories will also help you plan out your posts so the overall look of your Instagram grid looks like a pro!
Next, we'll show you examples of how to post content that fits in the above categories.
3 Post Templates
Coming Soon
The purpose of the "Coming Soon" post is simple, to market a listing before it hits the MLS.
**PLEASE NOTE: NAR has changed some of the rules along with promoting a listing before it hits the market. Make sure you are aware of those changes and are following the rules of NAR and your local MLS.**
We use the "Coming Soon" post to get clients to DM us directly if they are interested, which can open a line of communication quicker since we aren't waiting on an email address or contact information to begin connecting!
In this "Coming Soon" post, we used images of one of the highlighted features of the house for the content, the updated master bathroom.
Instead of showing a picture of the outside of the house, we used a carousel post to highlight a feature of the home we knew would be appealing to potential clients!
In the caption, we made sure to include "Coming Soon!" and just a few short facts about the house. We included a call to action to direct message Jonathan (one of the two realtors in our brokerage), as well as check out the link in our bio for more details.
We made sure to include the hashtags #homebuyer and #homeseller, so anyone who searches for those keywords will be able to see this post.
Recently Sold
The "Recently Sold" post is meant to highlight a home you've sold in the past 6 months. You can highlight how quickly the home went under contract, (we've had multiple homes go under contract within 24 hours of hitting the MLS, when that happens we like to brag about it on Instagram!) you can highlight any special features of the home that helped it sell, you can even highlight the clients that sold/bought the home, etc.
In this "Recently Sold" template, we chose not to use a location tag because it was such an exclusive listing, make sure to always check with your clients before using specific location tags on any photos of their homes.
Unlike the "Coming Soon" template, we chose to highlight an image of the entire backyard of the home instead of highlighted features. Because this home is such a luxury home we wanted to show that off using one of the high-resolution images of the amazing backyard.
The caption draws you in with the first line of "Creath Partners Exclusive," immediately the word "exclusive" makes you feel like you're in on a secret that you maybe shouldn't know… and makes you want to keep reading! Since our clients were known celebrities we wanted to include that in the caption, giving this home an extra "luxury" appeal. We also chose to highlight an area of the home that was out of the ordinary and give some details to entice any potential clients to contact us for similar homes.
The call to action was to check out additional homes through the link in our bio, driving potential clients to our website, specifically our listings page.
The hashtags used made sure to include our specific market, #austinrealestatemarket as well as the #luxurymarket this home was sold in.
Expert Tips Video
The Expert Tip post is just a post meant to show off your expertise in your market. This can be done with either a photo post or a video, but we've seen the most success with video.
By branding yourself as an expert in your market you're not only adding value to your brand, but you're also adding value to your Instagram page, which can lead to more visitors, more engagement, and even more leads.
Watch the video below to see an example of our expert tip video…
***TIP: Instagram videos must be 60 seconds or less, so keep that in mind when filming your own expert tip videos.***
Because we used a video where there was quite a bit of dialogue, we kept the caption very simple and to the point.
The call to action for this template was to "send us a direct message with any questions", this is a great call to action to use for expert tip posts as it helps to keep your brand on point as an "expert" in your market!
Notice we used the hashtags #realestatetips #realestateexperts and #austinrealestate, again to keep this post on brand with the content.
The best part about these post templates... the ideas are endless! Once you get started, the ideas of what to use for your next post, and your next post, and your next post, and so on, just start flooding in.
Use these templates for your own Instagram and tag us in your next post! @thepaperlessagent @creathbrothers
If you want more real estate related training, tips, scripts, and more… join us on our next FREE training this Thursday at 12pm ET.