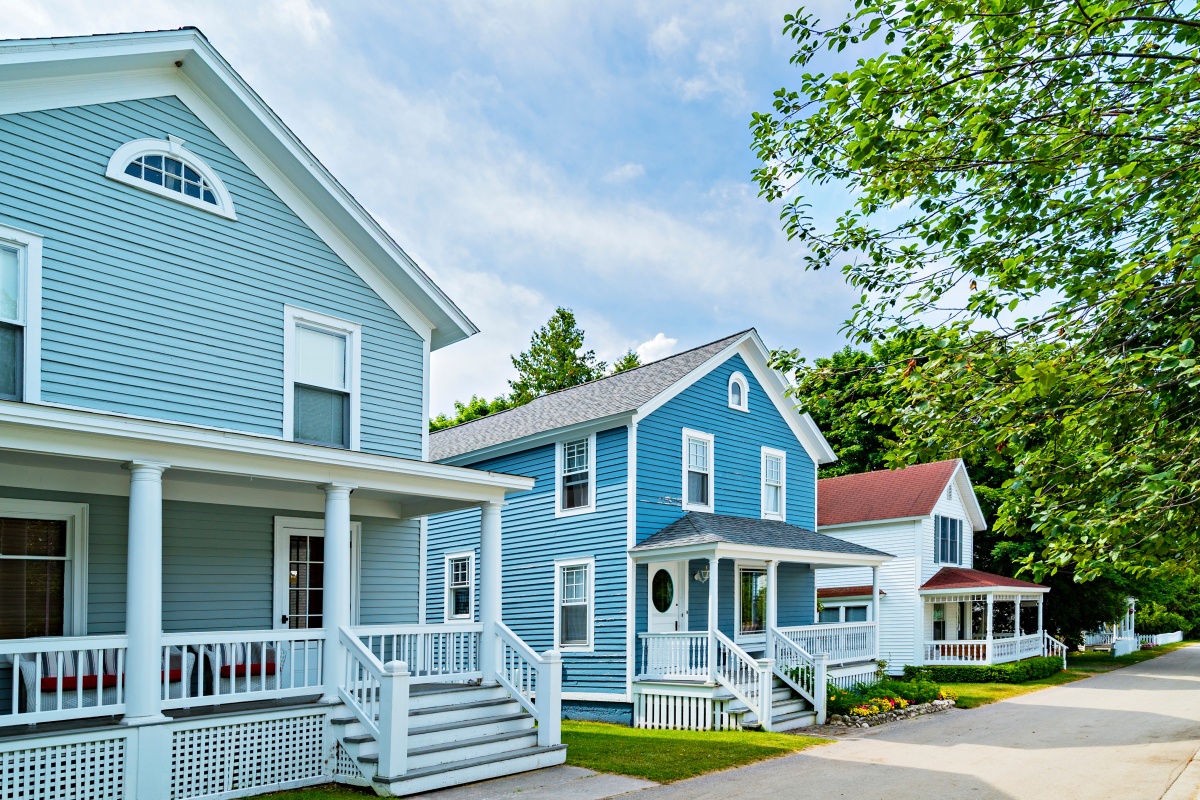 With so many door hanger designs to choose from, how do you decide on one for your campaign? To maximize ROI potential and ultimately increase client acquisition rates, you can't overlook this important detail. 
The door hanger has to influence your recipients to take action while representing your brand and including all of your key information. The goal is to raise brand awareness and establish yourself as a trusted real estate expert with a successful track record in this particular neighborhood. 
In other words, it's not enough just to include your name, business website, and contact information. Those details are essential, but you'll need more if you want yours to stand out. Borrow inspiration and grab the recipient's attention by focusing on the details that will make your door hanger designs most effective.
Need help with your online marketing? Join the Marketing Club for just $1 and we'll do all the hard work for you!
Lead with a Strong Headline
The headline is likely the first thing your recipients will see. That's why it's important to use this area to make your brand message stand out. A strong, prominent headline can capture their attention and get them to keep reading. 
To highlight your headline, use a bold font and center it headline at the top of your door hanger to immediately draw in the recipient's eye. Be intentional about the text you place here. Use these strategies to ensure your headline is impactful: 
Provide a solution. 

Ask a question. 

Use numbers.

Reference a current trend.

Offer a discount.

Tell them what to do.
Notice how this door hanger makes a big statement using bold letters that catch the eye immediately. 

Include a Client Testimonial
Client testimonials and reviews are powerful. The Bright Local 2022 survey found that 49 percent of respondents "trust consumer reviews as much as personal recommendations from friends and family." Including this on your door hanger can immediately boost how much the recipient trusts you and your services, which can lead to them taking action. 
When adding a testimonial, keep it short and simple, focusing on the most impactful sentence from the overall review. Don't forget to include an image of the person, if possible, along with their first name and last initial. 
Create a Unique QR Code
Door hanger designs that are interactive give the recipient a way to engage with the content—rather than simply reading it. One way to do this is to include a QR code. Once scanned with a cell phone camera, this will take the person to the link of your choosing. 
If you don't think people would actually use a QR code, think again. A recent survey from The Drum and YouGov found that 75 percent of consumers across all age brackets plan to use QR codes in the future. 
All you have to do is use a tool like this QR code generator to add your link and then download the image that you can put on your door hanger. Here are some ideas to consider when determining what you'll link to:
Your website or social media profiles. 

Exclusive blog, e-book, or video content download

SMS text message updates sign up

E-newsletter subscribers sign up

Giveaway access or promo code 
Check out the way this design uses a QR code to give a virtual tour of the home. This might be just what hooks someone to go see for themselves.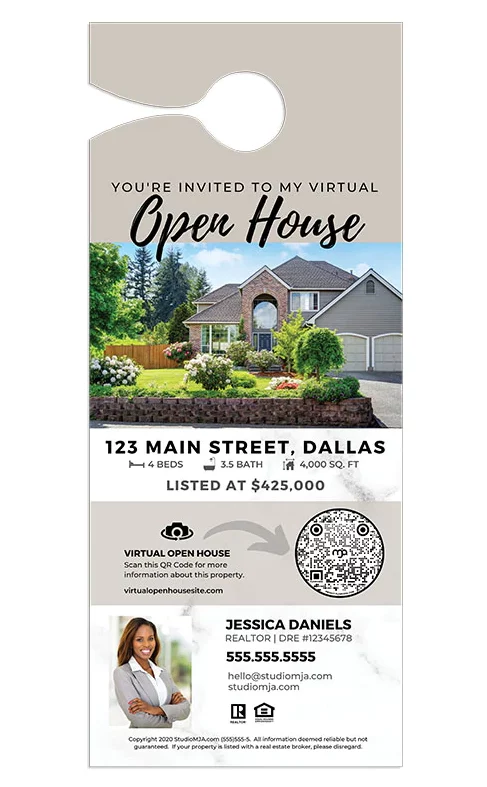 Use a Professional Headshot
Feature your headshot on the door hanger to build trust. According to a poll from Transactly of 100 consumers found 46 percent agree that a realtor's headshot will influence their decision to hire the agent. Moreover, 45 percent think a low-quality headshot will impact their level of trust for an agent. 
But don't just upload a generic, mobile camera-quality selfie and assume that will do the trick. Invest in a professional headshot for your door hangers. This professional, up-to-date image communicates that you are credible, competent, and take your business seriously. 
Keep Reading: 5 Reasons to Invest in Professional Realtor Headshots
Include Compelling Social Proof
It's hard for consumers to ignore metrics that directly point to your success. This is the power of social proof; it uses quantifiable data to show your value, allowing potential leads to feeling confident that you can do the same for them. 
One particular form of social proof marketing is called "wisdom of the crowd." This appeals to your target audience's sense of FOMO (fear of missing out). An example of this is: "Join the 75+ satisfied homeowners in your neighborhood who have partnered with me to sell their houses in half the time it takes other local agents." 
This works because human beings are inherently social creatures, so when they see others benefiting from your services, they'll "want to follow suit," HubSpot explains. Choose just one metric that speaks to your success. A few to consider, include: 
Client feedback score

Appointments generated

Showings per home sale

Total listings sold

Average sale price

Number of days on market
Promote Your Next Open House 
Open houses are as useful for you as they are for your potential clients. NAR found that 53 percent of home buyers attended an open house during their home search. In addition, 46 percent want to get information about upcoming open houses on your website. 
Don't make them go to your website to get relevant open house information—put it right on your door hanger. Include all the basic information on your door hanger, including address, date, and time, as well as your name and contact details. Fill in the remaining space with professional photos of the home's exterior and interior to get them interested. 
Show That You're the Neighborhood Expert 
One of the most effective ways to build trust with potential clients is to establish yourself as a knowledgeable member of their community. This local knowledge is key to proving that you're the expert in this neighborhood and the surrounding area.
Weave your knowledge into your door hanger designs by referencing:
A hyper-local fact

An update on the neighborhood market

Neighborhood development plans

Upcoming building assessment dates
Feature a Home Improvement Project 
Help homeowners get started with a simple home improvement project by sharing a simple tutorial or tips. For example, suggest a Spring Lawn Cleanup and then create a checklist of things they need to get done to clean up their yard for spring. 
This gives your recipients a reason to actually use the door hanger. Plus, each time they glance at it, they will also see your headshot and business information. This keeps your brand at the top of their minds when the time comes to hire an agent. 
Check out this checklist example for homeowners living in a cold-weather climate: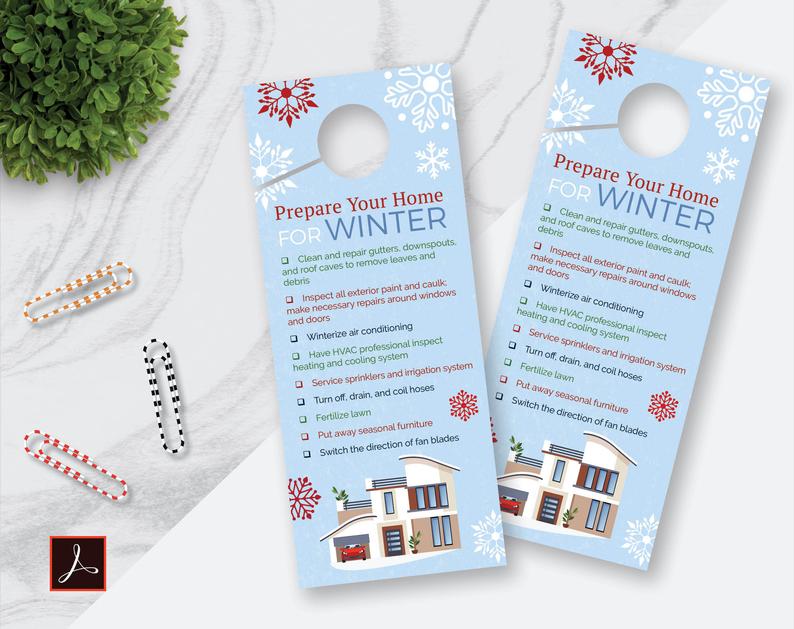 Offer an Exclusive Industry Tip
A TD Bank survey of more than 1,000 first-time U.S. home buyers revealed that many consumers feel anxious about the competitive market or unequipped to take on the financial investment. This is where you can provide value by sharing your expertise to ease their minds. 
To do this effectively, focus on tips or ideas for a specific topic. Here are some examples:
Action steps on how to save for a down payment 

Insights on the right kind of home loan to apply for

Predictions on the best time to buy or sell a house

Advice on how to make a strategic, reasonable offer 

Home upgrades that will increase the property value

Reasons a house won't sell and what to do about it

What to know about negotiations and closing the deal
Follow this up with a call to action to get in touch. Remind them that having a real estate agent will make their home buying or selling process easier to manage and that you'd like to be that person for them. 
Incorporate Seasonal Elements
Make your door hanger designs relevant for the specific time of year. Is summer vacation right around the corner? Reference local community events or attractions that families can enjoy together. Are the winter holidays approaching? Share a few home entertaining ideas, festive decorating tips, or seasonal baking recipes. Don't forget to use seasonal colors and design touches as well to make your door hanger stand out. 
Here are a few seasonal door hanger designs to give you some inspiration.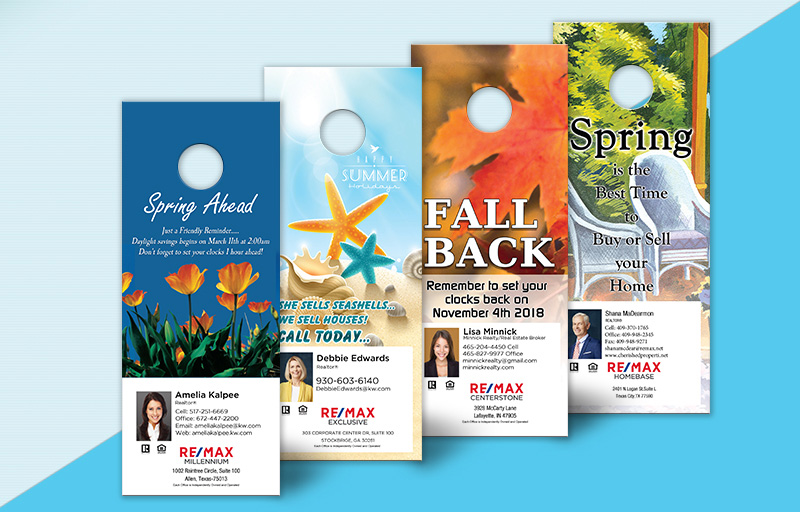 Create Better Door Hanger Designs
To get the most out of this marketing strategy, you need to get your design right. Use these ideas to create door hanger designs that stand out, speak to your value as an agent, and keep your brand front of mind.