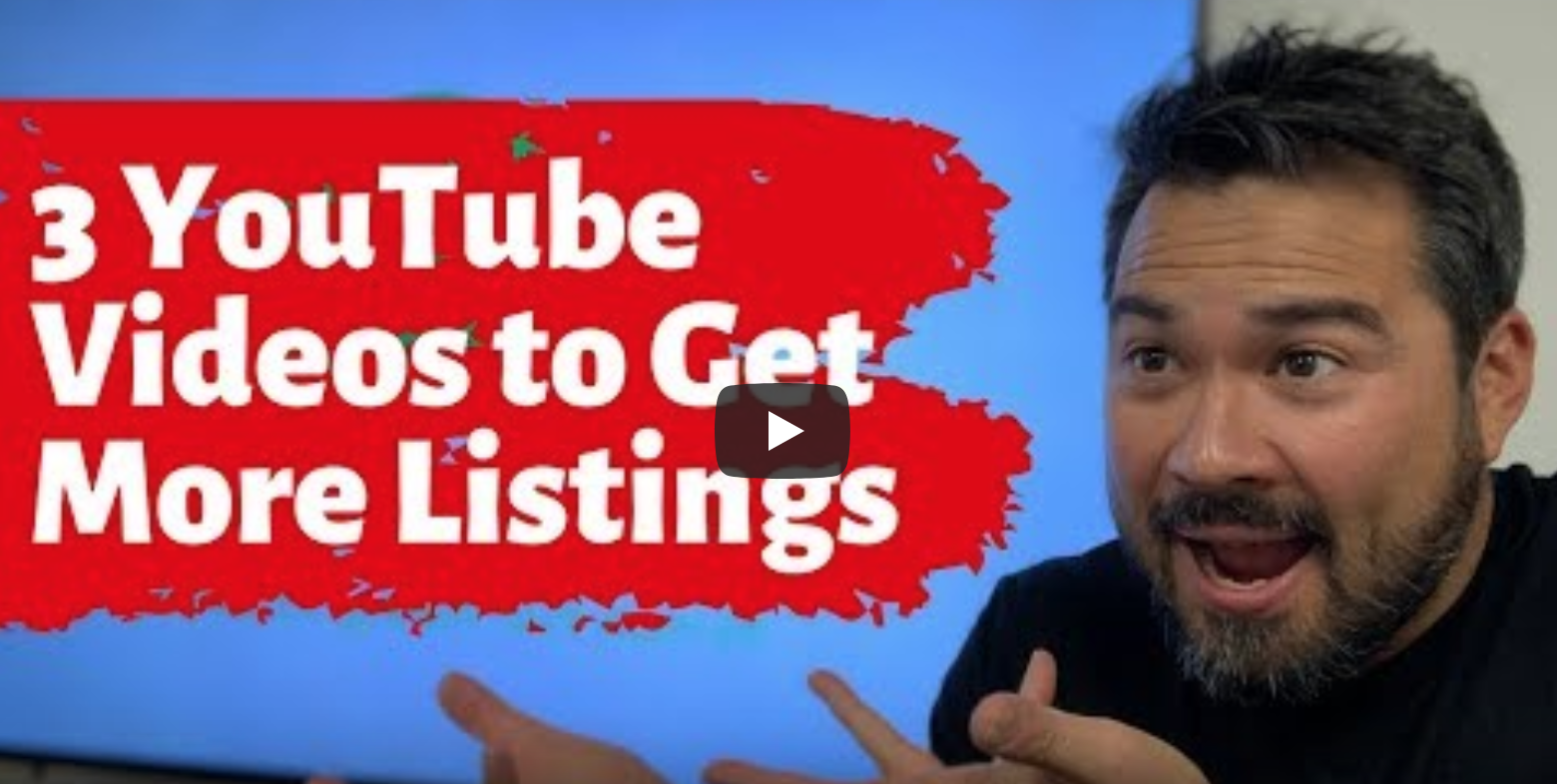 According to research by Cisco, more than 80% of all traffic on the internet will be video in just three years. This makes it incredibly important that we understand best practices for utilizing video in our real estate businesses.
YouTube is a GREAT place to utilize video and get results. Because YouTube is a social network optimized for advertising, it's easier to distribute your videos to people who will actually watch them and in-turn build up an audience that will eventually lead to more listing leads.
Just putting videos on YouTube isn't enough, however; you need quality videos that actually resonate with your viewers if you want to get them to trust you enough to reach out, which is why we're sharing our top 3 YouTube videos to get more listing leads.
1. How to Market Your Home in the Austin Real Estate Market
Description: Have you ever wondered what it takes to market and sell a home? In the "olden days" of real estate, the home would get listed in the classified section of the newspaper and flyers and postcards were mailed out. These days, however, selling a home requires more sophisticated marketing methods.
Home buyers are more knowledgeable and have many tools at their disposal. So we have to cut through the noise using online marketing to sell Austin area homes. In this video, Garry and Chris share their strategies for selling Austin homes.
Why were talking about how to market your home in Austin:
By discussing how a real estate agent should market a home in Austin, we're essentially presenting our marketing plan to anyone watching, and in turn building trust with any potential clients.
With that being said, you don't want to advise on anything you're not doing yourself. For example, if we didn't have an aggressive marketing strategy that took into account online marketing and social media marketing, we wouldn't recommend finding an agent that does those things… Think of this video topic as a way to "toot your own horn" without doing so outright. Additionally, we're showing them what it's like to work with us before they are a client. .
And by sharing our real estate expertise we answer the question most sellers have: what are you going to do to sell my home.
Tips on how to make it:
One way to take your video from amateur to professional is by editing.
We recommend using software like Screenflow or if you're more familiar with it, Final Cut Pro.
Editing a video is not just about adding together different takes until you get your desired result. The real key to editing is doing the more advanced techniques like adding text, transitions, maybe some music to the opening scene, etc.
A piece of editing advice from our Videographer, Jerrett Wilson, is to keep all of your photos and videos (including B-roll) organized for the easiest way to import and organize your footage. This will really help you when you're in the beginning stage of editing and trying to create the basis for your video.
2. 9709 Angelwylde Drive | Austin, TX | 78733
Description:
Welcome to the re-invented home of 9709 Angelwylde. Owner's personal touches, expanded spaces and updated finishes make this a luxurious masterpiece nestled on an ultra-private 15-acre property located in Austin, Texas.
Why were talking about 9709 Angelwylde Drive:
In this video, we're using the "boomerang" principle - we're putting out there what we want to catch back. Meaning, were promoting real estate on YouTube, and the byproduct of that work will be that we get MORE listing opportunities back!
Prospective sellers see us proactively and creatively marketing real estate, which makes us stand out.
Tips on how to make it work:
We use ad placement to make sure this video was being put in front of all of the people who are specifically and actively looking for real estate and who have been searching for residential real estate. Many of those people have a home to sell, and we're attracting sellers by giving them what they want on the front end. I.E. Answering their question of "How are you going to market my home" by giving them a real life example of a home we're marketing.
3. How to Choose Your Real Estate Agent in Austin Texas
Description
:
What are your criteria for choosing a real estate agent? Most home buyers & sellers don't have a specific list of standards from which to compare real estate professionals.
In this video, Chris and Garry provide tips for choosing an Austin area real estate agent or firm, including questions to ask an Agent before even agreeing to a sit-down.
Why were talking about choosing a real estate agent in Austin:
In this video Chris and Garry are sharing their expertise and ultimately building trust.
Chris and Garry chose to talk about how to find an agent in the Austin market because that's the market they primarily work in. When creating your own YouTube videos, you want to stick with the markets that you work in.Even if the topic isn't entirely related to your specific market, you still want to include it to stay top of mind with anyone looking to buy or sell a home in your market.
Choosing a real estate agent isn't something to take lightly. When choosing a real estate agent, it's more than just who is going to get the job done. You're investing the most amount of money into the largest investment you'll ever make.
Tips on how to make it:
To make this video, Chris and Garry sat down in a room with good natural lighting (notice all the windows in the background) and just had a natural conversation. You'll notice that the video doesn't feel scripted, there weren't a lot of unnatural pauses or "ums"... That's because the video WAS scripted and practiced over and over again until it looked and felt natural.
Our Videographer, Jerrett Wilson, recorded this video. However, if you don't have access to a videographer or your budget won't allow one yet, you can easily use your iPhone!
If filming on your own, make sure to prop up your iPhone or camera to get a good angle and stay in front of the lens while filming. (You won't be able to get the pan aspect like in Chris and Garry's video, but it will still be of high quality).
Tips on Creating Your Own Videos
Chris has interviewed many video professionals, both in our Marketing Club and from other organizations like Wistia, to get the best tips for creating and promoting our own videos.
Some of the tips we've already touched on earlier in the blog, like scripting out your video ahead of time and practicing before you get in front of the camera, but there are a few we haven't mentioned yet that will be extremely beneficial to keep in mind when filming your own...
Video is not a strategy; it's a media type. What we mean by that is you can't neglect the rest of your marketing strategies and focus solely on video. While it is extremely important it is even more important to be a well rounded agent when it comes to marketing with all media types.
Personal Is Professional. It can seem very daunting the idea of getting "personal" in videos, but prospective clients want someone they can relate to and trust. No one is going to want to work with you if they don't feel a connection, and the home-buying and selling process is an extremely delicate and personal one.
We can't approach video like it's television. Yes, entertaining videos are always fun, but the main goal of real estate videos is to educate. If your video isn't educating your audience on a topic, whether it be a new listing for sale, advice on how to find a real estate agent, or even a market update, your not going to be recognized as a leader in your market and you're not going to stay top of mind with anyone.
You need a YouTube channel. Without a YouTube channel you can't really do much with real estate videos. Make sure you create and brand your YouTube channel to your firm or practice.
Check out our other blogs on how to Market Your Listings on YouTube, and how to Get Your Real Estate Videos on Google, for more training on creating, branding, and using your YouTube channel.
Make sure you're promoting your videos to people interested in real estate. After you spend the hard work to make and edit your video, you want to ensure the right people actually see your video. You want to zero in on the people who are looking for residential properties for sale, which is an audience Google has identified and made available to us to market too.
For more YouTube videos, tips on creating videos for real estate, and training on how to market your videos check out our FREE weekly training sessions!
NEW TOPICS EVER WEEK
Get FREE training on marketing, social media, listings, and more.
See this week's special topic!