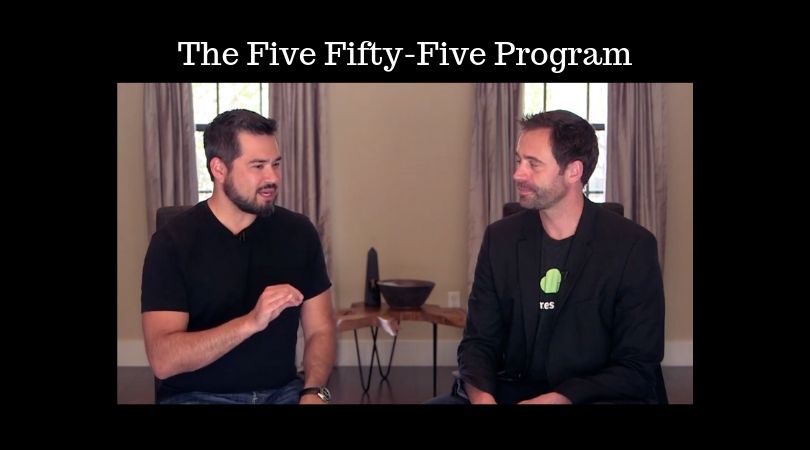 We all know real estate is a networking industry. If you're not networking and building contacts, then you're not growing... and if you're not growing, then there's probably untapped potential lying dormant within the recesses of your abilities!
It can be hard to find the time, resources, and strategies for successfully networking and building your database, which is why we came up with the Five Fifty-Five Program, or the 5x5x5.
The Five Fifty-Five program is a system for continually expanding your database so you can get more referrals and rapidly spread word-of-mouth for your real estate practice. The more you build your database, the greater opportunity you have to sell real estate.
The Five Fifty-Five program boils down to this: Each week, you should…
Meet 5 new people
Add those 5 people and their contact information to your CRM.
Write and send a handwritten note to all 5 contacts.
Be sure to connect with those 5 new contacts on social media as well!
A key component of the Five Fifty-Program: Your professional network.
Your professional network can be a great way to expand your database AND your referral network. Here's how…
Your Professional Network
Think about all the professionals you might interact while helping a buyer or seller… There's an appraiser, mortgage lender, title company, carpenter, painters, stager, and interior decorator, just to name a few!
On average, there are between 10 to 15 professionals you'll interact with during the buying or selling process, and each of those professionals is a potential source of referral business.
But most of us aren't used to thinking that way. We regularly refer these professionals to buyers and sellers, but we don't always think of them as a potential source of our own referrals.
The thing is: for most of these relationships, you've spent time, energy, money, and resources cultivating and nurturing them. You've already built trust. You just need to take the steps to ask for your own referrals.
But it can feel awkward to just go straight in and ask for more business. "Hey, I refer your business, now please return the favor…"
Instead, try this conversation (Garry and Chris role-play the entire interaction in the video above):
As you can see, it's conversational, easy to do, and most people will take you up on an offer like that!
When you sit down for coffee, you continue the conversational tone. Get to know the individual on a personal level. Ask about their business, life, family, what they are into, etc.
Then, at the end of the conversation, thank them for their time, and ask, "What is going to be the very best way for me to refer you business?"
Download and use our free Database Accelerator Checklist to start growing your professional network and build referrals.
Download the Database Accelerator Checklist here!
This checklist has over 100 relationships that you can start building now to grow your database and in turn your referrals and business.
How to Grow Your Database
A main focus of the Five Fifty-Five program is to grow your database, however, that does not mean just names, addresses, and emails.
When we talk about a database we don't mean just businesses, we mean a list of your relationships.
You might be thinking to yourself that sounds a little strange… but how likely do you think you are to get a referral from someone who just thinks of a business relationship with you versus someone who has a personal connection with you? The #1 basic need we all share is human connection.
So how do you find these people in order to build connections?
We recommend starting with creating a list of your favorite activities, passions, interests, hobbies, etc. Then find groups of peers who enjoy doing similar activities. This can be anywhere from a Church group to a workout group to a book club to a sewing circle. The possibilities are endless.
If you live in a big city like Austin, TX try checking out websites dedicated to what's going on in the city. Most cities have social sports clubs, alumni events for popular colleges, and similar interest group meet-ups every week!
Other places to meet people are the following:
Make it a goal to attend at least one meet up or networking event per week.

Once you've found a group of like-minded individuals, it's easy to go and introduce yourself. When you're sole purpose for being there isn't business you'll find it's easier to open up and make a connection that they will actually remember.
The Follow Up
As you build relationships you'll find plenty of opportunity to add people to your database.
Once they are in your database, send them monthly marketing that provides value, build on the relationship, and provide them the tools to refer you.
Real estate business requires the constant addition of people to our database. Like a lake, constant freshwater is needed to maintain or increase water supplies. Building up your professional network within your database is like adding flood waters to your database because of a professional's propensity to refer and respond to the value you offer them.
Take time now to schedule a time-block every week around the same time to reach out to people in your professional network. Use the Database Accelerator Checklist to identify target relationships you can build. Attend mixers and business meetings to meet new people, understand their concerns, and build a professional relationship with them.
It's a process you can use to build relationships and be top of mind for referrals with anyone in your professional network.
In fact, in the Agent Sales Accelerator Program (ASAP), we walk you through every phase of the five fifty-five program giving you all the resources, scripts, templates, and skills you need to build your professional and referral network in a matter of weeks.
Mark your calendars for a special announcement about the Agent Sales Accelerator Program (ASAP) THIS weekend! You're not going to want to miss this!