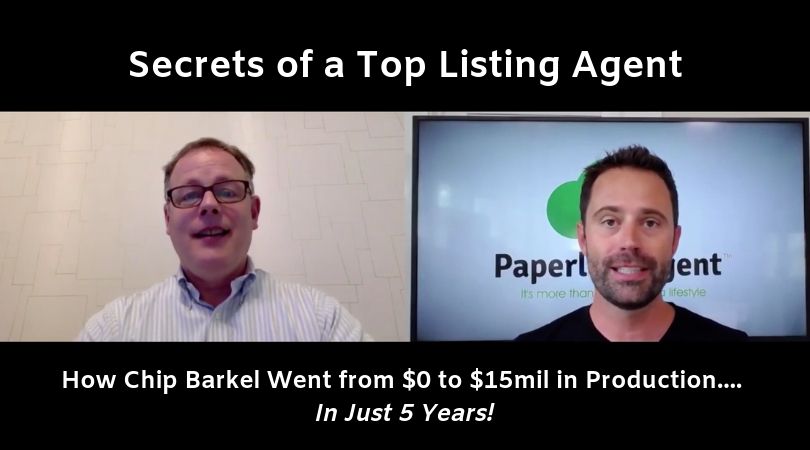 Back in 2014, Chris and I took a trip to Mississauga, Canada for a real estate conference.
It was there where we first met Chip Barkel. Today, Chip has a pipeline of over $36,000,000 of upcoming sales.
But on that day we first met, he had just started his real estate career.
Over the last five years, I've been able to follow Chip's career.
And I've seen him go from $0 to over $15M in sales production, in just 5 years.
Consistently Maintaining Relationships
Chip's strategy for generating listing leads comes down to one simple phrase: "Consistently maintaining relationships with differentiation." All this means is that he makes sure to stay top of mind with the people in his sphere, reminding them of his unique value.
It's a simple concept, but not necessarily the easiest to implement. So how does Chip do it?
Ultimately, the key to Chip's success is consistency. He makes sure that his sphere hears from him in meaningful ways on a regular basis, and that translates into referral opportunities.


One of the ways Chip stays in contact with his database is through Send Out Cards.
A common misconception about SendOut Cards is that it's a mailer. What the service actually does is allow you to send personalized greeting cards to your network. You can do this in a variety of ways: one-off occasions to individuals, group sends to multiple recipients at once, and pre-scheduled instances. You can even include gifts!
This is one of Chip's favorite lead generation tools: he estimates that he sends about 3000 cards per year through SendOut Cards. His sphere is about 400 people, with a "top 250" that he makes sure to stay in touch with each month with both SendOut Cards and the Marketing Club's MVP.
Some innovative ways Chip is using SendOut Cards include:
Rather than Christmas or New Year's cards, Chip sends "Start of Spring" cards. This allows him to skip the crowded mailbox of those traditional holidays and also helps easily segue into real estate-related information.
Next year, he plans to send out cards for St. Patrick's Day and include a lottery ticket!
When he concludes a listing appointment, he takes a picture of the home and creates a card with it. He sends that card and either brownies or cookies as a rockstar follow-up.
Learn more about SendOut Cards here. And if you decide to sign up for the service, using that page will get you an invite to Chip's private Facebook group, where he provides technical support for SendOut Cards.
Before The Listing Appointment
When a listing lead comes in, there's two very important steps Chip takes before showing up for the appointment. First, he qualifies the lead with a quick but efficient phone consultation. Second, he drops off a pre-listing packet.
The phone consultation Chip conducts is based off Garry's training. He said he basically follows the Seller Consultation Template, though he's so familiar with it now that he can let the conversation flow a bit more organically and get all the same information.
That's the power of practice!The concept of a pre-listing packet is also something Chip learned from the Marketing Club. Done well, a pre-listing packet will go a long way towards making the actual appointment a success. It introduces your value to your potential clients and helps overcome objections before they even arise, such as "why should I use you over a competitor." A pre-listing packet also utilizes the philosophy of "time spent," which is the idea that the more time you can get people thinking about you before the appointment, the less likely they will be to want to spend time on anyone else.
However, when asked about discounting his commission, Chip always responds with a simple yet thorough answer. Check out the video below for a role-play example of how Chip handles objections.
Chip likes to drop off a physical copy of his Pre-Listing Packet about two days before the appointment. In it, he includes a Home Seller Guide, a printout of the latest MVP report, and a brochure about his latest sold homes. He has a two different packets, one for luxury listings and another for lower price point homes.
Garry and Chris advocate for the use of a Digital Pre-Listing Packet, which has all the same benefits and a lower overhead than a physical version.
The 5-Phase Listing Appointment
Once he gets to the appointment, Chip says that he follows our 5-Phase Listing Appointment to a T:
"This is What I Heard You Say" — The first step is to review the information you gathered during the Initial Consultation and record any changes or new details.
Inspect the Home — Rather than asking for a tour of the house, which puts the clients in charge, set the expectation early on that you'll be the one leading them through the process of selling their home. This will also help you catch anything that might change your pricing of the home.
Marketing Proposal — This is when you show your clients how you're different from your competition and explain what marketing strategies you'll employ if they list their home with you.
Pricing Conversation — Using your expertise and a CMA, show sellers what price the market will accept for their home and why a competitively priced listing will net them more on sale than an overpriced one.
Signing the Agreement — The final step is to get your sellers to sign the agreement!
Chip finds that sometimes sellers aren't ready to sign immediately, but he still uses Garry's training of an assumptive close to secure the agreement. He says, "Do you think you're ready to sign today? And if not, when do you think you will be ready to sign?"
Interested in learning more about the Club? Check out our free trial: