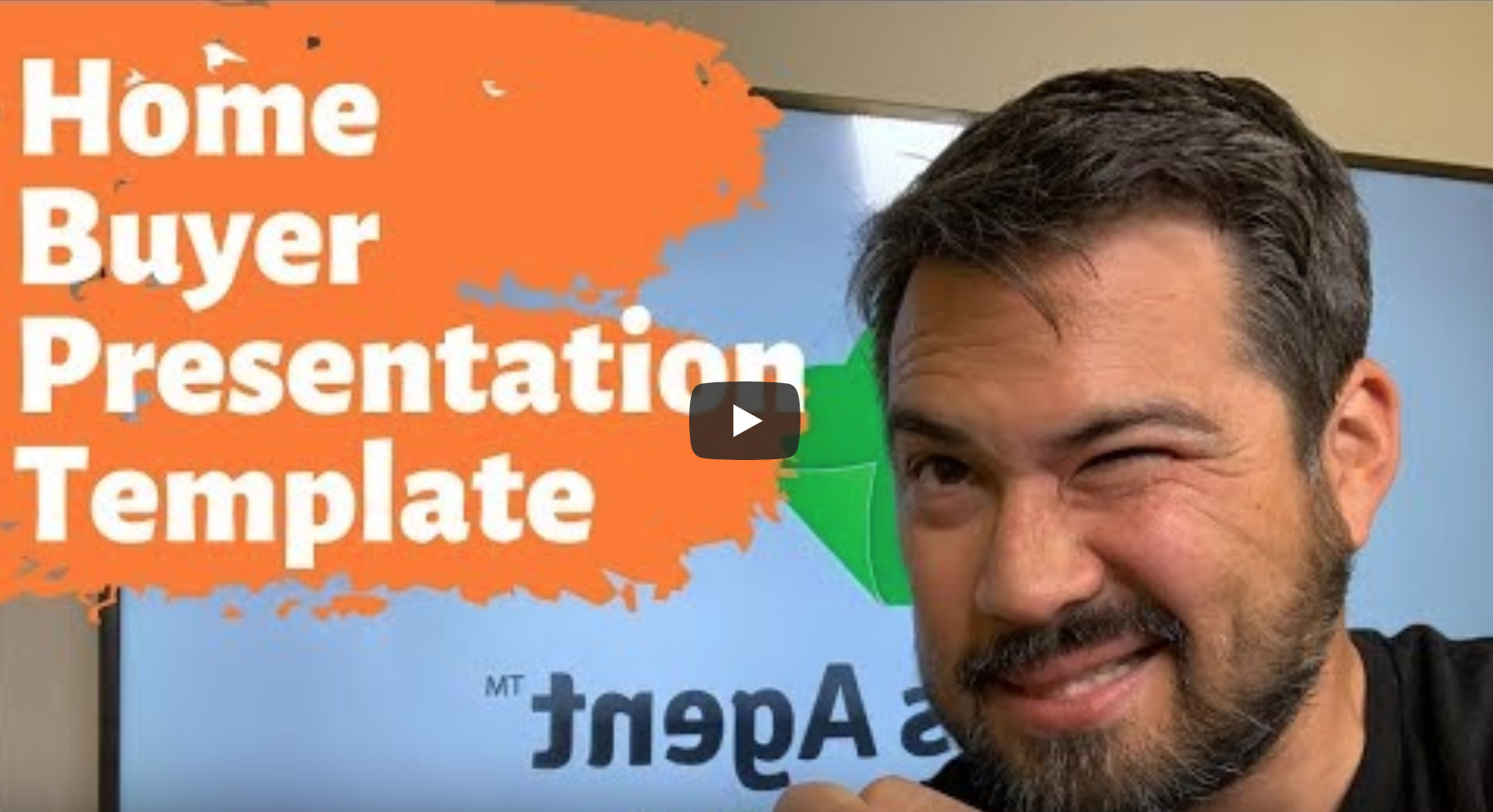 You've heard of people using Listing Presentations, but have you ever used a Buyers Presentation?
A Listing Presentation educates your potential seller on the home selling process and outlines the benefits of working with you to do that. A Buyer Presentation is similar, but geared towards buyers.
And just like an effective presentation for sellers, a Buyer Presentation works to qualify the client, cement trust, and facilitate action (like getting a signed agreement or making offers on homes). Using a Buyer Presentation, you can speed up the timeline for getting your buyers under contract.
Plus… helping a buyer find a home now means you have a seller lead in the pipeline for the future! And property tours keep your knowledge of your local market's inventory fresh and give you a chance to get out in your community to build your brand in person, rather than just online.
When to Share a Buyer Presentation
A buyer presentation is one you use after you get a guaranteed meeting with a client. You'll want to share your buyers presentation on your first appointment with the prospective home buyer.
Used correctly, a Buyer Presentation will:
Qualify buyers to make sure they're really ready to buy a home now

Cement their trust in you as their agent

Set expectations for the home buying process and your role as an agent

Alleviate any concerns the buyer might have

Get them to sign a buyer representation agreement
You can display your buyer presentation on a laptop or tablet, or if you have TV's in your office like we do, you can project your presentation onto those!
You could even print it out; whatever you need to do.
We also share a copy of this presentation with the buyers after the presentation, either digitally or as a hard copy. Giving the buyers a "take-home" copy gives them more time to read over what you've presented (and more time to realize the work you've put into it, and keep you top of their mind).
How to Create a Buyer Presentation
We've created our own Buyer Presentation Template (as seen in the video above) to structure the conversation you'll have with your buyer lead once they come into your office.
You'll want to use either Keynote or Powerpoint to create your own buyer presentation.
Slide 1: Welcome
The first slide is made to welcome your prospective buyer client. So on the first slide, you'll want to add your logo and the customers' names.
Slide 2: "About Me"
Include a headshot and a few testimonials about your work. Invite them to ask questions about you and remind them of your strong online presence and reputation with this line:
"We had a great discovery conversation where I learned a lot about you. I was curious: did you do any research about me online? If so, what questions did you have about me? I want to make sure you know me as well as I know you!"
This will help solidify the trust they have in your reputation as well as make them feel comfortable asking you questions as you go through your presentation.
If they don't have any questions, that's okay! Move on to the next slide.
Slide 3: "The Home Buying Process"
One of the big things we have to do throughout the presentation, is to make sure we educate. They might not be a first time buyer, (
statistically they're probably not
), but it's still important to address the home buying process.
People aren't buying homes every day, even if they aren't a first time home buyer it's more than likely been several years since they last purchased a home. AND, if they haven't worked with you before, there may be some things that you do differently that other agents they worked with in the past didn't do, so it's important to always address that topic and educate your clients about what's going to happen during that home buying process.
You can start the "Home Buying Process" slide with the following line:
"It's really important that I educate you on the buying process so you know what to expect and you don't experience any frustrations down the line. We covered the Discovery step when we talked on the phone recently, and I'm actually going to go over my notes from that conversation with you in a second."
Slide 4: Financing and Buying Power
If you requested in advance your potential clients get approval prior to you sitting down, this is where you'd calculate and have and understanding of what their buying power is.
If you haven't already completed that step, this is where you'd give them homework and perhaps connect them with a lender so they can begin that part of the process.
Slide 5: Market Update
This slide is important, as it continues to build the clients' trust in us as market experts. You don't have to talk about the numbers in detail, necessarily, but it is important that the client understands how the market dictates their timeline for submitting offers.
You can pick one of the more meaningful numbers out of the slide and discuss what that means to them as a buyer.
For example, since inventory is scarce in Austin, buyers need to submit offers very quickly. Making sure they know that ahead of time is key to preventing them from dilly-dallying later.
Try this: "I'm sure you've been following the market a little bit. Are you familiar with what's going on in our local market right now?"
Slide 6: "Property Search"
This is where you'd sit down and ask questions to understand what your clients are looking for; what features do they want, what neighborhoods are they considering… etc.
What they are looking for, why they are looking for it, why it's important to them, and where it ranks in their ranking of priority. People might say they want a whole laundry list of things, but when asked to prioritize based on money or what's available on the market they'll then decide what's most important to them.
A good outcome of the slide is to them set your client up on the MLS search so that they'll start to receive updates on the market based on the types of homes and criteria they shared with you.
Slide 7: Awards & Accomplishments
This slide is just to show our awards and accomplishments. This is where you might put any education accomplishment, certifications or designations.
This doesn't have to be limited to real estate! If you have a previous career with acknowledgments you'd like to share, or educational background they may not fit exactly into real estate… just to be able to communicate that you're a competent individual.
The goal of this slide isn't to tell how awesome you are, but to show that you're competent in a tangible and quantitative way.
Slide 8: Services & Benefits
In this slide you want to share all of the things that you do.
You have the potential to alienate customers if they don't know all of the services you provide.
For example, when Garry and I first got into luxury real estate we realized because we weren't telling people that we have the ability to help with investment property they weren't seeking us out.
Make sure you list all of the things you've done or are willing/able to do for clients.
Slide 9: You can count on me to…
Summarize, here's what you can count on us to do!
This might change based on your bottom-line. You might want to come up with your own "You can count on me to …" based on your bottom-line and what you're offering
Slide 10: "Documents and Forms"
Then we get to a place where we can review documents and forms, review the paperwork, and of course, walk away with that signed agreement.
Here it is very important to project confidence. If you act like you're supposed to be at this stage with them you'll be more likely to dissuade any objections or questions on discounting commissions they have.
Slide 11: Thank You
You might not even get to this slide once you get to the paperwork, and that's fine! This slide is just a way to close up the buyer presentation.
One of the things that happen when you go through a structured process like this, is you have less people who are going to be tire kicking. You're actually taking people through a guided process now that is designed to qualify them and educate them so that when they come across a property that is within their criteria, they're ready to take action on it.
With a process like the home buyer presentation, you provide a greater level of satisfaction, reduce the time it takes to find the property they want to move into, and help make the whole process a lot easier.
NEW TOPICS EVER WEEK
Get FREE training on marketing, social media, listings, and more.
See this week's special topic!