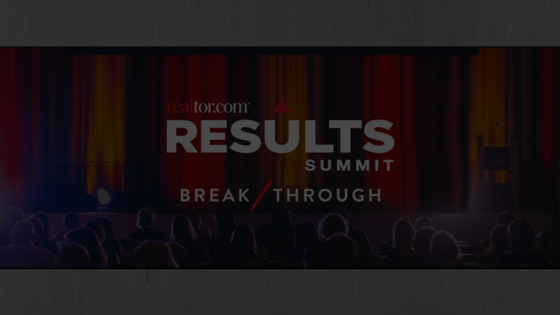 Still Thinking about Joining Us for the Paperless Agent Workshop and Realtor.com Results Summit?
Here's exactly what you can expect to learn…
The price goes up to $299 (from $199) on July 20th. So save $100 and register now: https://www.eventbrite.com/e/results-summit-2017-tickets-33827560143?discount=PLABonus
When you join us, here's what you can expect to learn:
First Half of Workshop: Power-up Your Listing Appointment
Part 1) Learn the Ins-and-Outs of a What Makes an Effective Listing Appointment
Garry Wise will share the 5 Step Listing Appointment. You'll learn how the 5 phases were constructed to move along the sales conversation, build trust with the seller, and ultimately help you leave with a signed listing agreement.
Part 2) Evaluate Where Your Current Listing Appointment Could Improve
You'll work collaboratively to dissect your own listing appointment and identify areas where it's strong and where it could use work. Then, you'll work with others to refine and improve your listing appointment based on the best practices you learn.
Part 3) Improve the Quality of the Promises You Make in Your Listing Presentation
Today's sellers want and expect a different promise from a Real Estate Agent. They expect you to use the latest online marketing techniques to promote and sell their home. Learn how to fulfill that promise, AND how to speak about it during your listing presentation so sellers are left with no doubt… You're the right agent for the job! You'll work in teams to make these changes (and Garry may even call a few of your on stage to demonstrate!)
Part 4) Update Your New Listing Presentation with Brand and Images
All participants can download a brand new listing presentation template, and then work along with Garry and Chris to implement and customize the new listing presentation right then and there.
Second Half of Workshop: Marketing Campaign Makeover
Part 1) Learn the Components of an Effective Marketing Campaign
Chris Scott is going to help you master what makes a good marketing campaign tic. Master some marketing fundamentals, then see how they work in real-life campaigns.
Part 2) Evaluate and Breakdown a Marketing Campaign
Learn to think critically about your own marketing. First, you'll break down a marketing campaign alongside Garry and Chris, picking out the parts that make it work (or not work!) and why. Then, you'll break into groups and apply the same critical eye to one of your own campaigns. And finally, assess areas and ways to improve that campaign.
Part 3) Design a Marketing Campaign to Achieve a Business Objective
You'll download the Marketing Campaign Builder Template. Chris and Garry will show you how it works and how to use it to design your own campaigns. Then, you'll break into groups and work on designing a campaign to accomplish a specific business objective.
Part 4) Plan and Schedule the Implementation of Your Campaign 
You're going to leave this conference with a plan to execute a new, powerful marketing campaign. With the help of Garry, Chris, and your peers, you'll craft and know exactly how to execute a marketing campaign to achieve one of your biggest goals.
Where?
The Cosmopolitan of Las Vegas
3708 Las Vegas Boulevard South
Las Vegas, NV 89109
When? Paperless Agent Workshop
September 17th
1pm – 5pm
followed by a Paperless Agent mixer!
When? Realtor.com Results Summit
September 18th-19th
Get all the info: http://results.com/summit 
Price goes up $100 on July 20th so don't wait… Grab your ticket to the Realtor.com Results Summit and unlock The Paperless Agent workshop:
If you don't see The Paperless Agent workshop listed, Enter Promo Code: PLABONUS
Have questions? Post them in the comments in the comments section below!