Have you ever stopped to think about what your clients really want?
Knowing what clients want is a key principle in serving them well… and to finding more!
According to NAR, home sellers say the top thing they want from us (as real estate agents) is to MARKET their home to buyers.
So we put together our Property Marketing Plan to show prospective sellers everything we'll do… which includes marketing on Facebook and everything else.
Here's just a sampling of how we market our listings:
Facebook Ads
Instagram Ads
Google Adwords
Online Video
YouTube Ads
Drone-captured Arial Video
Website Marketing & SEO
Mobile Marketing
Email Marketing
And then we document all of the details  into our property marketing plan. Here's a sample week from our plan: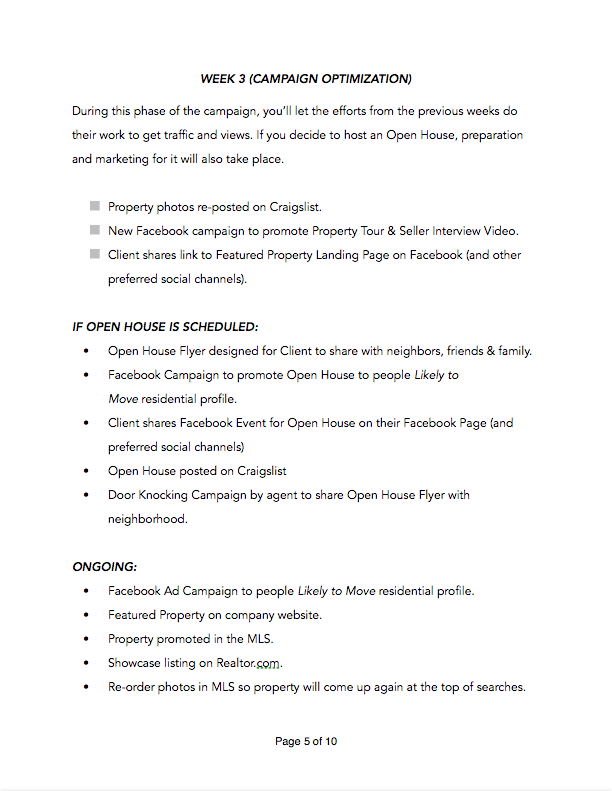 This property marketing plan is our SECRET WEAPON. In fact, Garry has used it to thwart our local competition on many occasions. Our marketing plan is about 10 pages long and lists everything we do for 8 weeks.
Homes usually sell in a lot less time. Some special types of homes or land take longer to sell, and we explain how we might have to repeat the 8-week period.
Interested in a real estate "career short cut" to work with more clients more easily, with less effort, and perhaps more fun?
Checkout our Club in this short 60-second video.