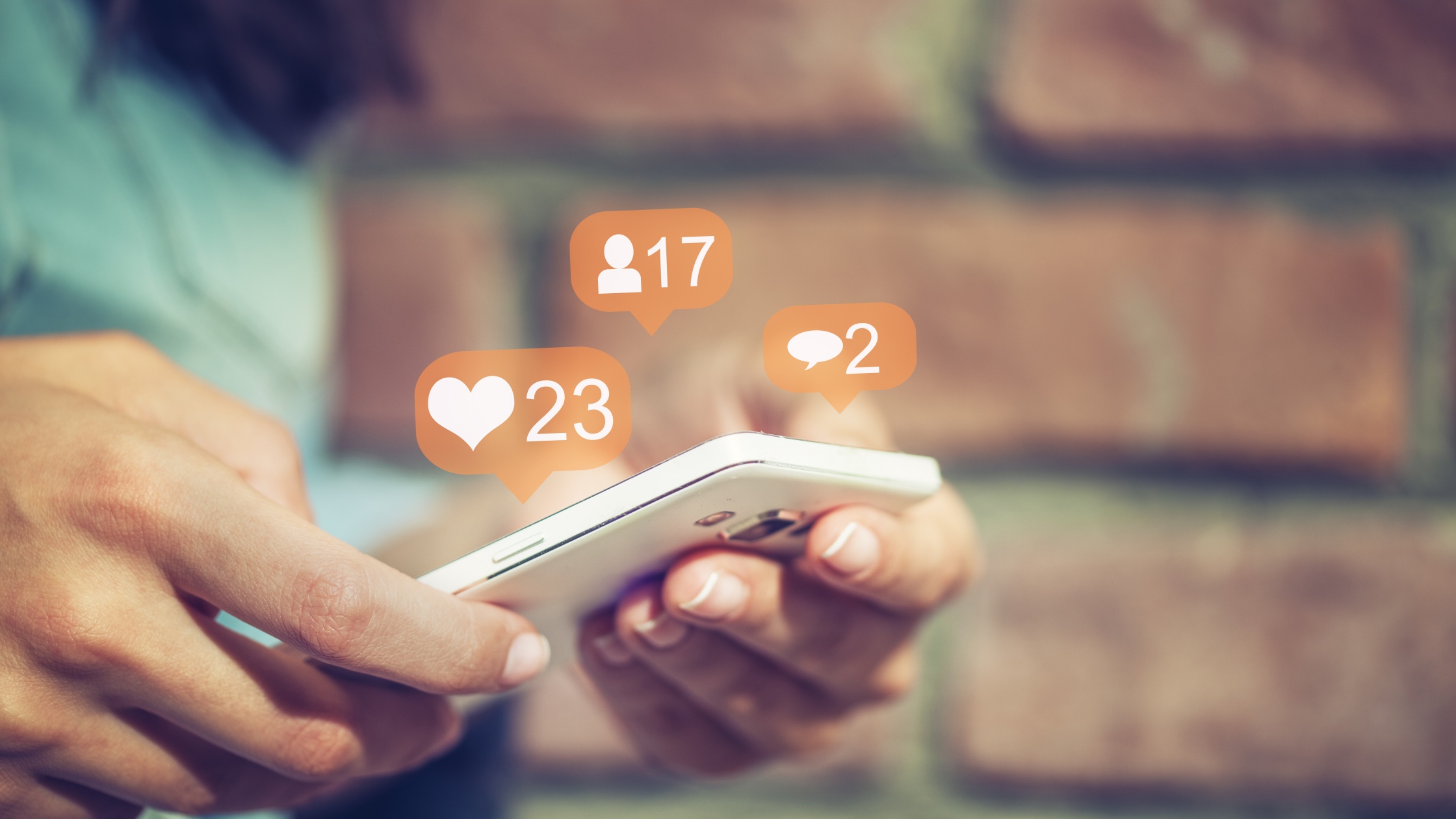 If you create Instagram content just to check a box, you may be thinking: Instagram just doesn't work for my business or I post every day, but I still don't get any clients! Instagram can be a powerful tool for connecting with clients and growing your business, but as with any aspect of your business, you need to get strategic. 
Creating Instagram content that's well-optimized with the right message and branding, is key to making this platform work for you. With 52 percent of realtors using Instagram, your content needs to make you stand out so you can actually drive leads.
If you're struggling to see the value of this social media platform for your real estate business, this guide was made for you. When you create Instagram content with a clear intention, you may just find Instagram is one of the most valuable social media platforms for your business.
Keep Reading: 10 Real Estate Agent Marketing Tactics You Can't Overlook
Start With Your Bio
When you think about creating content for Instagram, you may think about feed posts—the photos, videos, and captions that show up in your feed. However, the content on your profile is just as important. This content represents your brand and sets the tone for what new followers know and think about you, from the bio to your highlights.
If you don't share anything about yourself, what you do, or how you do it, you risk losing potential followers as leads. You don't stand out and instead, blend in with every other real estate agent they see on Instagram.
In addition to sharing clearly about what you offer, this content needs to be consistent with your brand.
Bio Content Sections
As you set up your page, start by getting familiar with all the main sections of your profile. Each one matters. We break these sections down in our Instagram profile template to include: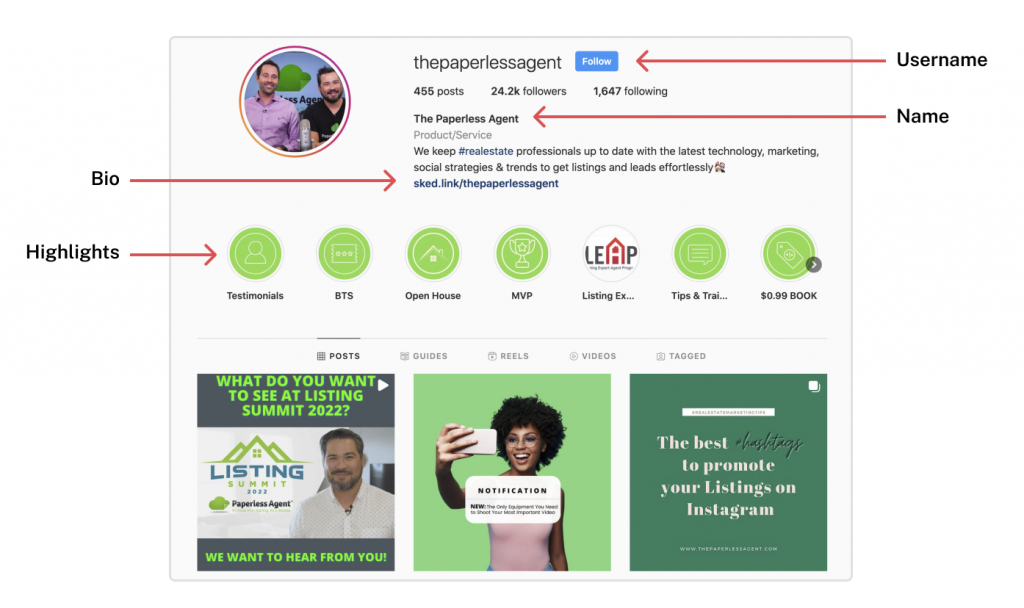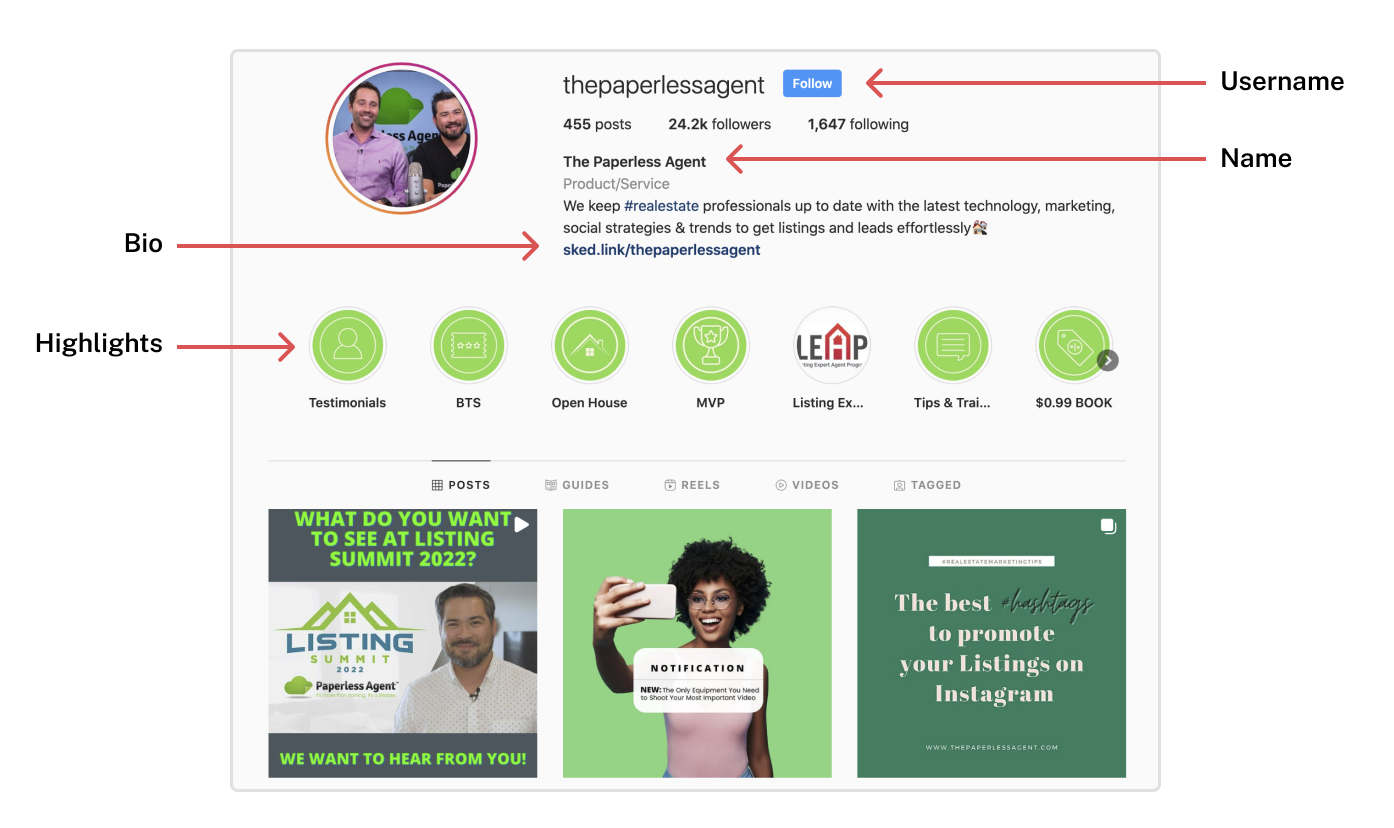 Username: This is how people tag you and it should be your name. It can be your brand name if it's well-known or a better representation of your business.
Name: This part of your profile is searchable, so include wording like "realtor" or "real estate agent" here. It's also wise to include your location, so your name might read: "Top 50 San Diego Realtor" or "San Diego Realtor."
Bio: You only have 150 characters to use here, so be clear, specific and show why you're a real estate agent followers would want to work with. For example, you might include how many houses you've sold so far in a given year or awards you've won.
Highlights: This is a space for collecting your Stories content to share more about you and your business. Make sure each highlight has a purpose so it doesn't take away from your other valuable content.
When there's consistency and clarity among the content in all of these sections, you're able to connect with and drive trust among new followers. If you want to turn those people in leads, this can't be overlooked.
Instagram Bio Example
What this means is that your tone, voice, and messaging follow the same style and branding. Here's an example of what a profile with well-written content might look like:
Username: BarbaraStockton
Name: Seattle Realtor for Millennials
Bio: 
🏠 Helping millennials buy and sell homes
📍 115 Seattle homes sold and bought in 2021
⬇️ Get your first-time home buyer checklist now!
Highlights:
New Listings

Community

Just Sold
In this example, her username is her name, which is ideal because that's likely how people know her best. For her name section, she includes the location and the type of client she serves, Seattle and Millennials respectively. Because this is searchable, these keywords will help her get seen by more potential clients.
Finally, she clearly explains what she does, who she does it for, and how well she does it in her bio. Plus, her clear call to action further connects with her ideal client—since many millennials are likely first-time home buyers.
Notice her highlights are simple and focused on what she does and the value she offers. You can use this area for personal updates, but keep it to just one or two highlights.
If you want more help with marketing on Instagram, join the The Marketing Club for just $1 and get monthly social media posts, blog content, email campaigns, and much more.
Choose the Right Hashtags
Hashtags are one of the most important aspects to consider when you create Instagram content with purpose. The right hashtags help you reach people outside your immediate community, like potential clients. For example, if you use the hashtag #seattlerealtor, someone searching on Instagram for a realtor in that area is more likely to see your content and therefore find you.
Choosing Hashtags
When choosing hashtags, focus on the ones that have less than 500K posts so you'll still be found when people search the hashtag. Also, think about them in terms of the following categories:
Local: #ATXrealestate #sandiegorealestate

Seasonal: #holidayseason2021 #newyeargoals

Niche: #millennialhomebuyers #downsizing

Educational: #homebuyingtips #homestagingtips

Industry adjacent: #modernhomedesign #DIYkitchen
While industry adjacent hashtags, like these interior design hashtags, don't necessarily connect you with local clients, they're a great tool for expanding your reach. Using only local hashtags, or even only niche home buying or selling hashtags can be limiting. Consider how you can bring different, but relevant, topics into the conversation, like home design, so you can use hashtags that help you reach a more general, but broader, audience. 
Using Hashtags
How many hashtags should you use? According to a recent report from Mention, the sweet spot for engagement is 20 relevant hashtags. While that may seem like a lot, consider all the categories you want to hit, from local to educational. For example, hashtags for a post about a new construction home you just sold in the Austin, Texas area might include:
#austinrealestate #austinrealestateagent #austintexas #newhomeconstruction #atxrealestate #texasrealestate #movingtoaustin #newconstructionhomes #residentialdevelopment #newhomebuild #texashomes
Conversely, you'd avoid hashtags like #AustinTexas that have more than 2 million posts because you'll likely get lost when people search that hashtag, 
Focus on Posting Consistently
Consistency is potent in every area of your business, and that rings true for Instagram as well. You need to create Instagram content consistently if you want to build trust and be seen. The reasoning for this is simple: Instagram sees everything in terms of relationships. 
If someone consistently sees and therefore likes, your posts, Instagram sees this as a relationship. Other relationship signals the platform's algorithm takes into consideration include:
Do you follow each other?

Did they search for you by name?

Do you message each other, or leave comments?

Do you tag each other in your posts?

Do they save your posts?
When Instagram sees these signals, it shows your content to those people more often, driving more engagement. 
Posting consistently leads potential followers to engage with your content, search for your page, message you, etc. This gives you a better chance of converting them to a lead because they've become familiar with you and your brand.
Key Posting Factors
There's a lot to take into account when you create Instagram content, like hashtags and branding. Timeliness is another important factor, both in how often you post and when you actually share your post. You can create the most impressive content in your industry, but if you don't get these two aspects right, you might not see the best results. 
Ideal posting frequency: In a survey of 8.1 million feed posts, Later found that accounts with fewer than 1,000 followers saw greater engagement and reach the more often they posted. The ideal number of posts per week is 14. However, for accounts with 1K to 250K, engagement declined as more posts were shared each week. Their hypothesis as to why: the quality of the content decreased.
That's why it's important to remember that the goal is quality over quantity, always. If you can only create Instagram content two times each week, then only post twice each week. If you're posting low-quality content, you won't get value out of it.
Ideal posting times: Later also recently released the best times to post on Instagram each day. According to data from 35.7M Instagram feed posts published via Later between 2019 and 2021, the best times to post (in local time) are:
Monday: 5AM

Tuesday: 6AM

Wednesday: 6AM

Thursday: 5AM

Friday: 6AM

Saturday: 6AM

Sunday: 6AM
Develop Clear Content Branding
With more than 1 billion users on Instagram, more than 200 million of which are brands, you have a lot of competition. A strong brand, which is defined as, "a public image, reputation, or identity," by Merriam Webster, is what sets you apart on this crowded platform. 
Think of the brands that you know best: Starbucks, Amazon, or Airbnb. Even real estate brands like RE/MAX and Coldwell Banker have clear and consistent branding that you'd recognize anywhere.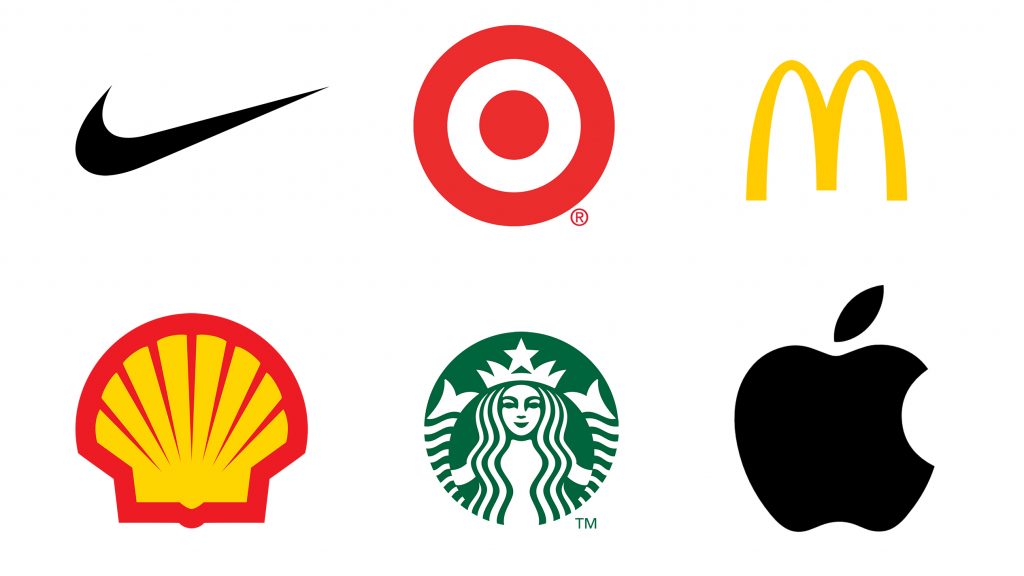 Your goal is to be recognizable on Instagram, which drives trust, engagement, clicks, and ultimately leads. And no, you don't have to have a multi-million dollar marketing budget, like these brands do, to be successful at this.
What is Effective Branding?
If you don't yet have a clear brand, now is the time to define it for your business and then bake it into your content. We break down the five pillars of great real estate branding that drives leads as:
Visual consistency: Think, colors, fonts, and overall aesthetic.

Unique value proposition: What do you do differently than everyone else?

Consistent networking: The more people know your brand, the more effective it is.

Relevant and valuable content: Does your content position you as an expert in your field?

Purpose: What is your purpose as a real estate agent?
Visual Branding
When you create content for Instagram, you want to think about all of the five key branding pillars, but especially the visual ones. Because Instagram is a visual platform, your graphic content needs to be consistent and high-quality. Low-quality imagery, like photos that are grainy or too dark, looks unprofessional. 
An important place to start in ensuring high-quality content is your realtor headshots. When you take yourself seriously, potential clients will feel that you'll take them seriously too. Photos of you with friends cropped out won't cut it. 
What's more, realtor headshots can help you connect with followers and show your personality, as we explain in 5 Reasons to Invest in Realtor Headshots. 
In addition to great headshots, here are some tools you can use to create Instagram content that's well-branded and high-quality:
Canva:

Use this tool to create graphics with your brand colors and fonts.
Thought Leadership Branding
Instagram isn't just about posting pretty photos. Relevant and valuable content on Instagram helps you position yourself and your brand as a thought leader in your industry. This means it's important that you create content that teaches your audience and provides industry-specific insights. 
For example, a real estate agent in San Diego might talk about:
Shifts in the San Diego housing market 

Specific San Diego communities and neighborhoods

Beach- or desert-specific home care strategies

San Diego housing regulations
The areas in which you share your expertise will depend upon your brand as well. The communities you talk about, for example, might be specific to the communities where you most often sell homes. Conversely, you may focus on beach-specific home care strategies because you only work with coastal properties.
The topic dictates the hashtags, which also dictates who you reach, which in turn allows you to be more targeted with who's seeing your content. In this way, the people who would be most likely to need your help are the ones seeing your posts.
Master Your Caption Writing
Your Instagram captions tell a story—about you, your brand, your business, and what you have to offer. This is why they're so important to driving leads. Captions with just a few words or that aren't relevant to your audience, will fall flat. On the other hand, captions that are exhaustive and hard to follow will lose your followers and lead to less engagement and leads.
Factors of a Successful Caption
Don't just talk about the homes you've sold or helped clients buy in your captions. While these are important topics, you need to think about these important factors, all of which encourage your community to engage and take action. 
Storytelling
Use storytelling to give followers something to connect with. For example, posting about how you grew up in your local community or why you started your business gives people a reason to follow you. 
Because most of your ideal clients may not need to work with you for months or years until after they find you on Instagram, this is an important strategy for keeping them around. Then, when they do need a real estate agent, they're more likely to think of you. Plus, they feel more like they know you, which creates immediate trust and rapport.
Length
When writing your caption, keep length in mind—specifically, avoid making it too long or too short. The same Mention report found that captions with 500 to 1,000 characters and 1,000 to 2,000 characters drive the most engagement. 
While some posts can have fewer characters, balance them out with longer, more engaging captions. For example, for every post with fewer characters, post 2 to 3 with longer captions to capture engagement. 
Relevancy
Talk about what your ideal client wants to hear about. If your ideal client is a senior who's downsizing, focus on topics that are most targeted to them. You can determine these topics by thinking about the questions your clients often ask or the issues they have most often. Use these topics to create Instagram content that resonates, which in turn, drives leads.
Formatting
Your caption should be scannable and legible. A 300-word caption without any spaces or paragraphs becomes one large block of text that's easy to skip over because it's hard to read. Use a tool like Apps 4 Life's caption tool to space out your content into short paragraphs (1 to 2 sentences each) and include emojis as bullet points to break out smaller pieces of content. Here's an example of a well-formatted caption from Tim Smith Real Estate: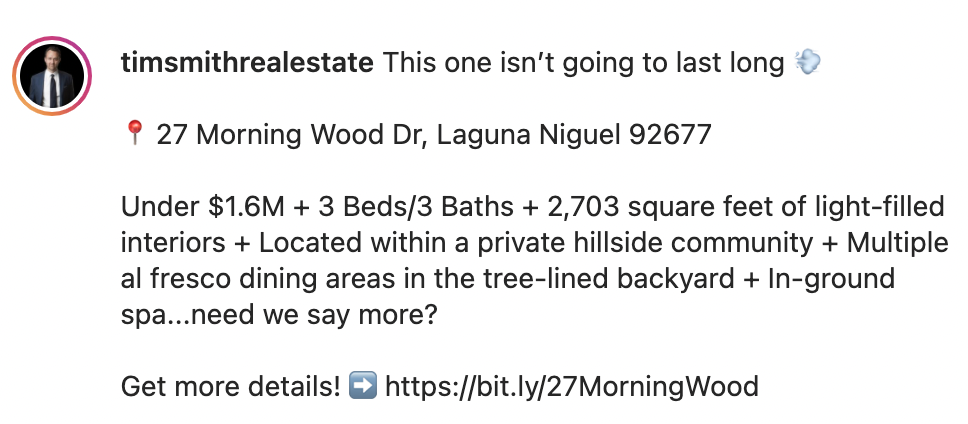 If you're struggling to come up with great content that's relevant to your real estate brand and business, get started with our 20 Customizable Captions for Real Estate. Add your own content and personality to make your posts shine and fit with your brand. 
Drive Leads from Your Captions
There's one more important caption detail to consider: the call to action. Great content that tells a story or entertains may drive engagement. However, to drive leads, you need to create a call to action that does exactly that: drive followers to take action. 
To do this, you need to use clear and specific language. For example, if you're sharing a post about a home that was recently sold, your call to action might be for other home sellers to get in touch with you. Rather than simply saying, "Let me know if you're selling a home," you might say:
Call me at 888-888-8888 if you're ready to sell your home

DM me if you're selling a home

Click the link in my bio to submit your home profile
Keep in mind, not every post should direct readers to work with you. Call to actions that include, "Comment below" or "Share this post" are important as well. No one wants to be over-sold to; get creative, provide value, and sprinkle in your sales-focused content with purpose and intention. 
When creating Instagram content, keep the 80/20 rule in mind: 
20 percent should be selling

80 percent should be providing value
Create Instagram Content That Drives Leads
To drive leads, your content needs to be high-quality, well-branded, and resonant for your audience. If any of these factors are missing, you'll struggle to see value from this platform. With so many opportunities to connect with ideal clients on Instagram, don't let bad content hold you back. Use this guide to create Instagram content that allows you to stand out, build trust and ultimately, grow your real estate business.
Get our Instagram for Real Estate Guide to get more listings and be seen as an expert on Instagram!