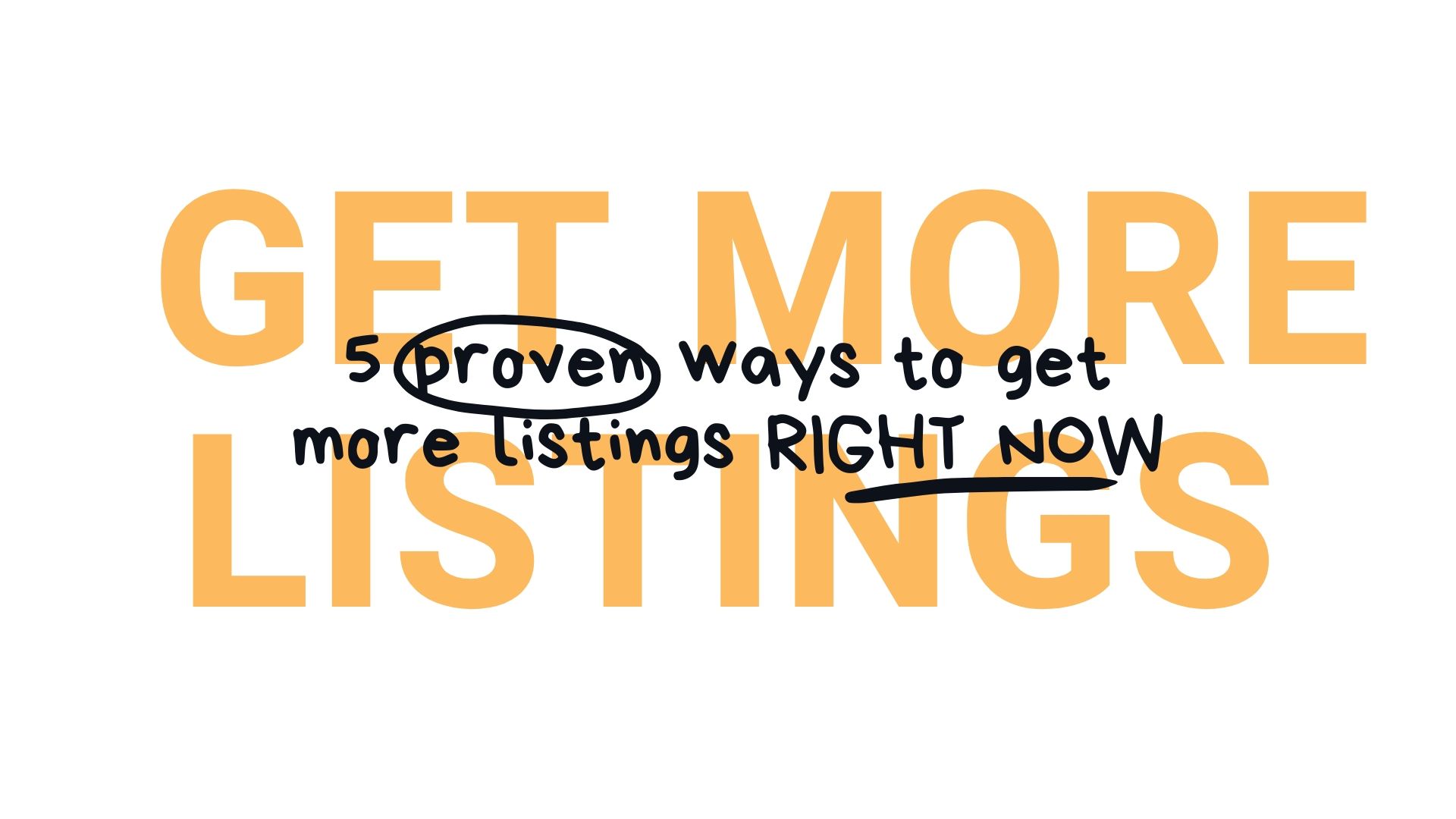 This summer is different…
The heat's still here, but the vacations and celebrations are gone.
The market's still hot, but there's a shortage of homes.
The listing's are there, but there's a heavier number of agent's to compete with.
Which means one thing:
You truly have to stand out, build trust, and boost your reputation to win the listing.
Because different doesn't have to mean "bad"...
…like when you try something different for the first time and it's wildly successful...
Like the 5 new ways we found to get more listings (keep reading!)
5 Ways to Get More Listings
We do a lot of trial and error here at The Paperless Agent to find out what works for US and OUR BRAND.
Through all of that trial and error, we come across strategies that actually WORK not just for us but for members of our Marketing Club as well! One of the best working strategies we've found in our 5-step system for attracting listings, check it out:
1. Publish useful real estate information
In the form of a blog, publish valuable information on real estate. Whether it's a market update or just some tips for first time buyers, doesn't matter. Just make sure it is relevant to your market/niche.
The blog you create with that information value is the reason for your outreach (steps 2-5), so make sure it's worthwhile to create authority and credibility for your online reputation.
2. Send to people you know
Send your blog to your database.
Make sure you gather and update contact information for all of your contacts and connections first, then send an email to all of your contacts (current and past clients as well) and make sure to include a link to your blog post.
3. Film and edit a 1-minute 'expert' video
Film and edit a 1-minute video of yourself discussing highlights from your blog post.
This video is meant to be a visual representation of your expertise in the market so make sure it comes across as such. We recommend writing a script before you film (or using the script we provide in the Monthly Value Program KEEP READING FOR MORE INFO)
You want to try and keep your video to 60-seconds or less in order to share it on Instagram as well as other social media channels.
4. Post to social media
Once you've filmed and edited your 1-minute video, it's time to share it on social media!
Post your 1-minute video to your Facebook business page, from there share it to your personal Facebook page. You can then boost or promote your video using Facebook Ads (if you choose to do so!)
We also recommend posting your video to any other social media channels - Instagram, Twitter, LinkedIn, Pinterest, etc.
5. Send individual follow-up messages
Use FB Messenger to send individual follow-up messages to your database. This shows an extra level of personalization and care that a lot of real estate agents claim they don't have time for.
Something as simple as, "Hey [NAME], how are you? Would love to hear from you. By the way, I emailed you a report recently, and wanted to make sure you got it. Take care!" really stands out in people's mind.
Want The 5-Step Process?
Want this 5-Step process delivered to your inbox EVERY MONTH?
With the Paperless Agent Marketing Club you get our Monthly Value Program - which consists of:
A Blog Post on a topic of relevance to anyone interested in real estate

A professionally-designed, customizable Report on the same topic

Powerpoint version

Keynote version

PDF version

A LinkedIn Post, which is a condensed version of the blog post

Also has instructions for publishing a post to LinkedIn

A Marketing Calendar of activities to ensure you implement the campaign fully

A Social Media Image for you to use on Facebook or in your blog post

2 Facebook post examples, a video prompt, and 2 different image options

An Instagram Image

A Pinterest Image

A LinkedIn Image

A Support File, which contains

The Cover Email Template

The Phone Script

The copy for the Social Media Posts
You can get all of this, plus EVERYTHING we offer in the Marketing Club, for 14-days, for just $1: www.thepaperlessagent.com/DOLLAR14