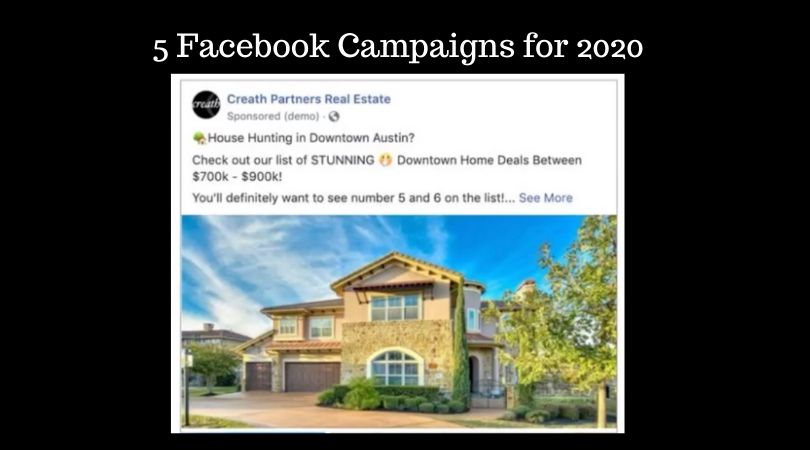 Have you ever wondered why Facebook won't work for you?
When we first started using Facebook Ads back in 2013 we spent a TON of time and money trying to get them to work for us but to no avail… until we discovered how to use Facebook's own "Algorithm" to uncover the pockets of Buyers and Sellers who were most likely to work with us!
Once we discovered how to use Facebook's algorithm to our advantage, we perfected our "Top 5" Facebook Automated Systems that generate qualified Buyer and Seller Leads, fresh listings, new clients, and big commissions – 24/7, 365 days a year – like clockwork...
Use these strategies we've uncovered in the blog below to attract people who are in the market to buy or sell (you're practically making Facebook do all the heavy lifting by tapping into the hidden "artificial intelligence" that powers the network...), and fill your pipeline with more listing leads, clients, and bigger commissions!
$1 a Day Campaign
This stunning 30-Sec campaign literally only takes a few minutes to create (on your phone). It doesn't require any background in video editing – AND it effectively captures the attention of potential Buyers and Sellers like nothing we've ever seen before…
The goal of this campaign, other than getting the attention of potential buyers and sellers, is to spend a small amount of money to get a large amount of views.
Which means you need to follow one simple rule: If you're going to spend a little amount of money, you need to increase your creativity and innovation.
In this campaign, we only spent $1/day for 123 days, but we reached over 6,000 people. We didn't use any fancy equipment or post-shoot editing. In fact, we only used our iPhone!
Remember, the entire video is only about 30 seconds, so you're content needs to be short and engaging. We picked one feature of the home to highlight, and just added a quick blurb about it. This gave us a chance to do a short walk-through of the home and point out some features that would potentially catch the attention of a buyer as well as potential sellers by showcasing how you list and promote a home.
We shot this video vertically because 80% of Facebook usage is through the mobile-app, and as you know, when we scroll through the Facebook app, we hold our phone vertically. So for the best viewing experience, you want to keep that consistency. Facebook's algorithm also knows that vertical videos perform better than horizontal and they take that into account.
"Lazy" Listing Tours
The "Lazy" Listing Tour Strategy instantly qualifies potential leads for you – no video expertise required. You can stand out like a top agent, establish trust immediately, and secure the relationship – before they even meet you...
While this video strategy is called the "Lazy" listing tour strategy… its results are anything but… We ran this campaign for 98 days and only spent $98 to reach almost 4,000 people.
Garry only used his iPhone and a selfie stick, but left a lasting impression on anyone who viewed this campaign because he was able to connect himself with real estate in a creative way.
Which is one of the goals of this campaign - connect ourselves with real estate in a creative way that makes everyone (our database, leads, referrals, prospects, etc.) aware that we're in real estate.
What we mean by that "awareness" is anytime someone thinks of you they think real estate, and vice versa - anytime someone thinks of real estate they think of YOU!
Home Listing Ads
This strategy will help you get a crazy amount of exposure in your local real estate market, build heaping amounts of trust in a short amount of time and turn your network of relationships into a tribe of word-of-mouth fans...
The first two Facebook campaigns we showed you were designed to generate prospects. These next two campaigns were designed to get people to respond to your ad and leave their contact information, AKA garner leads.
This type of ad offers people a list of homes under certain criteria. We've found that to generate an actual lead you have to pay attention to the details. The more specific you can be in offering a list of homes the more people are likely to respond to it.
In these set of ads we specified downtown Austin homes. Homes in downtown Austin are especially appealing because if you're not from Austin, finding a good deal downtown is incredibly hard to come by. So a list of homes in that niche is enticing to anyone looking in that market.
Facebook Lead Ads
The other side of the Home List Ads.
We already mentioned that because 80% of Facebook traffic happens through the mobile app your videos and ad's need to be vertical… But one aspect we haven't mentioned yet is that when using the mobile app most people won't be connected to wifi but viewing on cellular data. And on cellular data, t takes 6 to 8 seconds to load a webpage from Facebook.y that time 60% of your audience will have said "forget it" and moved on. Lead ads solve this problem.
The previous campaign uses the "lead generation" campaign objective. You may be wondering, "
why we don't always use that campaign objective?" And the answer is simple: because it
can become very expensive if you're dealing with a cold audience.
But, if you have a warm audience - People who have been watching your videos and have seen you doing lazy listing tours or short videos highlighting home features--it's easier (and cheaper) to get those leads. When people watch your videos, they start to know, like, and trust you, and those people are more likely to reach out and give you their contact information.
The Facebook Lead Ad looks the same as any other ad on Facebook; however, when someone clicks on the "learn more" button, instead of taking them to a separate web page (that could take 6-8 seconds at least), it instantly goes to a lead form.
In most cases, the lead form will also pre-populate the information. Which saves even more time and gives you more of a chance to attain those leads.
Monthly Value Program
Of all five campaigns, the MVP is the one you can do solely and still have a surplus of business to work with...
According to NAR, 70% of business is from repeat and referral business or people who know you. This is the real source of business. Facebook is a tool we use to get to this source of business.
This MVP is designed to help you focus on your contacts and connections so that you'll produce recommendations and referrals, word of mouth, repeat clients, increased reputation, and more.
The MVP is broken up into 5 steps, and of those 5 steps only 3 are done in Facebook. However, all of these steps are important and without even 1 of the steps this campaign loses its effectiveness entirely.
Publish Useful Real Estate Info
We like to do this in the form of a blog, the purpose is to provide valuable information. However, producing a blog in and of itself will not create clients for you.The purpose is to provide informational value which then becomes the reason to reach out..
Consistently posting useful real estate information also creates authority and credibility for your online reputation, which helps create that awareness we discussed earlier - when someone thinks of real estate they think of you, when someone thinks of you they think of real estate.
Send the Info to People You Know
In this step you're simply sending an email with a link to your blog post to all of your clients, both past and current (you may need to gather or update contact information first).
Share a 1-minute Video
Using just your phone, discuss the highlights of the useful information from your blog post and include a link to that blog post.
This is a short 1-minute video that's sole purpose is to promote your blog post on Facebook and promote it to ensure a much larger group of those contacts and connections are going to see this so they get that awareness.
Post Info on Social Media.
This is just a regular Facebook post, you'll pick an image and share that on Facebook with a link to your blog and a little blurb about your blog. You'll share it on your Facebook Business page and then from your Business Page you'll share it onto your Personal Page.
You'll also want to share this post on any additional social accounts you're actively posting - Twitter, Instagram, LinkedIn, etc.
Individual Messaging Follow-Up
This is where you'll get your opportunities. Use Facebook Messenger to reach out to your database and say, "You recently popped up in my feed, and made me wonder how you're doing…"
The beauty of Facebook Messenger is that you're connected with anyone you're friends with on Facebook. It's completely "Phone Call Free" lead generation – there's no need to pick up the phone, ever.
All five of these steps that are apart of one strategy, that when done right, consistently, and in order, will garner you more leads, more referral business, and ultimately more money.
If you're interested in learning more about our Facebook Campaign strategies and tactics, how to stay ahead of the curve with all of Facebook's changes, or just how to consistently stay top of mind with your own database then you'll want to check out our FREE training every week…