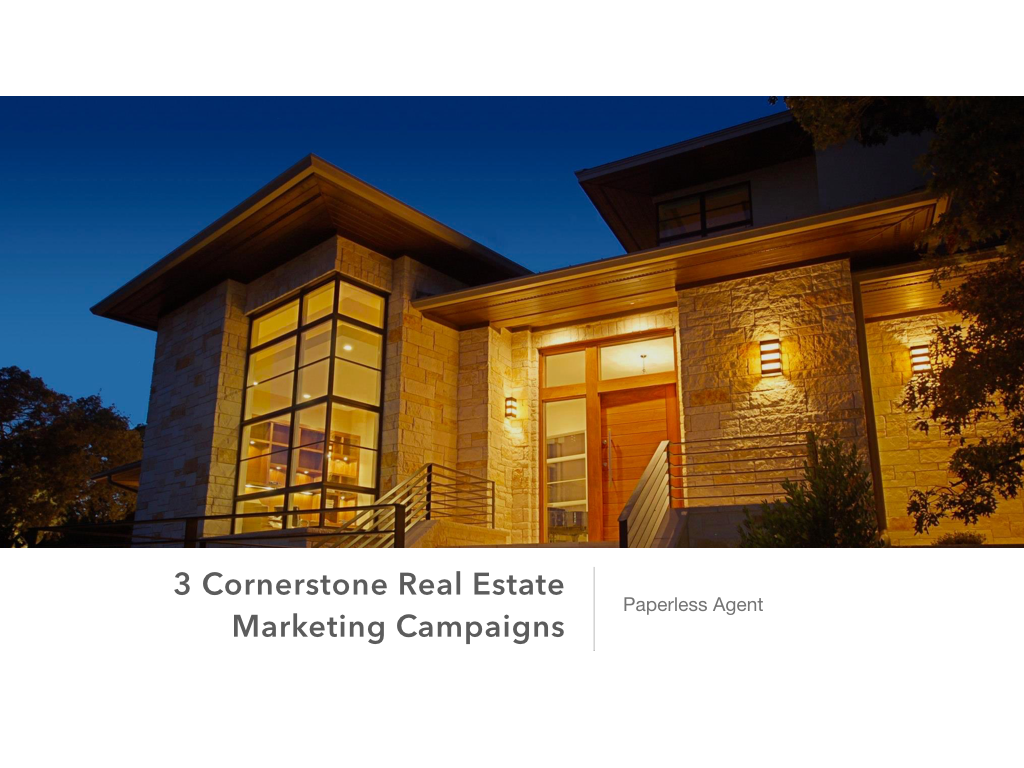 When we enter a new field or a new business, we inherit business ideas, strategies, and tactics from the people around us. And this can be both good and bad.
On the one hand, learning from those around us accelerates the time it takes us to learn. We don't have to spend the time learning through trial and error trying to figure things out for ourselves.
On the other hand, however, we potentially inherit outdated or antiquated strategies—strategies that were developed for a different generation or time. And with the tools and technology available to us evolving and changing faster than ever before, if your lineage of knowledge hasn't been innovating and adapting to what works now, chances are you're using tactics that no longer work.
Here's an example. Real estate agents and brokers spent $1.5 billion on newspaper ads last year. Crunch the numbers, and that boils down to over $1,000 a year per agent in the business. That's a ton of money! Yet looking at the National Association of Realtors' National Profile of Homebuyers and Sellers, you can see less than 1% of homebuyers found their home in print advertising last year.
In most markets, consumer behavior has changed dramatically over the last five to ten years. As you can see, today 43 percent of homebuyers found their home online. So if you took that $1,000 something dollars agents are spending on print advertising and reallocated it to different forms of online advertising, you're probably going to see a much better ROI.
With this huge shift in consumer behavior, our marketing and prospecting practices need to change as well. There was a time when the only technology you needed was a telephone, the phonebook, and maybe an ad in the white pages. But that's not where today's buyers and sellers are. They are online.
In this blog post, I'm going share the three "cornerstone" campaigns of our real estate brokerage. As we've experimented and evolved our strategies, these three have become foundational to our business. From filling our sales pipeline with leads to growing our sphere of influence and market presence, these are the three campaigns we run an ongoing basis and rely on to produce results.
Campaign 1: Marketing to Your Network
For any agent, the best source of new business will almost always be your existing network. Clients and people in your network know and trust you, and you are much more likely to find more success and find it faster marketing to your network than marketing to cold leads.
But how do you reach out and actually get in touch with your network today? And how do you do it in a way that doesn't annoy people and push them away?
Fifteen years ago, you could just thumb through your Rolodex and call your contacts to check-in. And you could expect the people you called to actually answer their phones.
No longer the case. Now people use their cell phones to screen calls. They text more than they call. And in the next five years, that's probably going to change even more… In fact, some predict that by 2020 consumers will manage 85% of their relationships with businesses and firms without talking to a human. And we're already seeing this happen in real estate… Our customers come in for an initial consultation but they want updates via Facebook, email, texts, and so on.
So calling through your Rolodex probably isn't the best way to go.
To reach out to our network, we provide content and information that is useful and relevant via an email newsletter, and then we use this newsletter as a reason to reach out and call our network. Let's take a look at how it works, starting with the newsletter.

Click here to see an example of our newsletter!
The newsletter breaks down to four sections:
Section 1: First, there's the newsletter introduction and calls to action for sellers or buyers. Those who already know they want help buying or selling a home can find more information immediately.
Section 2: Second, we provide an article giving a local market update. The number one thing people ask us is… How's the market? So we give people what they want! And they want to know what the market is like in their neighborhood. What's more, this also gives you the chance to showcase your expertise while providing useful information.
In addition to the general market update, we record a video to accompany the article. We use the video to explain what the numbers mean for your clients if they are interested in buying or selling a home. It gives the update a more personal touch. Even if you don't end up speaking with someone directly, they still get to see you and and hear your voice, which leaves a stronger impression. You're the expert breaking down what the market is doing and what it means for them.
And it's content we can repurpose elsewhere, such as publishing the video to our blog, posting it to our Facebook page, and so on. Social media sites in particular are fighting over over video market share, and video in general is a fantastic content delivery vehicle!
Section 3: Third, we feature a handful of our brokerage's current listings. This is what we like to call "real estate porn." People love seeing homes. Even if someone isn't interesting in buying at the moment, people enjoy browsing. And featuring your listings or your brokerage's listings further shows people that you know what you're doing.
Section 4: Finally, we include a couple articles we've recently published to our blog. These articles generally share information useful to buyers and sellers, such as useful tips and advice on homeownership, the selling process, important area news, and so on.
While the newsletter itself contains useful information, the MAIN purpose of sending the newsletter is to have a reason to contact your network.
By sending the newsletter, your calls become incredibly easy. You have a basis for the conversation or reason to leave a voicemail. The script we use goes like this:
Now, you shouldn't use this script to call the same people every month. But if used about once a quarter, it's a highly effective, low-resistance way to keep in touch with your network!
Campaign 2: The Just Listed Campaign… The New Way!
The Just Listed campaign has been around forever in one form or another. Basically, a Just Listed campaign is extended version of a "sign in the yard," and these campaigns have 3 main goals:
To market the home to people who live in the same area or neighborhood as your listing,
To let everyone in that area know you're the market expert for that neighborhood,
And of course to get more listings. When you think of the notion of "farming an area" this is a critical campaign.
Not too long ago, our just listed campaign looked like this:
The trouble is, it cost quite a bit to get these postcards designed and mailed out, and there was really no accurate way to track whether or not they worked. We could never tell if anyone actually read them, let alone if people even looked at them before throwing them away.
Now we run our Just Listed campaign using Facebook Advertising. We create a listing page on our website, and then we run Facebook ads to drive traffic to that page. It's our "digital sign in the yard," and the results for this campaign are fantastic.
With Facebook, you can target people who live in a specific neighborhood or zip code, people who are likely to buy in the near future, or people in certain income ranges (so we know we are marketing to people who can afford the home). By utilizing these features, you know you're getting in front of the exact audience you want to be in front of.
With this campaign, we've double traffic to our website, and our listing pages are the most viewed pages on our site. It's cheap, highly effective, and best of all, it's something you can show potential clients to set yourself apart from the competition.
We covered this campaign in detail in a previous post. Click here to check it out!
Campaign 3: Expired Listing Campaign
Finally, we have the expired listing campaign, and this is another campaign that's constantly evolving for us.
Prospecting to expired listings can be difficult. Generally, these homeowners are getting tons of calls from other real estate agents, and more often than not, they're fed up. So with expired listings, you should take a new approach.
Here's what our current expired listing campaign looks like.
In it, we placed multiple touch points, and we tried to plan for all of the possible contingencies—whether or not they answer the phone, if they receive our free material, if we leave a voicemail, or if we talk in person.
First, you need to get the list. For regions that allow it, we highly recommend Vulcan7. There's an application process because they don't sell this information to everyone, but the data from Vulcan7 is the most reliable out of the services we have tried.
Once you have the list, the campaign goes something like this…
We drop off a printed report titled, "My Home Didn't Sell, Now What?" The report gives owners of expired listings information on what they can do now that their home didn't sell.
I know, we're The Paperless Agent…. Print material isn't normally our M.O. But hand delivering a useful, nicely designed and packaged report shows that we put in personal time, energy, and effort. Doing so shows that we care, and it also creates a sense of obligation to respond.
If we aren't able to talk to the person when we drop off the report, we follow-up with a phone call.
If we still can't get a hold of them, we leave a voicemail and drop off a sticky note asking if they received the package and try to either catch them in person or on the phone.
If we still can't get a hold of them, we produce an email drip sequence to stay in touch with and deliver more content to them.
Following these steps, our agents are reporting as much as a 50 percent response rate from the owners of expired listings they reach out to, which is an incredible result!
If you want more information about this campaign, check out our free guide "Prospecting in the Digital Age"! We cover both the newsletter and the expired listing campaigns in depth (including scripts, details about the report we use, and more), and we go into our FSBO campaign as well.
Click here to download your free guide
"Prospecting in the Digital Age"
Wrap Up
So these are the three campaigns we rely on at our brokerage in Austin, TX. They've produced the most reliable results out of the many campaigns we've run, and hopefully they can do the same for your real estate business.
What campaigns do you rely on? How have you adapted old fundamental campaigns for today's audience? Let us know in the comments below!