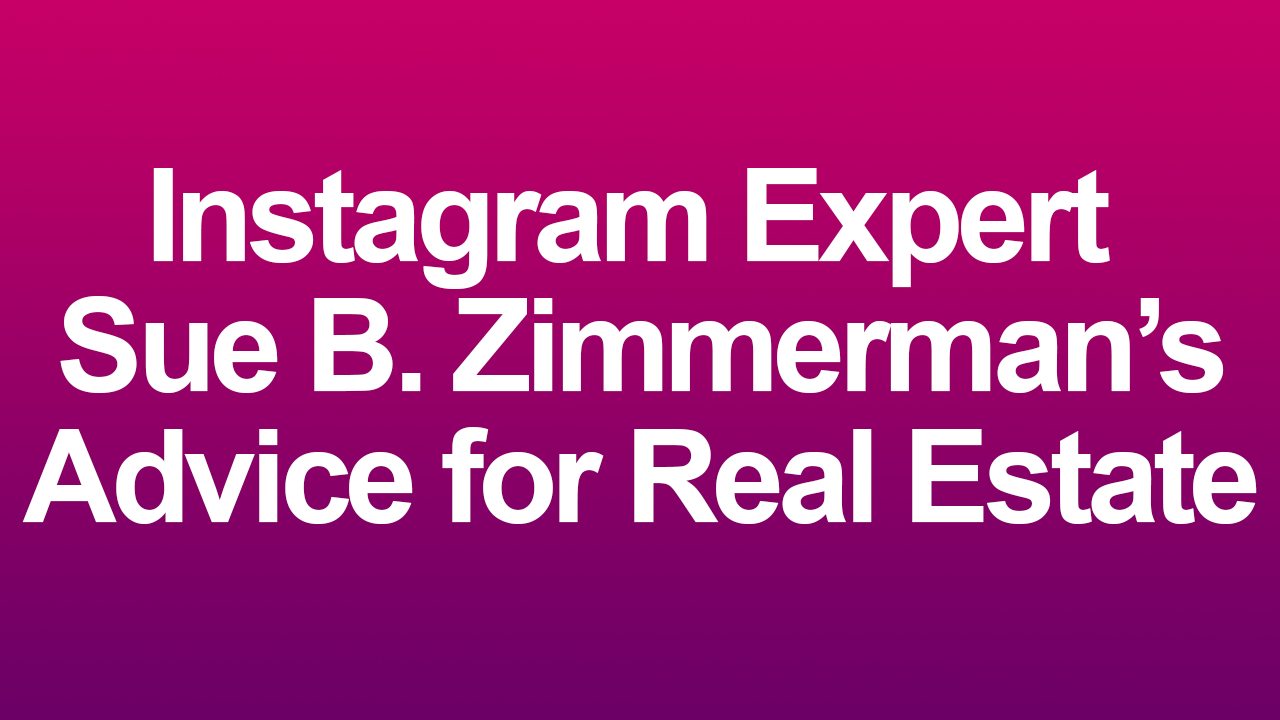 We recently hosted a Marketing Club member training session with renowned Instagram expert Sue B. Zimmerman. We've compiled the best tips and advice for real estate professionals wanting to up their Insta-Game.
Instagram Account Best Practices
There are two types of accounts on Instagram: personal and business. Every account starts out as a personal one. Then, once you create an account for your real estate practice, you will follow these steps to convert it to a business account.
You should definitely setup your Instagram account for your business as a business account. There used to be some advantage to personal accounts in terms of organic reach, but that isn't the case anymore. And having a business account allows you to view metrics for each and every one of your posts on Instagram, which will be so helpful as you develop your presence there. How to view your Instagram insights.
Sue warns against having multiple business accounts. Managing an Instagram profile that will actually generate leads is a serious commitment, and most people don't have the capacity to dedicate that kind of time to more than one account. So make sure that your one business account is setup to best represent your practice and strategy. For example, if you want to use Instagram to build your personal identity online — separate from your brokerage — then you'd setup your account to represent you as an individual real estate professional. Your bio would then include your brokerage's information.
If you want to have a personal Instagram for use with your friends, family, and personal interests, then you can certainly do that as well. Just setup an account and don't convert it to business.
How Often Do I Need to Post on Instagram?
On Instagram, quality is more important than quantity. You should never post just to check the task off your to-do list or because you feel like you need to hit a certain quota. Instead, consider your audience: what will be of value to them? What will they be likely to engage with? And, does this post fit into my overall Instagram strategy?
Moreover, getting your content on Instagram is only one part of the equation. To really see a result, you need to spend time engaging with the community as well. That means liking posts that are relevant to you and your business, following local shops and other establishments in your market area, and leaving thoughtful comments.
Sue recommends spending 30 minutes a day on Instagram, engaging and posting to the "four neighborhoods."
Instagram Stories
Instagram Stories are photos and videos that disappear 24 hours after you post them. Stories show up on the very top of Instagram feeds as your profile image encircled by a rainbow. These temporary posts are the perfect opportunity to give people a more behind-the-scenes look at your business. You can also save your more popular Instagram Stories as "highlights" that will show up on your account page. See Sue's video on Highlights here.
Instagram Live
Live is neighborhood to go to when you're in the neighborhood! Take your followers on a walkthrough of a new home or host an interview with a local business owner. Live broadcasts have a time limit of one hour, and they can be saved to your camera roll afterwards so you can repurpose them on Facebook or YouTube.
IGTV
On the Main Feed, videos are limited to 60 seconds. With IGTV, you can publish videos that are up to 10 minutes in length, making it the best way to showcase your more polished property tour videos or client testimonials. Because it's the newest form of content on Instagram, it's getting the special treatment: IGTV videos show up as suggestions in the Explore tab of Instagram.
Growing a Local Following on Instagram
The best way to make sure your Instagram account attracts local people that could feasibly convert into real leads is to focus on location-specific content. You will do this through geotags and hashtags.
Geotags are the location you add to your Instagram posts. You will need to have location services activated on your mobile device to see the available options (see the Q&A in the Member Training replay for more instructions). Sue recommends researching the geotags available in your area and focusing on the most popular. For example, she uses "Downtown Boston" and "Boston Commons" a lot in her posts.
If you work in a rural area without many specific geotags, that's okay! Use the city or town you're in, or maybe big landmarks like national parks.
Hashtags are another way to cultivate a local following. Sue has five hashtags she uses for every single post, then customized the up to 25 other hashtags depending on the content of the post itself. Learn more in her video on hashtag strategies here.
Conclusion
Sue really emphasized that the only way to see a real result on Instagram is if you make the commitment to go all-in on it. This might mean that you spend less time on other social media platforms while you get comfortable using Instagram and building your account and following.