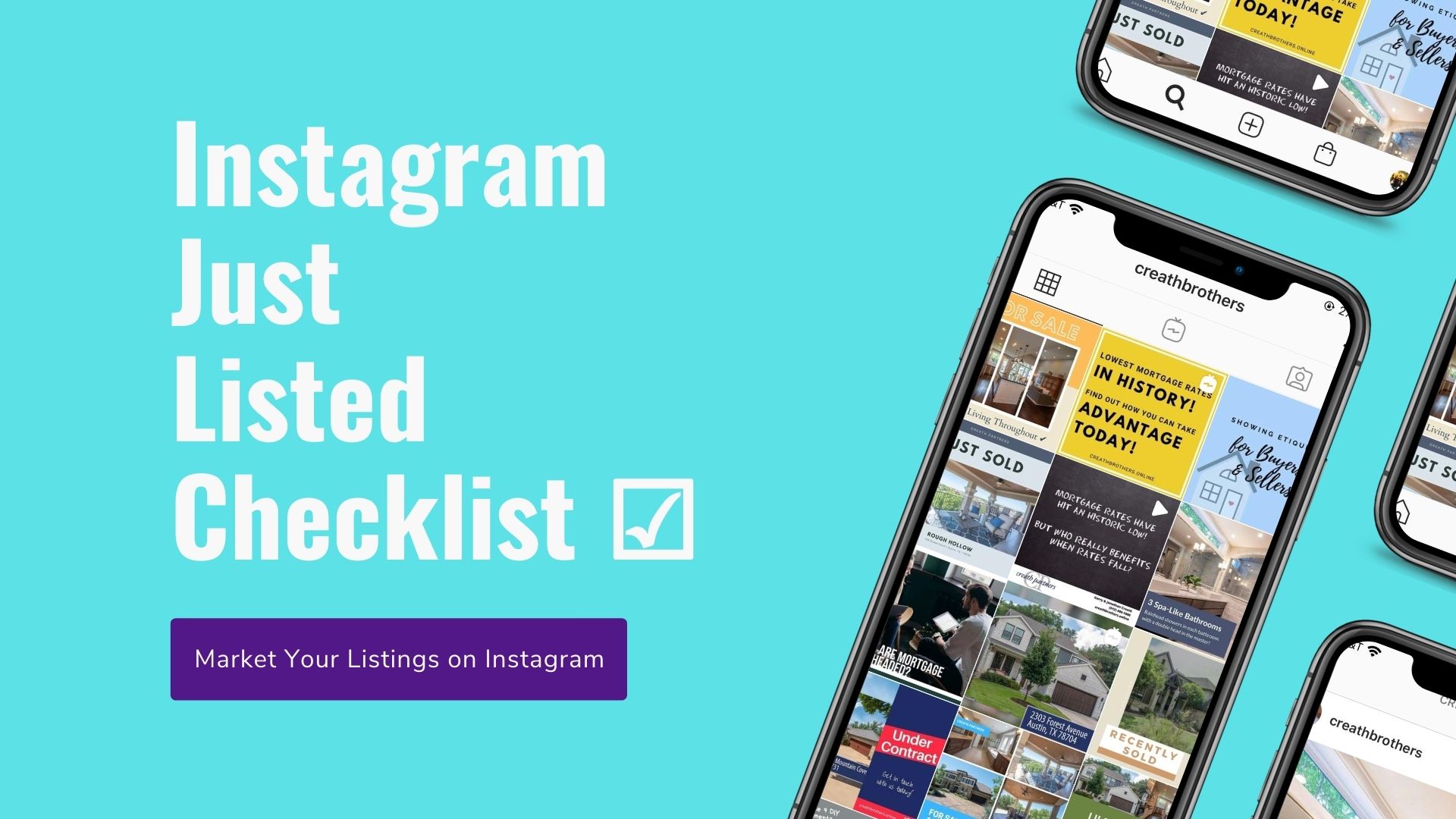 So you just had a GREAT listing appointment, you nailed the presentation and got the signature…
Now what?
You want to keep that momentum going and use that energy to start promoting your listing on Instagram… but before you jump into action, check out our Instagram Just Listed Checklist.
We give you everything you need, step-by-step, to successfully run this campaign (and keep getting those listings).
Your client(s) will see your hard work, they'll see how fast their home sells, and they'll have no choice but to brag about you and refer you to their sphere of influence.
Don't get caught not knowing what to do in uncharted territory, follow along this checklist and become the Expert Listing Agent in your market.
1. Create a property landing page
Create a Property Landing Page showcasing your listing.
Be sure to include all photos, relevant information and details. Bonus if you have a walkthrough video you can post to that page.
If you don't have a website, or your website doesn't offer Property Landing Pages, check out the AgentID Site we offer through our Marketing Club!
2. Create a "Just Listed" graphic with an image of the house
3. Create a "For Sale" graphic
4. Create an "On The Market" graphic
Canva is fantastic for creating social media posts, stories, and graphics. The free version of Canva is great and requires no subscription or CC info.
When creating these graphics you want to keep the following in mind:
Don't just use photos of the front of the house, showcase the inside of the house and the "cool" or interesting features it offers.

Keep your audience in mind, if you know your audience is mainly families with kids, then showcase areas of the home a family with kids would look at first - Family Room, Dining Room, Bedrooms, Backyard, etc.

Use different photos in each post

Try creating multiple graphics to use in 1 carousel post - Carousel Posts offer double exposure.
5. Schedule each graphic to post every other day
Using Facebook's Creator Studio, or any scheduling app you prefer, schedule those three posts to go out every other day.
EXAMPLE
Monday: Just Listed
Tuesday:
Wednesday: For Sale
Thursday:
Friday: On The Market
6. Share each post to your Instagram and Facebook Stories after the day after each post is published.
Set an alarm or calendar alert on your phone to remind you to push those posts to IG and FB Stories the day after posting. This will boost your engagement and get your post out there to people who may have missed it on their newsfeed.
EXAMPLE
Monday: Just Listed
Tuesday: Just Listed Story
Wednesday: For Sale
Thursday: For Sale Story
Friday: On The Market
Saturday: On The Market Story
7. Create an Ad with your most engaging post
When that week's posts have been published, go back and look at the insights given to you from Instagram (MUST HAVE A BUSINESS OR CREATOR ACCOUNT FOR THIS), choose the highest performing post and boost that for extra engagement. Let that ad run for 6 days at $2/day to start.
Interested in learning more Instagram strategies for Real Estate? Check out our FREE training,
​