Every real estate agent wants to know how to get more listings, right? While there are many ways to get new listings, social media is one that shouldn't be overlooked. Why? Almost all home buyers find their homes online first, including on social media. 
In fact, the National Association of REALTORS® found that 52 percent of agents' quality leads come from social media. 
However, simply posting on your social media platforms isn't enough. Use this brief guide to learn how to get more listings through engagement, testimonials, and better content creation.
Free Download: The Social Media Marketing Calendar for More Listings & Leads
Engage With Potential Clients Daily
Most buyers find their homes online first, but only 57 percent of realtors use social media apps every day. This makes social media an untapped opportunity for you to find and earn new listings if you're willing to show up daily and engage with potential clients. 
The Joe Taylor Group is a great example of this. They saw a potential client's comment on this post and responded quickly, allowing them to capitalize on their interest right away.

Prompt replies engage the prospect, signal responsiveness to the larger audience, and create a sense of urgency and scarcity in buyers who are watching the competition for the property unfold in real-time. How to get more listings? Be there so when someone's ready to talk, you're ready to talk too.
In addition, social media platforms reward consistent engagement with badges and higher placement in search results. Facebook rewards the Joe Taylor Group for how quickly they respond to private messages by making that information public on their About page. Notice how their About section says: "typically replies within a few hours." For a buyer looking to make a move, this could make a difference in whether they send you a message or reach out to someone else.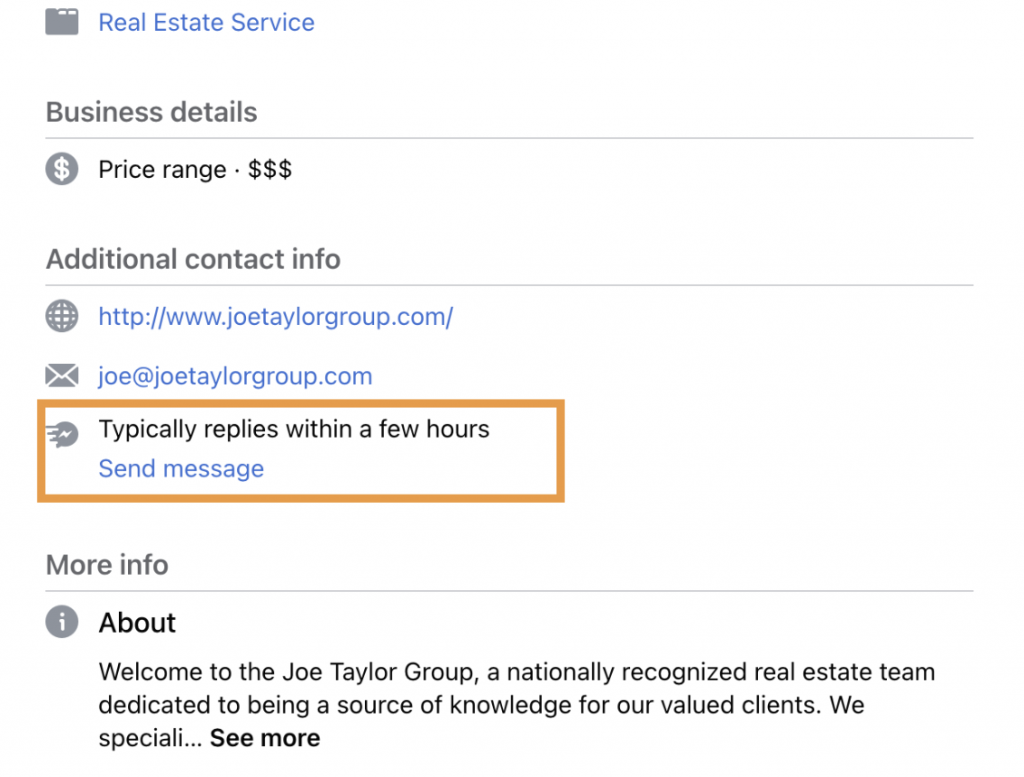 To get a response rate badge on your Facebook business page, respond quickly to private messages. If you're able to respond within fifteen minutes more than 90 percent of the time, Facebook will automatically add the "very responsive to messages" badge to your business page.
Share Testimonial Videos
Social proof is a powerful tool for building trust with your audience. Bright Local's 2022 Survey found that 49 percent of the public trusts consumer reviews as much as recommendations from friends and family, and 88 percent are willing to leave a review for exceptional service.

Michael Switzer shares videos of his clients celebrating on Instagram stories. He also keeps them in his "Reviews" highlight so potential clients can see them, even if they miss the 24-hour Story window.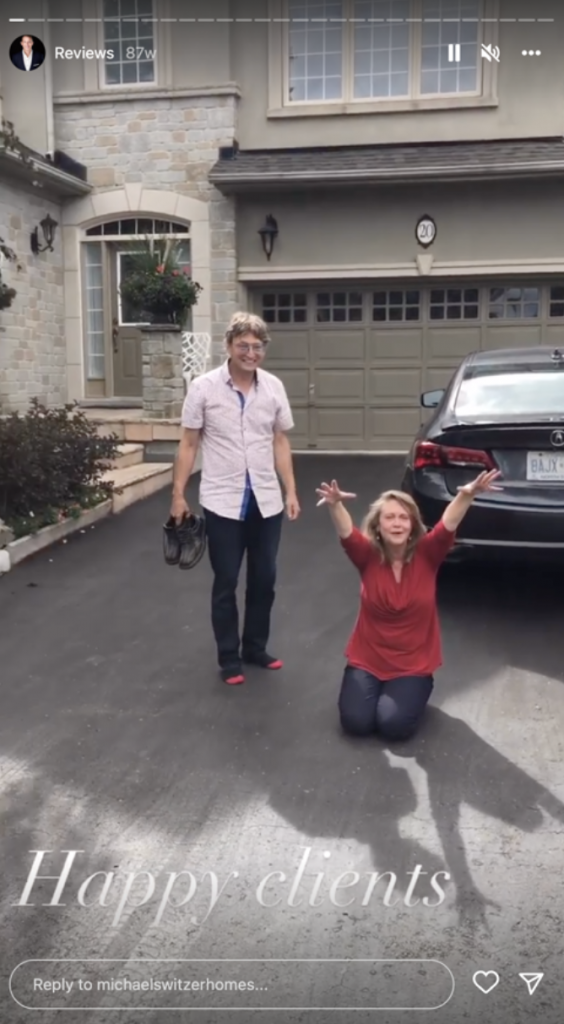 To save your testimonial stories in a highlight, open the story and tap "+" or "Highlight" in the bottom right corner. Add the story to an existing highlight or tap "New" if you need to create one. Name the highlight, choose the image for it, and tap "Add."
Create Better Content
Imagine your ideal customer is scrolling for real estate inspiration. You want their attention—and some post formats get more engagement than others. For example, according to Socialbakers, live videos on Facebook and carousel posts on Instagram get the most organic engagement. Here are some ways to leverage these two content formats.
Facebook
Live video, like this one from Madison Hildebrand, outperforms images and pre-recorded videos. When choosing between long and short videos on Facebook, go with long. SocialBakers also found that videos that lasted more than 65.194 seconds but were shorter than five minutes, performed best. Just remember to get the most important information shared first in case you lose viewers as the video goes on.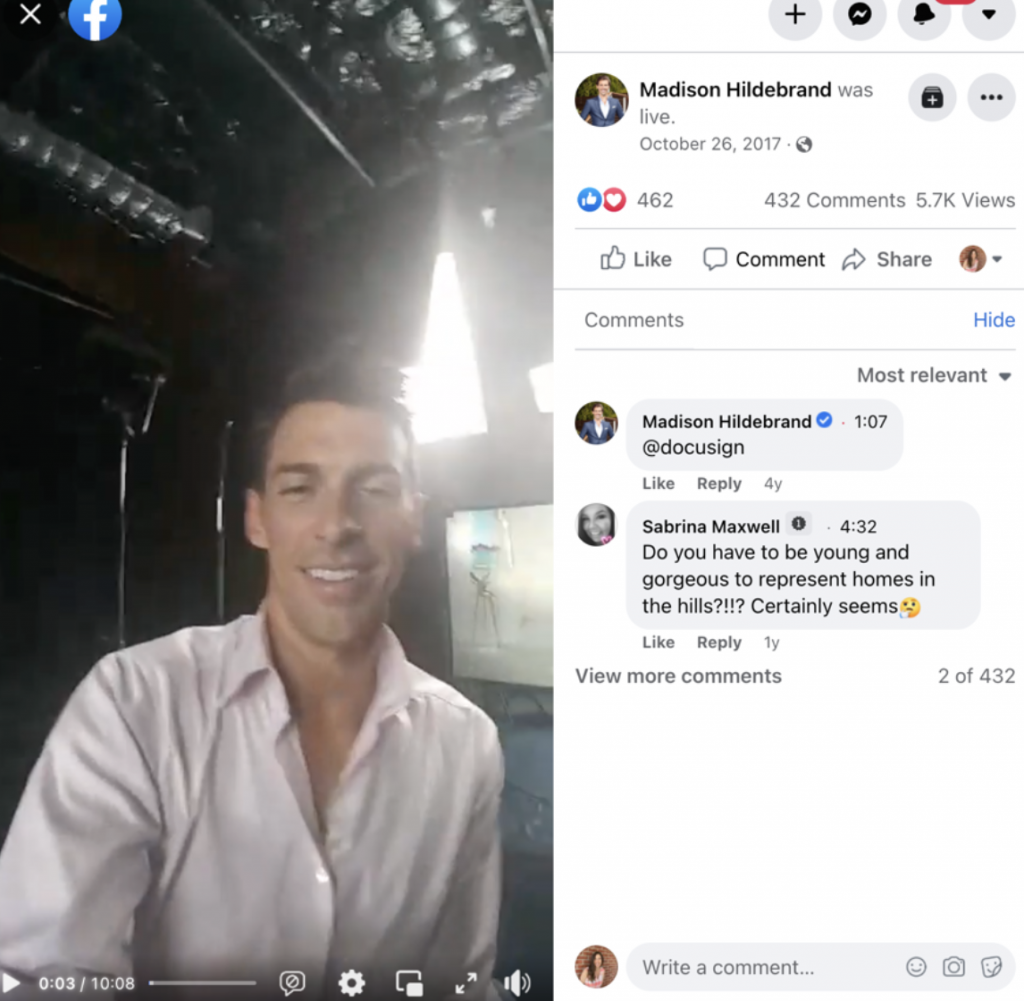 To go live on Facebook, go to the page, group, or profile where you want the video to post. Select the "Live" button in the post composer. Write a description, and then select "Start Live Video." After you've shared your content, select "Finish" to end the stream.
Instagram 
Carousel posts can have up to ten photos or videos. This type of post can be used for educational posts or to show off a new listing. In this example, Michael Switzer starts his carousel post with a featured photo. Viewers can swipe left to view interior photos and open the description to see the price, features, and a call to action: "Interested? DM [direct message] me to book your private tour TODAY!"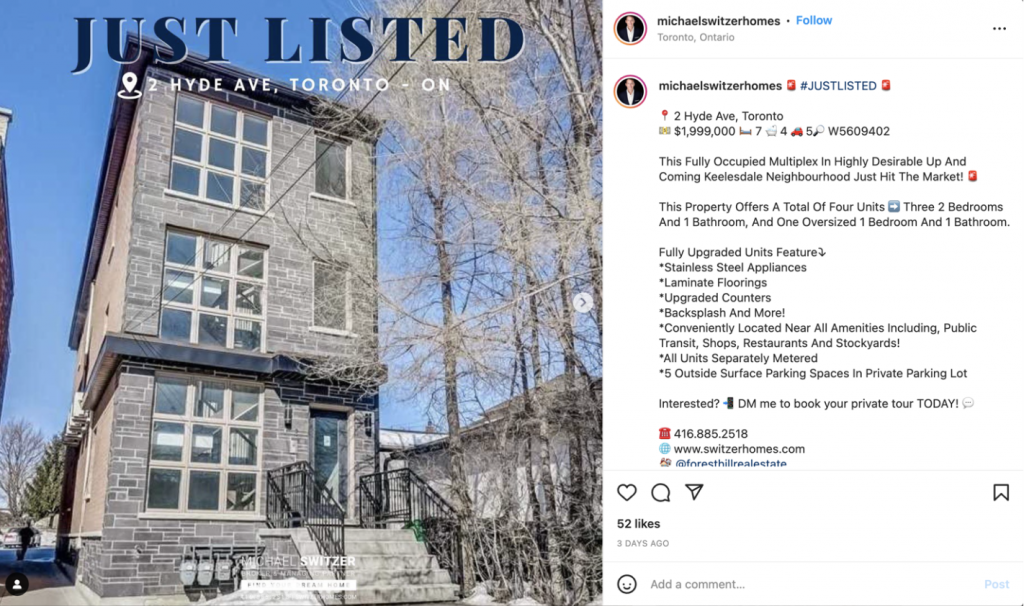 To create a carousel post on Instagram, select the plus button at the top of the screen. This will open your photo library. Select the photos and videos you want to add, adjust cropping and filters, and select "Next" to write your description before you select "Share."
How to Get More Listings? Don't Ignore Social Media
Next time you're wondering how to get more listings, turn to a tool you likely already use regularly in your business. But this time, don't just post to check a box. Use these ideas to share with intention and get yourself in front of potential clients.