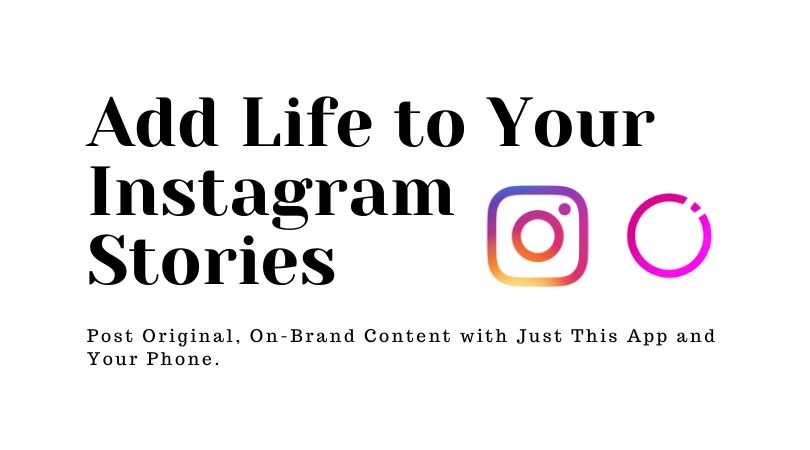 Last week we talked a little about what
Instagram Stories
are and why they're important for marketing on Instagram.
If you'll recall the numbers from last week;
There are 800 million active users on Instagram.

500 million of those users are on Instagram everyday.

300 million of those daily users are using Instagram Stories (either posting or viewing).

1 in 5 Instagram Stories posted leads to a direct message.
That means out of every 5 Instagram Stories posted, you have a 20% chance of gaining a new lead.
With odd's like that, you can't afford to NOT be doing Instagram stories.
But with all that you're already doing as real estate agents, adding one more social media "must" to the list can feel daunting, so we went out and found one of the BEST apps for Instagram Stories to help make it a little easier.
The Instories App
Instories is an app designed to help you add life to your creations. Whether it's adding text, graphics, or animations - this app will help you create stories that draw attention and keep your followers hooked.
One of the most challenging aspects of Instagram (and especially Instagram Stories) is creating unique, eye-catching, and on-brand content. This app takes most of the hard work out, allowing you to stay true to your brand while being able to deliver new content.
One of the easiest ways to upgrade your stories (and posts in general) is by using templates that have already been created for you (and fit with your already perfected on-brand content).
This app is built in with 4 premium storyline templates, more than 100 fonts, and 80 icons. Giving you more than enough material to create inspiring content for ages.
This app is free to use but it does offer some in-app paid-for updates.
How to use Instories
Instories is a relatively simple app, just pick a template, customize your story, and share to Instagram!
In the screenflow tutorial below, you'll see exactly how we created some of the example stories from earlier in this blog.
For the tutorial below, we are using the free version of this app.
This video is a screenflow and will not have any sound.
Fast Tips for Using Instories
Always preview your creation before exporting it, you can do this by clicking on the little eye icon in the top right corner.
Use Instories in conjunction with Sked Social to be able to schedule your stories in advance!
Remember the Story Arc method from the "Instagram Stories Made Easy" blog.
If you are using Apple products, use the AirDrop feature to easily transport stories and content from one device to another.
Don't be afraid to get creative! Stories only last for 24 hours before they disappear, so don't be afraid to try new things and see what works!
Like Facebook, Instagram isn't going anywhere. In fact, in the next few years we'll probably see even more updates and added features to come. Which is why it's important to master what's available now - like Instagram Stories.
Tag us in your next Instagram Story, @thepaperlessagent, so we can see and share your awesome creations!
Don't forget to follow us, @thepaperlessagent & @creathpartners, and let us know in the comments so we can follow back.