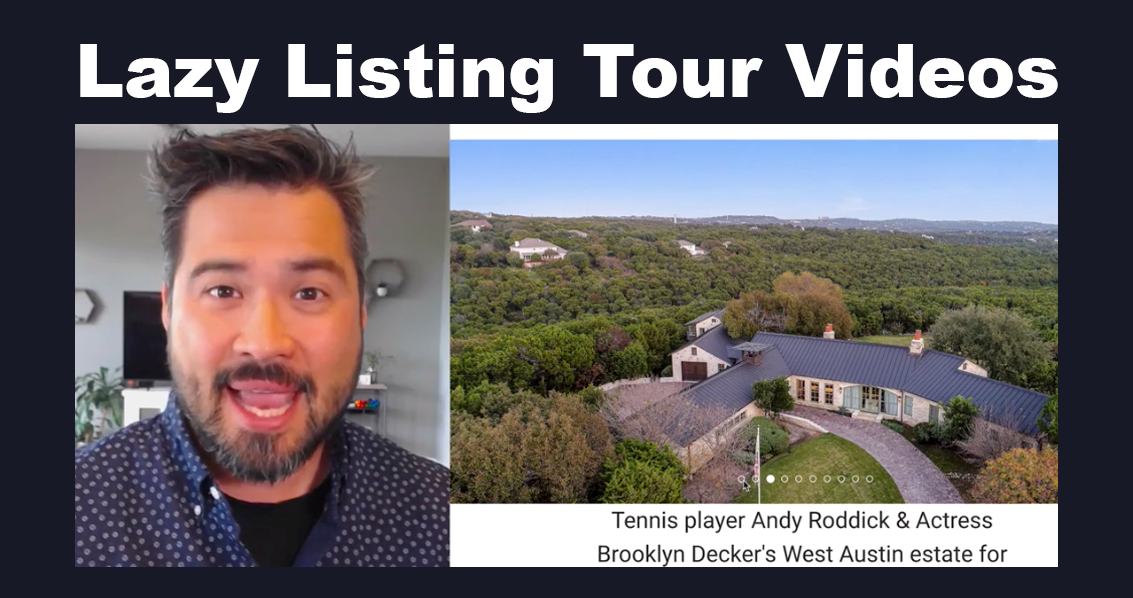 As a listing expert, you know one of the ways you stand out amongst other listing agents is how you market and sell homes. You can use the method and technologies you use to market homes as a point of distinction in your market place.

For example, if most people are just listing homes in the MLS, you can tell prospective sellers how you do things differently. Maybe you use Facebook Ads, or Online Videos, or Google to get prospective homes in front of buyers.

Whatever combination of steps you use to market homes becomes your competitive advantage. And you can stand out in the marketplace when you communicate and share your competitive advantage and what makes you different.

In our real estate practice, we use a lot of online video to standout in our market. One of our favorite types of videos for marketing listings is what we call a "Lazy Listing Tour".

In these videos, we simple show people one or more highlight features in a home. Why do we call them "LAZY"? Because we don't use expensive equipment or contractors to produce these videos.

We typically use just our phones or our computer's webcam to create these videos. And even though they are easy and free to make, they get great engagement and results in our marketing.

Let's take a look at 3 different examples of Lazy Listing Tours that you can use to stand out as a listing expert through the innovate marketing of real estate…

Garry's Walking Tour

In this video, Garry just used his phone's camera, his ear pods as the mic, and a selfie stick to hold his phone. Then he just walked and talked to give some insights into this home.
After posting on FB, we created FB Ads to promote this video and got rewarded with tons of engagement. FB's algorithm favored this style of informal, yet interesting information.

Wood from the Chicago Stock Exchange

This is a short yet effective video. Chris just used his phone's camera and mic with a selfie stick. In this example, we're just showing one highlight feature of a home. In this case the wood beams featured in the house.
After posting on FB, we created an FB Ad to promote the video. We only spent a $1 a day on FB for a few days but got thousands of videos and dozens of people clicking to get more information about this listing.
Angelwilde Lazy Listing Tour
For this example, Chris never left the comfort of his own home. Instead of physically going to the listing, we pulled up pictures of the home and talked about them while recording his screen and video on his laptop's webcam and a screen recording app. Tools like Wistia's Soapbox make it easy to create this type of screen sharing video.
Now that you've seen how easy it is to make videos to market listings, all you need is the real estate. If you don't have a listing lf your own you can use, we suggest asking your broker for help in getting a listing you can use for marketing purposes. Another option is to partner up with a listing agent with a listing to host an open house where you can market the open house and feature the home.
Want to learn more about using online video?
Checkout our Marketing Club where we give you strategies, marketing tools, and full lead generation campaigns every month!