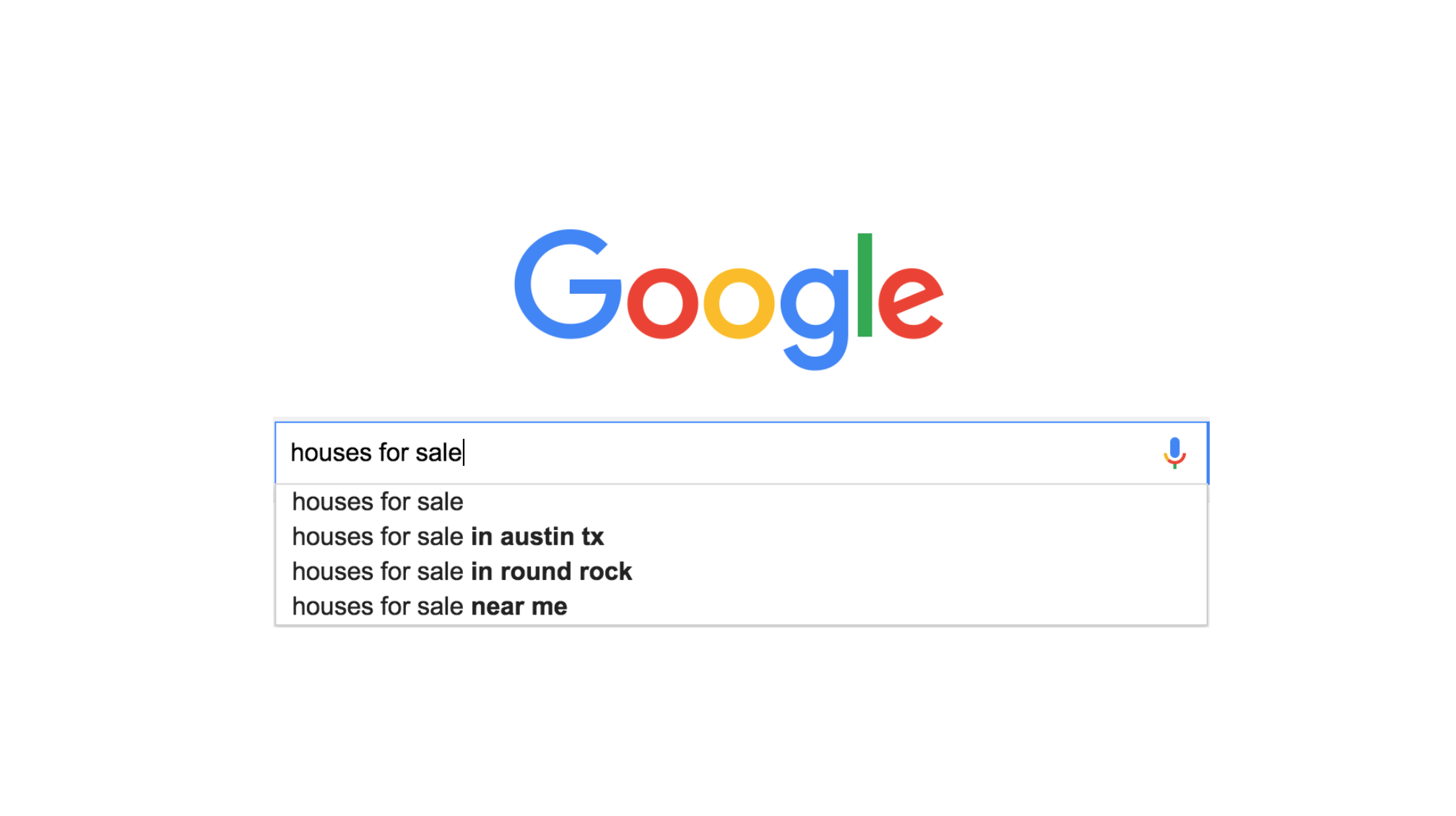 Do you have an online search strategy?
A recent poll of our readers found over 75% of real estate professionals don't have a strategy for getting found by their customers online, through the most popular search engines… and for those who said they did, most were using methods the search engines stopped using to rank search results over a decade ago. If you fall in either camp, keep reading so you can learn some simple, effective strategies to get on Google… and stay there.
Why is a online search strategy important?
Back in 1982, if a past customer wanted to find your contact information, chances are they used the Yellow or White Pages to get your information (unless you were faithfully sending out past client communications via mail or they had your business card on file).
Today, when a customer wants to find you, they go online and search for you. In fact, the first thing most referred customers do is go online to research you before contacting you. A recent study by Google found the majority of real estate consumers research their agents extensively before working with them. And you already know what they think when they can't easily find us, or if what they find makes us look unprofessional or lacking in competence.
Those online search results our customers and referrals see are the first impressions they have of us. That first impression either works to our advantage or it works against us. And this is why we want to make it easy for people searching to find us, and for that first impression to convey trust and confidence.
The Myth of SEO & 200 Signals
"So how do I get show up on Google and other search engines?", you ask. The strategies, tactics and practices to get found on search engines is called Search Engine Optimization (commonly referred to as SEO). Unfortunately, there's a lot of misinformation on SEO. The most commonly circulated myth about SEO is if you choose the right keywords, create blog posts including those keywords, and share it on social media that you will, in time, get higher placements on the online search engines.
The truth behind getting Google and other search engines to find you is far more complicated. Google has at least two hundred "signals" which indicate potential relevance to a specific search. And while content is an important signal, so are things like location, mobile experience, and authority. Google doesn't make all of the signals known to prevent people from manipulating search results.
With so many signals, and the technical nature of implementing them, it's not realistic for the typical agent or broker to get ranked on Google for top keywords or to dominate the first page of search results… unless you use a special strategy that can leverage other websites, social media, and your exclusive content.
A realistic SEO strategy for real estate professionals is one that will, in order of importance, get:
You found specifically when someone searches for you.
Your listings to show up on the first page of search results when someone searches for them.
Your site or landing pages to show up on the first page of search results for highly specific, neighborhood searches.
Let's take a look at how we can achieve each of these objectives using simple methods, tools, and technologies.
How to Show Up on Google
Try this: take a second to google yourself. There's a good chance the person searching for you will type in your name and possibly your company name, or location… or even terms like "real estate", "realtor", or "realty". So you'll want to replicate these searches because that's what they are going to do.
The search results you see create the first impression of your online identity (also called your online reputation). As the person searching starts to click on each of the search results, they begin to make interpretations of what they see, and make judgements on your competence, ability, and trustworthiness.
As you examine each search result, ask yourself "does this information build confidence with the reader?" If a past client referred a friend to you, and that friend Googled you, what impression would that person have of you? Would they think you're a professional who understands the market? Would they consider you someone who could market their home to potential buyers to get above average asking prices? Would they consider you someone who has strong negotiation skills to get them a good deal? Or are there gaps in what's represented between your online reputation and offline one?
How can you get more search results to convey confidence to show up when someone searches for you online? Here's a list of low-cost and free tools that won't take you all day to setup:
Purchase a domain with your name in it (mine is chrisascott.com) and direct it to an about.me page. About.me pages are simple profile pages you can setup once and have a continued, professional presence online. If you author a good, descriptive bio and link your social media accounts, chances are good that your about.me page will land on the first page of search results within several weeks when some searches for you.
Make your LinkedIn profile 100% technically complete. Did LinkedIn.com show up when you searched yourself? For most, the answer will be yes. By getting a technically complete profile, you'll attain All Star status… and according to LinkedIn, professionals with All-Star statuses are 40x more likely to get business from their networks on LinkedIn. To make your LinkedIn profile complete, do the following: place a quality photo on your profile; craft a strong headline; include your industry (or job function); add your Postal Code & Location; draft a descriptive Profile Summary; have a minimum of 3 jobs or roles listed in your experience; list at least 5 skills; include your education; and get a minimum of 50 connections. All of these steps must complete to attain LinkedIn's All-Star status on your profile.
Claim and update your profile on home search sites. If you take the time to claim your profile on home search sites that have a lot of visitors, such as Realtor.com or Zillow.com, it's likely your profile will come up when someone searches for you. When it comes to information on any profile site, "the devil is in the details" as the old adage goes. Those small details of making sure the right information is in the right place, taking the time to author a quality bio, and getting recommendations for your profile are what make the difference between building confidence with a reader… or tearing it down. Here's an example from my business partner Garry Wise.
Marketing Real Estate Online
Between the U.S. and Canada, an average of 673,000 searches happened each month on Google for the term "houses for sale" over the last year. It would be great to have your website show up in searches for "houses for sale" or "houses for sale in [city]" where the city was your local area. But with so much competition from sophisticated firms with deep pockets, it's near impossible for the typical agent or broker to rank high for this type of search term.
So what can you do? Even though you may not get your site ranked for the most popular searches, you can still compete. How you can compete is where the larger firms cannot, on the individual property address of a specific home. In this case, getting found is not a matter of quantity, but quality. Who searches for a specific address (such as "1114 East Cesar Chavez Austin")? The two people who matter the most: the home's seller (your client) and the serious buyer interested in the home.
In the case of your seller or future sellers, it's important they see you're producing the result of getting their home in the most widely used search engine in the world. It affirms you're doing more than simply placing the listing in the MLS to market the home. And home buyers searching for specific addresses are further down the purchase process and closing to making a decision… which is why we want to get in front of them and help answer questions about the property… besides, who knows more about that home… you, as the listing agent, or one who has never been to the home?
How do you market listings to get online?
There are two parts to market your listings to get on Google and other search engines. The first is to create a property landing page on your website. The second is to get visitors (or traffic) to that property landing page.
A property landing page is a webpage containing information about the property. What's important about the property landing page is making sure it has the right Search Engine Optimization mechanics on it. Search Engine Optimization, or SEO, is the process of complying with certain technical details so search engines can better understand what a webpage or website is about and determine the site's relevance on the topic. Having a page or site with relevance and authority will rank higher than those that don't. Authority and relevance determine the order in which those search results will display.
What SEO mechanics do you need to have in place? While going into complete detail on SEO mechanics is the beyond the scope of this post, here are some specific steps you can take:
Include the property address in the Page Title, Description, File Name and H1 Tag.
Include lots of professional photography and have the address in the file name and "alt" tag of the photo.
The search term, in this case the address, should make up between 2-3% of total word count… and ideally there will be at least 500 words on the page.
Add an embedded map of the location using Google Maps.
Add a property tour video to YouTube and embed the video onto the page.
Don't forget to include a Call to Action for people who have questions about the property.

Download our complete Property Marketing Checklist.

The second part of the equation is getting people to visit your property landing page. This shows search engines your page is interesting enough to draw readers and a potential authority on the topic. In this case, the "topic" is the property's address. To get early traffic to the property landing page, the most effective means is to run a Facebook Ad to people who are likely to move in your area. For a total budget of only $30, you can get enough people to visit the page to demonstrate relevance on the topic.
Additional things you can do get a few visitors is posting the link to the property landing page on Twitter, Craigslist, your blog, and email it to people you know. But the most effective way to do this, we found at our own brokerage, has been to run a Facebook Ad.
The only time this hasn't worked at our own firm is when we've taken on Expired Listings that were on the market for a while. Usually those listings have been syndicated to most of the big home search sites, and it's really hard to catch up once they've been syndicated for a while. Here's an example of a Facebook Ad we used for a recent listing:
Neighborhood Searches for Search Engines
When you want to get pages on your website to show up in online searches, WHAT people are searching for plays an important role. The keywords, or search terms, is the technical name given to the words or phrases people enter into a search engine. This is the WHAT being searched for. When we optimize for a property's address, the property address is the "keyword" or phrase. Another example is "houses for sale".
While getting individual properties on the first page of search results is great, it's almost impossible for most agents and firms to rank for a keyword phrase as broad as "houses for sale". But it is possible to get pages ranked for local searches with less competition. An example might be a specific neighborhood, subdivision, or area of town. Examples of local keyword phrases in my area are "French Place Austin" and "East Austin Homes for Sale".
People searching for specific neighborhoods indicate an interest in the location and may be interested in buying or selling. Getting a page on your site to show up for a specific neighborhood search also establishes your expertise in that market.
If you want to get a page to rank for a local area or neighborhood, you can use the same SEO mechanics listed earlier in this post… but rather than using the property address, you would use the local area name as the keyword.
A great way to do research on a keyword or phrase is to use Google's Keyword Planner, which is included in Google Adwords. The Keyword Planner is free to use and only requires that you setup a Google Account. You don't have to run ads through he platform to use or benefit from it.
The images below are taken from the Google Adwords' Keyword Planner and show the monthly search results for the search term "french place austin" for searches occurring specifically in the Austin area (not nationally or globally). While there are only 40 searches, the term is not highly competitive and is a page our firm can get placement for.
Using Google's Keyword Planner for Real Estate Searches
If you wan to use the Keyword Planner tool, the process below outlines how you can find and research keywords to rank for  neighborhood searches.
After setting up a Google Account (you probably already have one), you can access the Keyword Planner (if it's your first time using Google Adwords, you may be required to go through a setup process). Select the "Search for new keywords using a phrase, website or category" option.
In the "Enter one or more of the following:" text box, you can enter the keywords you want to research. Since we want to get found on searches for local neighborhoods, we'll enter a specific part of town, followed by the words "real estate". In the targeting section, you'll want to specify the local area where you live. This will keep the opportunities more relevant and give a more realistic expectation of local traffic.
The query returns a chart showing the volume of searches for all the ideas for search terms in addition to the one we entered ("east austin real estate"). We can see "east austin real estate" has about 40 monthly searches and medium competition.
If we scroll down, we can see there are additional keyword ideas offered by the platform. These additional keywords can be topics we add or address in the content of our neighborhood page: east austin homes for sale, homes of sale in east austin, homes for sale in east austin, east austin homes, east austin real estate for sale, and houses for sale east austin.
This brings the total number of monthly searches to 160 monthly searches. This doesn't mean we get all those people visiting our site, it just shows how many people could potentially come to the site if we place high enough in the search results.
Related Searches on Google
Another easy way to get search term or keyword ideas is to go directly to Google, search the term and scroll to the very bottom to see if there any related searches suggested. If they make sense, we might want to add content to our neighborhood page to address the topics related to our search.
In the example below, we might consider adding information about the east austin real estate market or info about east austin condos to supplement our neighborhood information page. In doing so, we'll make the page more relevant to searchers and search engines.
Search Strategies for Real Estate Conclusion
Using these strategies, you can address multiple goals at the same time. You're able to get found when past clients, referrals, and people in your sphere search for you online. You can get your product (your real estate listings) in front of the people who matter most… your sellers and serious buyers. And you can begin to own local searches to get more exposure in your neighborhood farm area.
If this is all new to you, start with getting yourself found online, and then move on to getting your listings online. The last step is to start adding neighborhood information webpages on your site. There's always room for ongoing improvement to better dominate searches for you, your listings, and your local areas.
If you Google yourself at least once a month, you will see the changes take place and gather ideas to make improvements to the information available. Also, take a look at your listing pages on your website to how many of the SEO mechanics mentioned in this article are covered. With time, you'll show up on more search results, get your listing found by more people, and dominate farms areas online.